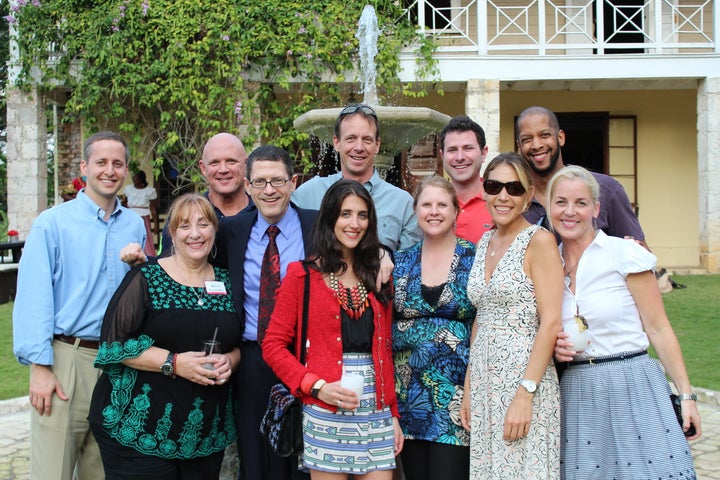 During a TV interview a few years back, I was asked why I like entrepreneurs. My response was something to the effect of, "Well, how can you not? They're the rock stars of the business world." The producers ended up using that as the tagline for the series. And it's a catchphrase I've used ever since, because it's true -- there is something so inherently cool about starting a business from scratch, on your own terms, and earning freedom and fortune in the process.
Problem is, while entrepreneurship may be sexy, the entrepreneurial journey can be a backbreaking, soul-crushing, lonely one. But in my years covering entrepreneurs, I have found them incredibly willing to share their time, their advice and the proverbial hard knocks they've learned along the way with their fellow members of this unique fraternity -- and that's how they make it through to the other side.
It is this spirit that was the driving force behind our Board of Directors when I first conceived the idea two years ago -- a new way, I hoped, to spark thoughtful conversation among my own personal group of rock stars and share that with entrepreneurs all over. And this spirit was also very much the driving force behind the first-ever HuffPost Small Business/Virgin Unite summit, which was held last month at the Branson Centre of Entrepreneurship in Montego Bay, Jamaica. As Sir Richard Branson, a member of our Board, told me last year at the opening of the entrepreneurial outpost that bears his name, "For a lot of these entrepreneurs, 80 percent of what they learn they are going to learn by just being out in the jungle, trying things and occasionally falling flat on their faces, picking themselves up and trying again. So we can maybe help them with that other 20 percent, that quite important icing on the cake."
With that in mind, members of our Board traveled from across the United States to Montego Bay for three days of mentorship, roundtable discussions and, yes, a few rum punches. While we've been carrying on a digital conversation for the better part of two years, many of the members had never met face-to-face before -- but fast friendships were formed both among our Board and with the rising entrepreneurial stars at the Branson Centre. Amidst an idyllic Caribbean backdrop, we stumbled upon a few big conclusions:
Entrepreneurs around the world face unique challenges, but they have a lot more in common than you think.
It ain't perfect, and reforms can always be made, but the American system is a whole lot more supportive of entrepreneurship than so many around the world. We should be thankful for it.
The best perspective on your business and the challenges you face usually comes from a fellow entrepreneur who knows nothing about your industry or what you do.
Every entrepreneur, no matter how busy he or she may be, needs to pause and recharge every so often. You'll accomplish more on the flight home, with a clear mind full of fresh ideas, than you would've during a full week in the office.
While this trip marked just the beginning of an ongoing mentorship program with Virgin Unite and the Branson Centre, and the summit represents the first of what we hope are many more Board of Directors gatherings both formal and informal back at home, we asked the members to use this inaugural event to reflect on what they learned in the Caribbean.




Jodie and Danielle Snyder


Co-Founders, DANNIJO


"Having the opportunity to meet such inspiring entrepreneurs from a range of industries and come together to discuss our views on business, love and finding balance, among other topics, was one of the most rewarding experiences we have had in our four years in business. There is no substitute for those rare occasions when you can really put yourself out there and connect with people who share the same goals in business and in life. And having the opportunity to mentor brilliant entrepreneurs like Edris Whyte from Study In Jamaica was such a rewarding experience and such an eye-opener for how relatively easy we have it here in America."




Elizabeth Busch, Anne Frey-Mott And Beckie Jankiewicz


Co-Founders, The Event Studio


"The Jamaica summit was an outstanding experience. The opportunity to spend three days with our fellow HuffPost Small Business Board members and the amazing young entrepreneurs at the Branson Centre was a great reminder of both what it was like to start our own business and what an amazing group of people entrepreneurs are. We feel like we've made a dozen new friends who will be key in our growth as people and business owners over the coming years and we can't wait to help everyone -- mentors and mentees alike -- grow their own businesses."




Warren Brown


Founder, CakeLove and Love Cafe


"Loved it! I really enjoyed myself and got a lot out of visiting as a mentor and as a peer with other members of the Board. I can't say enough of how grateful I am to have the chance to step away from my reality for a moment to gain some perspective. I also got a lot out of the Friday night discussion with the local entrepreneurs. It was telling to hear that the issues they face are the same we face in America (at least some of the major ones). I'm glad that I am able to offer what I think is substantive feedback to my mentee -- I only wish that I was in a better place to leverage more support."




Rieva Lesonsky


Founder and CEO, GrowBiz Media


"Jamaica was amazing on different levels.

"Connecting with the Jamaican entrepreneurs was the most interesting part of it. For the most part, they're young, dedicated, and so without resources it would make your head spin. The nation has completely ridiculous and almost anti-entrepreneurial laws. Impossible to borrow money. Very class-based society. As an example, my mentee has the 249th most-trafficked website in the nation of Jamaica, but isn't monetizing it beyond Google ads and can't afford to buy a $100 printer.

"It makes you realize how lucky we are to be entrepreneurs in America, and how there's altogether too much whining about the impediments American entrepreneurs and small-business owners face. Spare me!

"On the flip side, I rarely get a chance to just hang with other business owners, and I truly enjoyed meeting the other Board members. I learned a lot and also saw how, no matter how accomplished you are, you can always benefit from other people's perspective."




Clint Greenleaf


Founder and CEO, Greenleaf Book Group

"It's a small world. In one small meeting of 15 entrepreneurs in Jamaica, I found myself sitting with an entrepreneur who went to my high school (University School) in Cleveland on one side of me and my college (Holy Cross) on the other. (This is pretty incredible -- there were 100 people in my high school graduating class and only 650 at my college.) But beyond that, I found that the language of business, and more specifically entrepreneurship, is universal and transcended all of us. The entrepreneurs we mentored happened to live in Jamaica, but they're the same kindred souls that we see everywhere. They are driven to create, to build, and to grow companies and people.

"I'm honored to be on the Board with these incredible people, but it wasn't our team that sparked so many new ideas -- it was the group of entrepreneurs we met. These kids are amazing, and despite the difficult environment in Jamaica, I think they will be the driving force behind the Jamaica 2030 initiative."




Lawrence Gelburd


Lecturer, The Wharton School


"When I arrived in Jamaica and and met the Virgin team, the entrepreneurs and my fellow Board members, I knew I had come upon a very special group of people, all of whom were determined to make a real difference in the world though individual and communal efforts. The extraordinary diversity of experience and background belied the fundamental unity of everyone's commitment, passion and energy for the daunting challenges we all face. The combination of individual effort with group support will propel us all toward success through progress.

"Every conversation seemed to get the sparks flying. Broad-ranging discussions of economic and political realities never seemed to discourage the participants. Getting the opportunity to meet face-to-face was very powerful, and being able to visit the Centre itself and Alecia James' bakery were also valuable and motivational.

"In one on one meetings with the entrepreneurs, hours flew by. I came away from the meeting eager to do more with all the constituents. Having multiple insights and talents all dedicated to progress made the weekend so worthwhile. Where there are challenges, there are opportunities. This meeting was a true success in my view."




Rob Adams


Director, Texas Venture Labs at the University of Texas


"A great group of people spent some quality time with aspiring Jamaican entrepreneurs. There were two parts to the session in my mind. The first was helping entrepreneurs and the other was learning from my fellow Board members. The Jamaican entrepreneurs reaffirmed something I've long observed -- entrepreneurs the world over aspire to the same goals. Regardless of the business, the economic climate or the regulatory environment, real startup personalities find a way to persevere and thrive, and are always learning about new ways to tackle their business challenges."




Tate Chalk


Founder and CEO, Nfinity

"Jamaica was nothing like I thought it would be and everything I hoped it would be all in one. Jamaica is really a story about one guy -- mid-30s, wife, three kids and supporting a family and a business idea with one job. He has what most would call a normal life. But it just isn't enough for him and he wants to be the master of his own fate. His story is not unlike the millions of other aspiring entrepreneurs throughout the world. It's inspiring to see a guy with nothing but an idea and a small income stream follow his dreams. We talked for hours, about his life and mine -- about his struggles to make a difference and how our lives were similar. I can't wait to watch Kevin Earle on his journey and I hope that I can continue to provide some guidance, no matter how small."