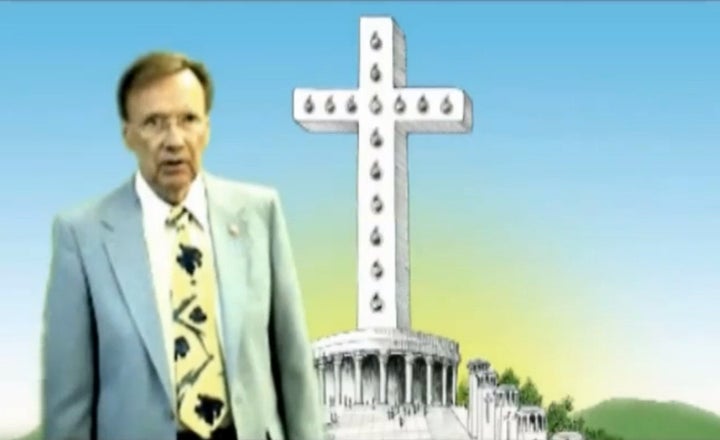 The "God-given vision" started out simply enough: build a 7-foot-tall cross on a mountain and invite people to meditate there with the Creator. Now, 20 years later, the cross will cost $5 million and rise nearly 200 feet once complete, making it one of the largest crosses in the world.
Complete with two elevators, developers promise free admission and an encounter with Jesus at the mammoth, monumental "Branson Cross" in Branson, Missouri.
Kerry Brown, the executive director of Images at the Cross, the organization responsible for the project, explains to Fox News:
"I know St. Louis has the Gateway Arch and San Francisco has the Golden Gate Bridge, and those are all fantastic monuments, but they're all secular monuments," he said. "This will be the first monument to the spirit of man and there's a reason why it's being built in the heartland of the nation. It's absolutely in the right place at the right time and it's going to have ten times the spirituality as any one of those monuments."
Dean Brown, Kerry Brown's father and the project's founder, says the Branson Cross is a response to a "vocal minority" that is "in the process of taking over the family spiritual foundation" of the United States. In short, the Branson Cross is being promoted as an antidote to the War on Religion. See for yourself:
UPDATE: While Branson Cross Executive Director Kerry Brown says the cross will be the "World's Largest Walkthrough Cross and a Family Friendly Free Admission destination," there are several other crosses around the world that claim similar "World's Largest" titles. The cross at the Valley of the Fallen, a Catholic basilica in Span, at around 500 feet is certainly the tallest in the world. The Great Cross in Saint Augustine, Fla., is perhaps the world's tallest free-standing cross at 208 feet. And a cross in Effingham, Ill., at 198 feet tall and 113 fee wide, is notably massive.
CORRECTION: A previous version of this post referred to the monument as a crucifix. A crucifix is a cross with an image of the crucified Jesus.
Popular in the Community