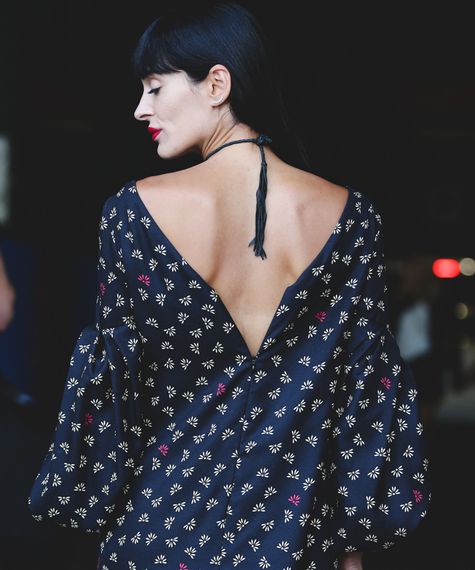 The switch happened recently: Whereas half-dome breasts achieved via push-up bras were once the shape to mimic, bralettes have made way for more natural shapes. But leave it to the fashion set to push it one step further and leave their underpinnings at home. Need proof? The prevalence of back-baring, off-the-shoulder styles that you'd need an engineer to figure out what bra could hide underneath. In most cases, we're pretty sure they're not wearing anything underneath at all.
Going bra-free is a personal choice, but we've got to say, if you're going to forgo one, a dramatic backline or cutout is a gorgeous way to show that off. During New York Fashion Week, plenty of women dipped way low in the back, which made for some dramatic exits. Click through to see.
Athena Calderone shows off a deep-V back in a dramatic, bell-sleeved gown.
This back cutout turns a modest dress into something cheekier.
That's some built-in ventilation right there.
Here, Yasmin Sewell shows off how she dips.
This Vetements dress is made of a lot of fabric, but the strategic cutouts make it look as light as air.
This cutout shows off the small of your back, but also lets you sneak in a bra.
And if you must do a bra, a cage bralette is a great cheat. Those criss-crossing straps give the slip's delicate ones a little bite.