With constant reminders that they wouldn't be in any way, shape, or form disturbing the way Broken Windows policing operates in New York City, the city council today rolled out a new set of bills said to adjust some penalties for low-level offenses. For about a year there had been talk about 'decriminalizing' some of offenses often associated with the Broken Windows theory, which says cracking down on low-level behaviors deters serious crime.
It didn't even go that far.
The eight bills being considered, collectively known as the Criminal Justice Reform Act, would simply give cops an option for a civil summons in addition to their usual other options: criminal summons, arrests, chokeholds. Over the past year the city council, the mayor's office and the police department have met in private to craft the legislation. Bronx councilmember Vanessa Gibson, chairing today's public safety hearing, reassured everyone that "what was illegal today will be illegal tomorrow."
Most telling is that the bills, which are being spearheaded by council speaker Melissa Mark-Viverito, have been signed off on by police commissioner Bill Bratton--who famously ushered in the era of Broken Windows over 20 years ago.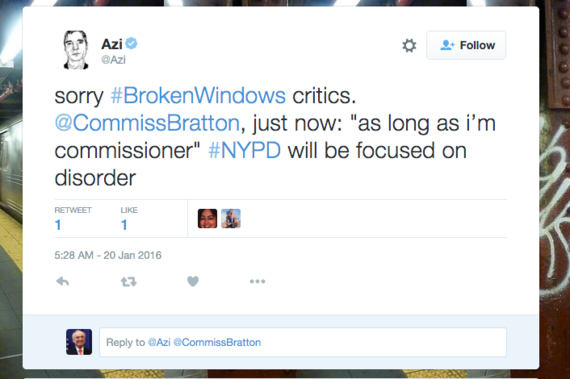 Bratton has made it clear that as long as he's here, so will Broken Windows
Unsurprisingly, the bills are weak. Queens councilmember Rory Lancman said the bills "stand alone" from the Broken Windows theory. In other words, this reform attempt wouldn't alter the police approach. Brooklyn councilmember Jumaane Williams pleaded that people "stop screaming" and "spreading fear" (a subtle dig at protesters) so that the council could legislate in peace. Even the young little councilmember from Bushwick, Antonio Reynoso, noted that Bratton didn't bother showing up at the hearing because the bills were geared more towards criminal justice court reform than police reform.
Essentially the main difference that passing the bills would have is creating the possibility that a cop could write up a civil summons (a pink sheet vs. a yellow sheet). The discretion is still up to the cop, as Bratton has always insisted. Cops will retain the right to continue their overbearing presence in poor communities of color, where they have done the overwhelming majority of their summonsing and arresting since Bratton first implemented the racist and conservative police theory into practice. And of course there will be more of them since this same city council aggressive lobbied for and received almost 1,300 extra cops to be added to the nation's largest police department.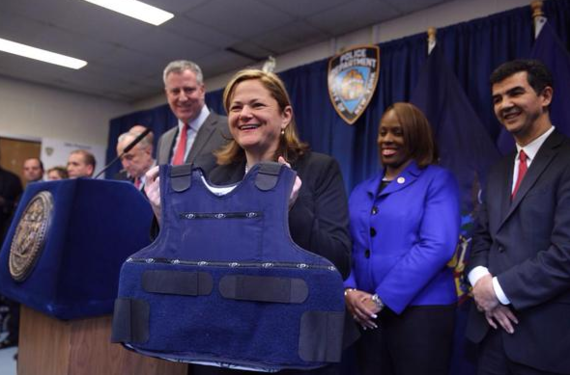 Viverito and the city council have supported the NYPD with resources, including the addition of 1,300 extra cops
The bills are also notable for what they won't do. There is no effort made to address the problems with police harassment of the homeless. Fare evasion, which is one of the Broken Windows offense that yields the most arrests (and one of the bread and butter enforcement targets of cops in the early 90's when Broken Windows began), was left out of the conversation. CUNY Law professor Steve Zeidman pointed out that debate about Broken Windows can be carefully framed to highlight more objectionable offenses and omit others. Some of the offenses targeted by this legislation: unreasonable noise, public consumption of alcohol and public urination.
Why not include other offenses? Broken Windows is a policing philosophy but also set of values and ideas that makes judgements on behaviors often based on long-held white values. How one sees a subway performer (the closest example to the most famous Broken Windows offender: the squeegee man) can be a question of culture, shaped by race and class. Selling a loosie, like Eric Garner was alleged to have done, is not a safety issue and is in fact quite normal in many neighborhoods throughout the city. What about trespassing, a catch-all crime cops enforce in communities of color--primarily in public housing? None of those 'offenses' are up for debate.
The Criminal Justice Reform Act has its progressive supporters. NYCLU executive director Donna Lieberman, along with others, giddily praised Viverito for her "leadership" and thanked her for backing the bills. The New York Times editorial board embraced the so-called 'reforms'. There were no mentions of the fact that one of the bills, introduced by the speaker of the council, proposes adding some park prohibitions to the administrative code, cementing them as misdemeanors -- actually solidifying and codifying some of the net of Broken Windows.
Ultimately the battle over Broken Windows is not one of granular policy debates or reform. From its inception in the Giuliani era, Broken Windows has enjoyed its most fervent support from the older, whiter and more affluent sections of the city. The theory was given life by two white men and implemented by another two, Giuliani and Bratton, to use police power to sweep away undesirable people--Blacks, Latinos, the homeless--using the coded language of 'disorder'. Bratton has made it clear that as long as he is here the city will still abide by the tenets of Broken Window and cops will focus on disorder. The premise of the Broken Windows theory, which by Bratton's own admission has not been proven, is white supremacy codified.
And it won't be touched by the city council.
What you'll probably see happen if all or some of these bills are passed (which is likely because of Bratton's support) is Melissa Mark-Viverito and the city council spiking their progressive political footballs, framing the legislation as essential reform. The white progressive legal organizations and nonprofits will celebrate because it's legislation: a language they can understand. Meanwhile the policy guidelines that the legislation hopes to effect will be written by none other than Bratton. In other words, the godfather of Broken Windows will in the pilot's seat of it's purported 'reform'.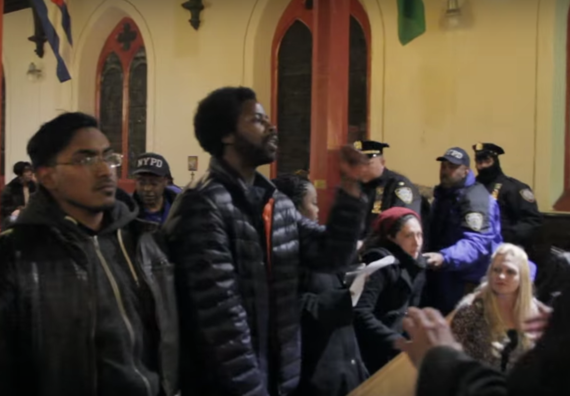 Protesters disrupt Mayor de Blasio's MLK speech, call him out about support for Broken Windows
Over the past year or two we've seen demands from New York to Ferguson and even Los Angeles explicitly called out Broken Windows. People have marched with these demands. They've yelled (to Jumaane Williams' chagrin) these demands. They've risked arrest with these demands. Last week in Brooklyn on Martin Luther King Jr. day various groups protested disrupted mayor Bill de Blasio's MLK moment to take him to task for his support of Broken Windows.
No one has asked to 'reform' Broken Windows--we have asked to end it.
Calling all HuffPost superfans!
Sign up for membership to become a founding member and help shape HuffPost's next chapter