August 7, 2013: The first thing that I heard on my car radio this morning was our public radio station WDET sounding the call to support Detroit's Brave New Voices team, heading for Chicago. Moments later, the MegaBus pulled off from WSU campus with 5 brave new poets, 2 coaches and one WDET producer, all off on a poetry pilgrimage. A 3rd coach will board the bus in Ann Arbor. Best of all, they'll be joined by the WDET producer for the entire trip, as they step to the mic to represent Detroit.
Here's Samuel Taylor, about to board the bus,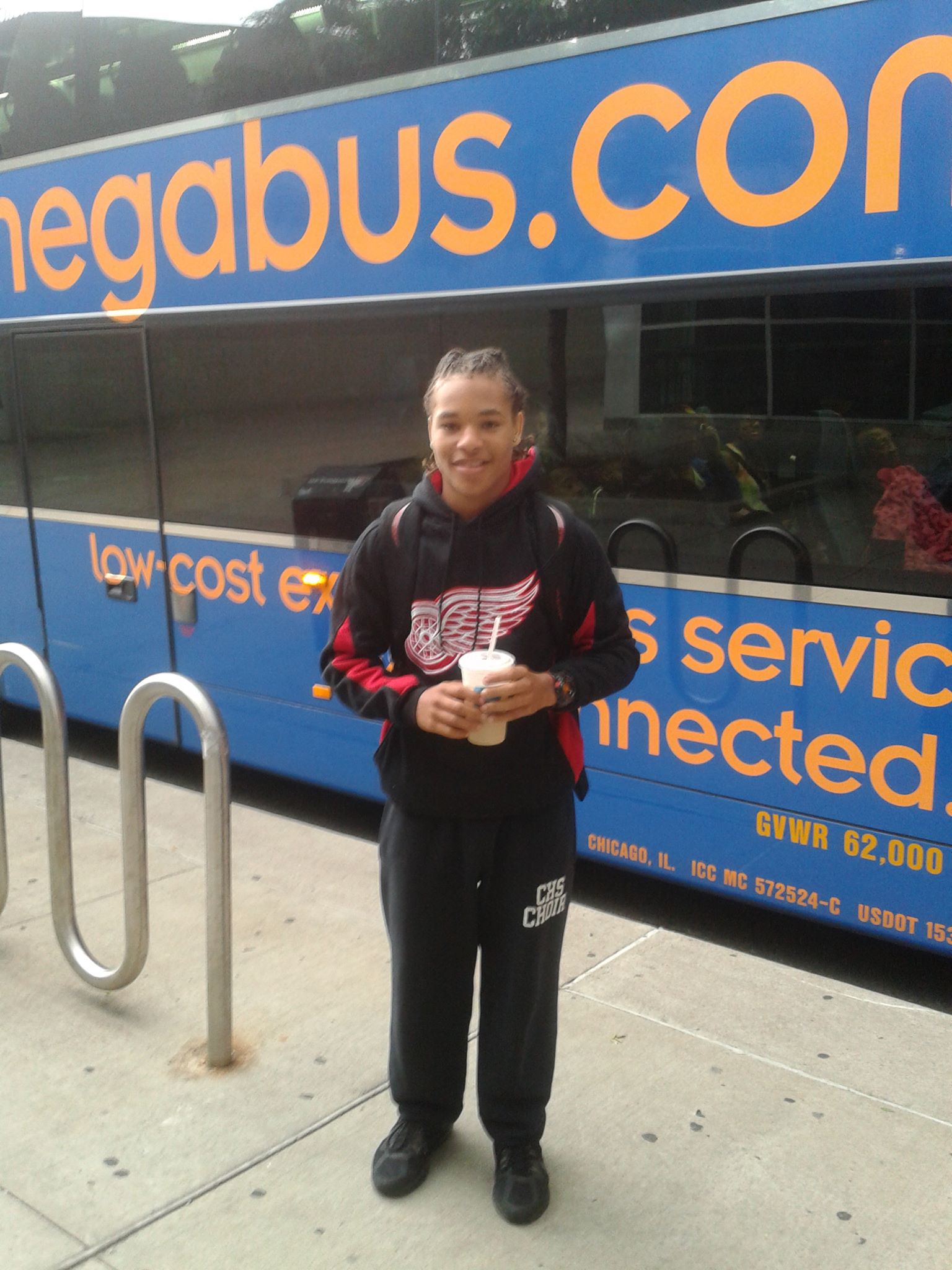 Photo by Norene Cashen
and here's one of his poems that will represent Detroit in Chicago. I love this poem. It is wise, specific, empathetic, honest. It casts, as William Butler Yeats would say, "a cold eye on life, death...."
MOMENTS TO JUDGE
Demetrius showed me
how the titles we take
can decide our fate.
Decisions manifest futures
and his was obvious.
He was fourteen, critiquing
our grammar better than
the teachers that doubted us.
Demetrius, with short dreads,
stocky. Black-eyed, hawkish.
Never ran from a fight.
We gamed high school hallways
for pretty women willing
to learn our names.
but back then
he focused on backs,
not faces. Face it:
girls with respect
got neglected.
I never told him
how girls in tight skirts
are not escorts.
His pants sunk to floor,
ego to sky. Still
in school uniform
but Demetrius dropped out.
Last time we kicked it
was back of the room
during English class.
He dealt hands of Tonk
for cash, money in pockets.
To him, money was progress
and stacking books
didn't keep the lights on.
He traded wings and bullets flew
but that can't make him a soldier.
Teachers don't teach streets;
high school standards never meet.
Demetrius, the book worm
transcript all-star; role model.
Now, throwing rich boy sets
up on East Lafayette
Confused, he was given
broken tools. Told to try college,
applied for jail scholarship.
Can't face truth, but chases lies.
Scared of succeeding, ask
and he'll show the scars
to prove it.
-- Samuel Taylor, Citywide Poets 2013
Our team is in wonderful shape, and I could not ask for a kinder, sharper group of young people to represent us. In addition to their leadership on the page, they've also shown amazing commitment by raising more than $2,000 toward the costs of their trip to Chicago. For all of the success and national popularity of our Citywide Poets Program, it remains the most underfunded portion of the work we do at InsideOut. The students' dedication to growing as poets and their pride in showcasing Detroit to the nation makes the annual fight to keep CWP alive more than worthwhile.
Since making the team at try-outs at Detroit's historic Carr Center in May, this team has become a cohesive, dedicated group, keeping to a busy schedule of workshops and braving Detroit's distances and dismal public transportation to get to a variety of receptions and performances. From the Artists Village, National Conference of Artists, and Always Brewing Detroit on the west side to Savvy Chic in the Eastern Market and Live Coal Gallery on Trumbull, their words have enlightened and inspired. Their rousing send-off thanks to Springfed Arts at the Birmingham Unitarian Church August 5th widened their reach. It makes me happy that so many in and around Detroit have had direct experience of the team and that WDET has made a special commitment to celebrating the students and their work.
There's nothing quite like live youth slam poetry for energy, passion and hope for the future. I am as proud today as I was 13 years ago in Ann Arbor, the very first time that iO dared to send a team to the mic on Detroit's behalf. Our students are meeting and competing with teams from across the country and overseas thanks to YouthSpeaks, a powerful youth movement that bodes well for the future. Chicago's BNV audiences will experience socially conscious, brave, honest poetry that tells the world how our youth think, feel, and imagine their futures. And the youth will come away strengthened by being part of a great network.
The confidence that comes from putting one's words, one's very being, before an audience of strangers and peers from across the globe can't be overstated. It's not so much about poetry -- although the poets among us thrill to the elaborate metaphors, word play and sense of discovery of our wordsmiths -- as it is about voice, and learning that your story matters, what you have to say matters. InsideOut's BNV alums have already accomplished much: Myriha Burton and Joseph Verge, both at University of Wisconsin, Madison; AJ Wallace, traveling Europe after finishing a year's study abroad in England; Will Langford, on a Fulbright in Kenya; Naidra Walls, with an MBA now, who traveled to China. One of this year's coaches, Justin Rogers, a member of our team that won 4th place in San Francisco in 2011, works part time for iO as a youth leader while completing his degree at Wayne State University. The experience was transforming for them all.
Perhaps playwright and youth leader Shawntai Brown, an alumna of our first 2001 team, captures the impact of the CWP experience best when she writes:
I learned about cultures, resources for writers and youth, diversity, art, and developed a pride for my city that has brought me back to work professionally in Detroit. Away at workshops, competitions and readings, I realized the demographics of Detroit were not what the rest of the world looked like. As I mingled with youth from other cultures, I struggled. My black, female, church-raised, urban identity seemed threatened by the larger white culture. That exposure and struggle, however, was a safe, mentor-guided and realistic taste of what I would come to experience in college. I was able to spend time on college campuses, and have professors and published authors read my work and advise me on writing programs. I learned to network.
I'm excited about the networking and growth in store for Samuel. He aims to become a teacher with his sights set on USC, and he proudly informed me on Monday that he will participate again in Poetry Out Loud this year, the national poetry recitation program founded by the Poetry Foundation and the National Endowment for the Arts and organized for us through the Michigan Humanities Council. Through POL students memorize, or rather, embody, the words of the greats - modern and ancient - from Nikki Giovanni to William Shakespeare. Samuel's future is brave and bright. He is learning much about generosity and discipline as well as artistry and language and I'm so proud that iO is helping him, and so many other brave young voices, blaze new paths through life through poetry.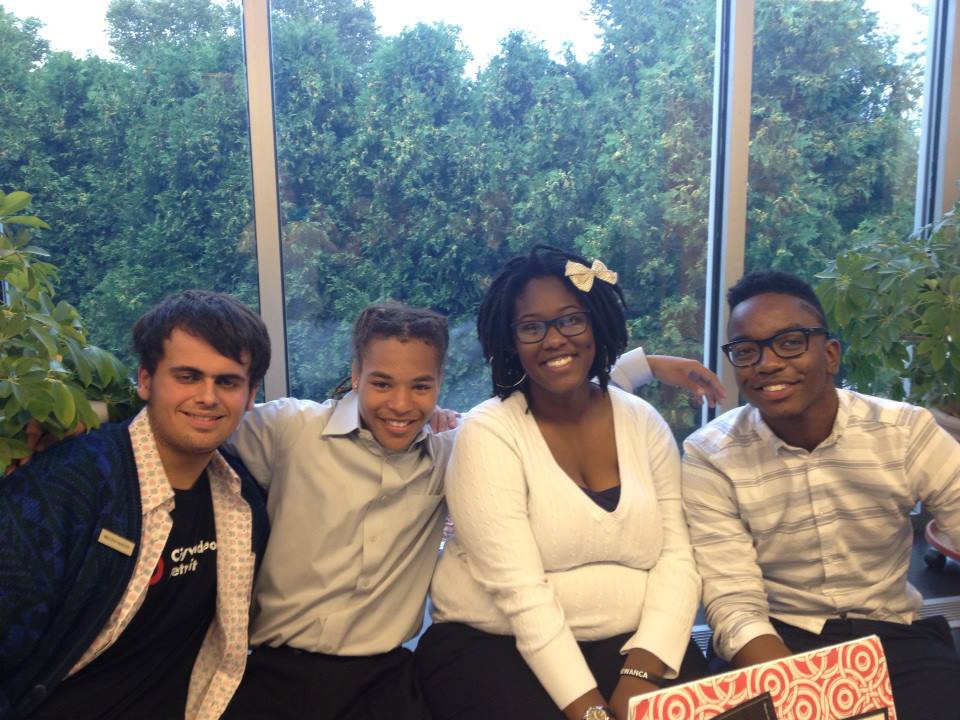 Four of our five stars: Victor, Sam, Breanna, Terrell. As the emcees say: Show them some love, everyone!!
REAL LIFE. REAL NEWS. REAL VOICES.
Help us tell more of the stories that matter from voices that too often remain unheard.