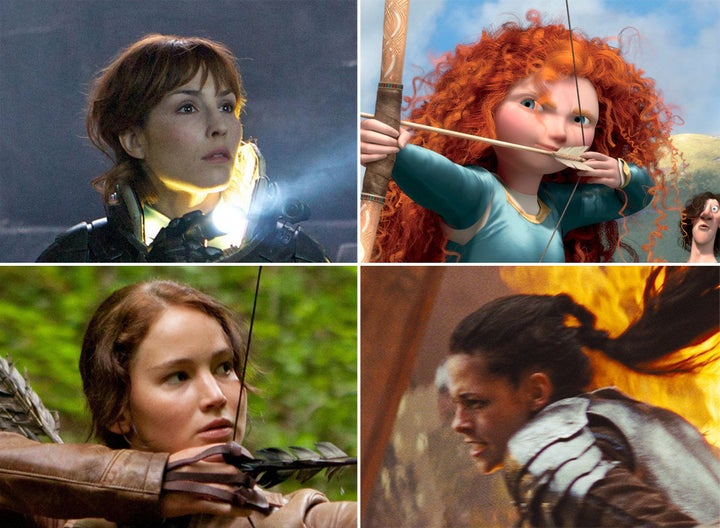 In fall 2009, movie producer Nina Jacobson was faced with a classic Hollywood dilemma -- to pitch or not to pitch.
Jacobson's colleague, Bryan Unkeless, had recently recommended a young adult novel he thought would make a good movie. Jacobson told The Huffington Post that she loved the book and "couldn't put it down, couldn't stop thinking about it."
She said that although she knew the movie would be expensive to make, it would be difficult to sell to the studios for another reason -- it was an action movie starring a female protagonist.
"She's 16-years-old in the book, and she's not defined by her romantic interest -- it's not a love story, though there is a romantic subplot. So in terms of the movie marketplace, it breaks a lot of the conventional wisdom about what works," Jacobson said.
But Jacobson won the approval of the book's author and sold the package to Lionsgate, which gave the movie a budget of $70 million -- just a fraction of the amount given to action tentpoles like "The Avengers" and "The Dark Knight Rises."
What book was Jacobson pitching? "The Hunger Games," by Suzanne Collins. The movie adaptation of the book, which starred Jennifer Lawrence as arrow-slinging hero Katniss, sold $152 million at the box office in its opening weekend in the U.S. and has sold more than $670 million worldwide since then.
"The Hunger Games" was just one of several 2012 releases that have defied the long-held Hollywood belief that action movies need male leads to attract large audiences.
"Snow White and the Huntsman," starring Kristen Stewart, made $56 million in the three days after its June 1 release. The very next week, "Prometheus," which prominently features Swedish actress Noomi Rapace and Charlize Theron, opened to $51 million. Two weeks after that, Disney/Pixar's first female-led animated movie, "Brave," made $66 million in its opening weekend.
While these aren't the first action movies ever to feature female protagonists, the heroes of these films are different than most. They are killers first and knockouts second -- unlike the leads of many other of the successful female-driven action movies of recent years. Some examples are "Lara Croft: Tomb Raider," "Resident Evil" and "Charlie's Angels." This years entries are some of the most successful in their genre -- partially because they were given higher budgets than most of their predecessors. (Studies have shown the size of a movie's budget is by far the best predictor of its box-office gross.) "Snow White and the Huntsman," "Prometheus" and "Brave" each cost more than $100 million to make.
That all these movies were released in such quick succession is no coincidence. Instead, it marks the culmination and convergence of trends that have been emerging in the movie business for several years.
The most important such trend, according to Jeff Gomez, co-founder of movie marketing company Starlight Runner, is "the growing knowledge that women are making the decisions now with regard to entertainment choices and product choices."
Jacobson agreed, noting that women, more than men, "read and love books and go online to talk about what they love. Their attention is not as divided as that of young men, who are so often pursued by people who finance film and make film. They're focused on video games and sports as well as film and television, so it's hard to get their attention."
Palak Patel, one of the producers of "Snow White and the Huntsman," said many in Hollywood have been inspired by the success of the "Lord of the Rings" and "Harry Potter" franchises, and have since tried to explore those successful genres in new and interesting ways.
"Everyone was asking themselves, 'How do you tell a familiar story in a different fashion, and execute it differently, with a different twist?'" Patel said. "Maybe with certain tales, they make it with a co-lead, or a two-hander with a female, or a female lead."
Jacobson also suggested that movie viewers, especially those under the age of 25, have become more open to the idea that a character's identity isn't defined by gender alone.
"Young men and young women today don't necessarily think that they can only hang out with people of the same gender and date people of the opposite one," she said. "Increasingly, their relationships with the other sex aren't purely about romantic interest."
Men and women have come out in almost equal numbers to see the recent batch of female-led action movies. According to CinemaScore exit surveys, 39 percent of the audience for "The Hunger Games," 43 percent of the audience for "Brave," 47 percent of the "Snow White and the Huntsman" audience and 57 percent of the "Prometheus" audience was male on opening weekend.
But the genre is not without its perils. For a female action hero to pilot a movie to box office success, she must -- like a female politician vying for office -- avoid the Scylla of weakness and the Charybdis of domination.
For an example of what can go wrong, consider "Haywire," a female-helmed action movie that made just $19 million at the U.S. box office. Gomez attributed the movie's failure to a trailer that featured a relatively unknown actress pummeling her well-liked male co-stars, Channing Tatum and Ewan McGregor. He argued that this makes her seem threatening to men and unsympathetic to women -- unlike a character like Katniss.
"She's not running around murdering kids," he explained. "She's defending her life when she has to, and trying to figure a way out of this horrible situation. And that is something that we can get behind whether she's male or female."
Popular in the Community