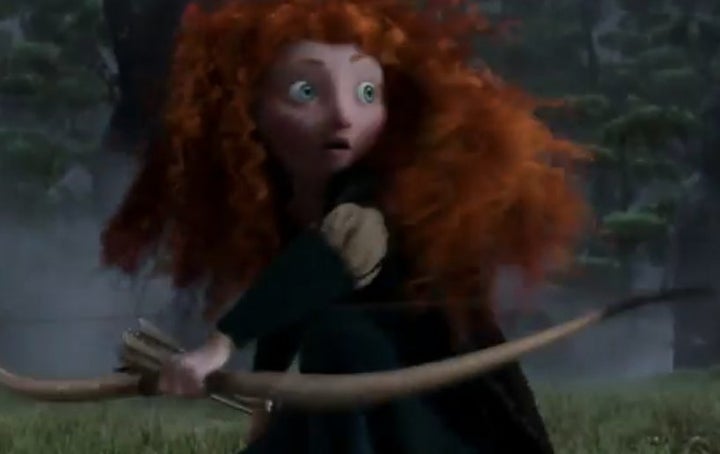 And while "Cars 2" is a fun sequel of the 2006 film, "Brave" is groundbreaking territory for the hallowed CGI studio.
The film, about a Scottish warrior princess named Merida, is the first from Pixar to feature a female lead, let alone one that breaks the mold of most of Disney's beloved princesses (though Mulan was also a warrior princess). Voiced by Kelly Macdonald, the film also features Emma Thompson, Julie Walters, Billy Connolly and Craig Ferguson.
Right off the bat, we take in the beautiful Scottish countryside and the majestic castle lording over it, and meet Merida, who reveals her grit with a bow and arrow.
Brave is set in the mystical Scottish Highlands, where Merida is the princess of a kingdom ruled by King Fergus (Billy Connolly) and Queen Elinor (Emma Thompson). An unruly daughter and an accomplished archer, Merida one day defies a sacred custom of the land and inadvertently brings turmoil to the kingdom. In an attempt to set things right, Merida seeks out an eccentric old Wise Woman (Julie Walters) and is granted an ill-fated wish. Also figuring into Merida's quest — and serving as comic relief — are the kingdom's three lords: the enormous Lord MacGuffin (Kevin McKidd), the surly Lord Macintosh (Craig Ferguson), and the disagreeable Lord Dingwall (Robbie Coltrane).
WATCH
:
Popular in the Community