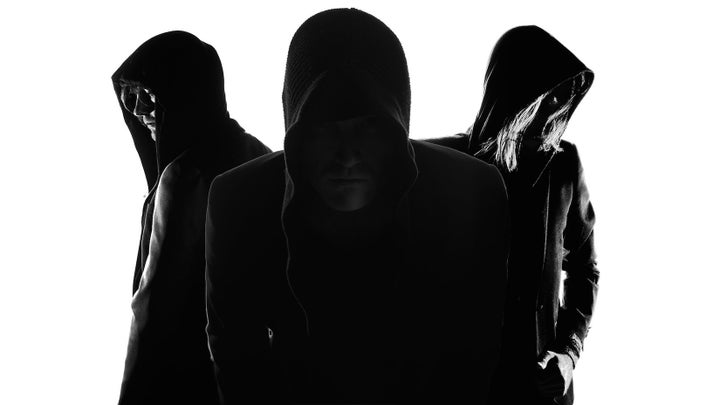 BRÅVES isn't your ordinary band. Sure, twin Australian vocalists Jericho and Thorald of The Wood and producer Johnny What perform compelling dark-pop songs that have started to garner buzz. But the international pop trio is also committed to raising awareness of various causes through each one of those tracks by teaming with charity organizations.
Today, The Huffington Post is exclusively premiering the video for "Lovely Bones." We also caught up with Johnny What about the meaning and message behind it. 
What's the story behind your new song, "Lovely Bones"?
It's about a dark love; being trapped in someone's web and loving it. "Caught in cobwebs / Only spiders know / How to taste / Your lovely bones." We used the analogy of a spider and its prey getting entangled together. A messy situation, but a romantic one. I kept the production pretty sparse and open so each individual part would be heard and have its purpose served.
Can you share the meaning behind the video?
As you could probably tell from our last video, we like to leave a lot of the meaning open to individual interpretation. But my hopes for this video are that it stretches the viewers comfort zone; in terms of age, social norms, athleticism/sport and beauty. When we first discovered these girls and saw what they were doing, it certainly stretched us and gave us a level of discomfort. But then we questioned that discomfort and asked, "Why?" That's what we're hoping everyone who sees this video gleans from it, ultimately a deeper sense of self, truth and open-mindedness.
Tell us about your commitment to helping others. 
In regards to our charity efforts, we just like to help. Whether it be raising awareness about elephant poaching through writing a song for Kristin Davis' documentary, "Gardeners of Eden," or our plan to donate every dollar earned from a Bandcamp download of "Lovely Bones" to anti-child trafficking. Music is fun and we are blessed to have it as such a large part of our lives, but there is a lot more to life and a lot of people who aren't as fortunate. We like to help where we can and inspire others to do the same.
"Lovely Bones" appears on the group's second EP, which is out now. Watch the music video, shot in St. Petersburg, Russia, below. 
Calling all HuffPost superfans!
Sign up for membership to become a founding member and help shape HuffPost's next chapter
BEFORE YOU GO
PHOTO GALLERY
Spotify Year In Music