Duran's directorial debut focuses on 17-year-old New York City teen Josh Harvest (Lucas Till, "X-Men: First Class"), who is a troubled but talented DJ sent to spend time with his estranged father (Josh Duhamel) after an accidental drug overdose. As Josh arrives to deal with his own family problems, he begins to realize that residents of the small Army town in North Dakota are struggling to come to terms with losing many of their loved ones to war.

"Bravetown" also includes performances by Kherington Payne ("Fame") and Oscar-nominated actress Laura Dern ("Wild"), as a clinically depressed mother unable to cope with the loss of her son.
Duran recently discussed the film with The Huffington Post via email. He opened up about how his relationship with his father connects him to the film, and how many Latin Americans can identify with the movie's theme of losing loved ones to violence.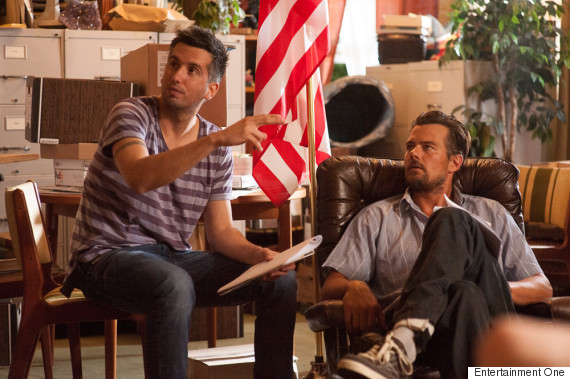 Director Daniel Duran (left) and actor Josh Duhamel on the set of "Bravetown."

You were born and raised in Venezuela. How did you end up doing a film that deals with topics like the trauma of returning war veterans and how a town in middle America is dealing losing loved ones to war?
From the start, the theme was something I felt was very universal because it's a story about a DJ that has these personal and family problems -- problems that affect anyone in the world, from any nationality -- and that was my main focus.
I think when you deal with conflicts concerning family, love, heartbreak, father-son relationships, they're topics that anyone can identify with and that's where I got hooked in this project. Plus, the movie is charged with music and I come from that world with my music video [background]. It was easy for me to understand Josh's musical world and how he used music to deal with the whirlwind of emotions he was living. It is a movie that exists in a totally American world, but at the same time it touches upon very universal themes.
How did you feel personally connected to the story?
I feel I connected with the emotions. I also come from a family with separated parents, in which I didn't have a relationship with my father. The difference is that Josh experienced that as a teenager, and for me it was imagining what that relationship would've been like. But unlike Josh, my relationship with my mother has always been spectacular and I never had the type of issues he had [with his mom.]
On the other hand, I felt I identified with Josh's musical connection as a DJ because music has always been present in my life and in my creations. One of the things I've always liked is to talk to young people and I feel that his movie connects with teens, because despite it being a very mature story, it is seen from their point of view.
What kind of obstacles did you face while working on "Bravetown?"
This was my first film and it was a big cast. I think my first obstacle was how to face that challenge and the insecurity I had at one point about being able to succeed. Having English be my second language was also a big obstacle, to think that at some point I wasn't going to be able to communicate exactly what I wanted. Thank God I had the proper words to be able to express what I wanted to the crew and cast, to be able to steer the wheel of this boat.

Back to the theme of losing loved ones to war and how you deal with that, there are plenty of people in Latin America who can relate to what it's like to lose someone to violence.
Perhaps in Latin American countries we don't lose soldiers, but we have a high percentage of deaths caused by crime. That's a kind of war with which we've have to deal. I think that people from other countries will identify with "Bravetown," because it's that feeling of losing a loved one to violence that creates wounds that are difficult to heal. And how you face that loss, that is the important point of the movie.

What was it like working with Laura Dern, who recently was nominated for the Oscar for "Wild"?
Laura is a true lady and working with her was incredible -- a delight. I learned a lot from her. For me it was an experience to create that character with her because it was written one way and when we sat down to talk, we gave it a different tone. That's the magic that happens when you work with someone with her talent.
This was your first film, but what can we expect from you in the future?
I want to continue telling great stories and entertaining. Right now I'm focused on closing the chapter with "Bravetown," but I am starting to read and write ideas. But I don't know what's coming yet.
And now that you are closing the chapter, how do you feel about your first film?
I feel very happy, excited and enthusiastic about people seeing my first project. I think it was an incredible project with an excellent cast. ... I [also] had the opportunity to work with my director of photography Angel Berroeta -- who has been with me since my music videos and with pride I can say he's from Maracay, Venezuela -- Salvadorian writer Oscar Torres, Argentine production designer Tomas Voth, Venezuelan composer Angelo Milli. You could say this was a movie made by Latinos for Americans, and that makes me very proud.
"Bravetown" will be in select theaters beginning on Friday, May 8.
CORRECTION: This article has been edited to correct the reference to Laura Dern, who has been nominated for Oscars twice, but has not won.
REAL LIFE. REAL NEWS. REAL VOICES.
Help us tell more of the stories that matter from voices that too often remain unheard.
BEFORE YOU GO
PHOTO GALLERY
Indie Summer Movie Preview 2015