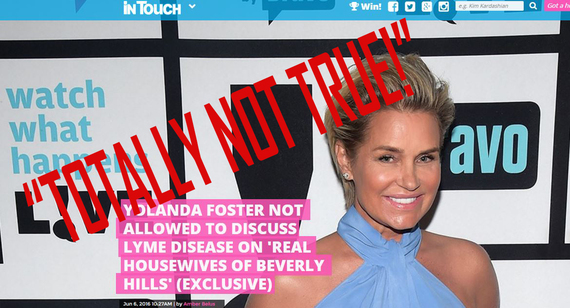 Yolanda Hadid (formerly Foster) has become perhaps the highest-profile face of Lyme disease as a result of having been stricken with a chronic form of the illness while she was shooting the Real Housewives of Beverly Hills. Her narrative arc since that time has largely involved the difficulties she faced in finding a diagnosis, her abruptly declining health, and slow recovery while being the butt of jokes, accusations, and malicious rumors from various other castmates, including Lisa Rinna, Lisa Vanderpump, and Kyle Richards, who collectively sustained a rumor that Hadid may have a mental illness rather than Lyme disease.
Yesterday, InTouch magazine reported that, according to "a source," Lyme disease is "off limits for the upcoming season" of the Real Housewives of Beverly Hills.
"Lyme disease is off the table for her storyline. The viewers are tired of hearing about it, and Yolanda was very unhappy about the turn of events. Yolanda said she wanted to raise awareness about Lyme disease and producers understand her position," a source explains.
The claim that "viewers are tired of hearing about it" may apply to some viewers--but certainly not all. I've written about how watching Yolanda's discovery that she has Lyme disease and her quickly failing health mimicked mine so closely that it actually helped me to realize that I still have Lyme disease and other tickborne infections since I was originally diagnosed and under treated all the way back in 1997.
I've also written a plea to the network and the show's producers to realize the power of their influence and their potential to help viewers, maybe even to save lives, rather than diminishing a seriously ill patient by editing the show to suggest that she may have Munchausen syndrome--a mental illness in which a person imagines that she is very ill.
When I inquired with the Bravo network back in January, I was given this statement from "a Bravo spokesperson":
"The network understands Lyme disease is very misunderstood. While Yolanda Foster suffers from the effects of this devastating condition, you see real reactions from her friends who are dealing with her diagnosis for the first time. Bravo does not editorialize content. Our programming captures the interactions between people. As you continue to watch the season unfold and as the cast is educated about Lyme disease, there are valuable lessons learned. And hopefully by shining a light on this, we are opening up the conversation about Lyme disease."

Assuming that statement is true, then it certainly would be an abrupt change of attitude for the network to give Hadid the reported ultimatum to keep quiet about Lyme disease or be terminated from the series.
I asked Bravo if InTouch's rumor that Hadid if InTouch's rumor that Hadid has been told to eliminate mentions of her illness from the show is true.
A Bravo spokesperson responded, "That is totally not true!"
I hope not. One part of the InTouch claim certainly isn't true--the part about viewers being "tired of hearing about it."
When I saw the story on Facebook, it was being shared by others like me who find great value in this sort of meaningful storytelling. For some of us, watching repeatedly orchestrated "vacation meltdown" episodes and cringeworthy and no-longer-interesting footage of middle-aged women pulling one another's hair, throwing wine glasses, hiding crutches, and other humiliating antics, has lost its novelty and the super-superficial reality television franchise desperately needs an infusion of, well, reality.
A sampling of Facebook comments in reaction to the InTouch rumor:
"Time to hurt Bravo - Boycott!"
"They can stifle her on the show, but she can make up for it on talk shows and other events as she continues to be relevant on tv. Keep up the good fight!!"
"Wtf? Sorry, but seriously?"
"Maybe we should not watch anything on Bravo. Don't they think that we're tired of LIVING WITH LYME?? WTF??"
"Not acceptable! Why I need to start a blog 101... Because when I see things like this I have a lot more to say/. It appears that Lyme patients are living a life that requires censoring. And herin lies proof that reality TV is not reality."

Imagine someone with HIV being told by his or her bosses never to mention the illness. Would that be offensive? Actually, it would constitute disability discrimination, a felony in violation of the Americans with Disabilities Act.
According to the statute: "The law forbids discrimination when it comes to any aspect of employment, including hiring, firing, pay, job assignments, promotions, layoff, training, fringe benefits, and any other term or condition of employment."
"Harassment can include, for example, offensive remarks about a person's disability. Although the law doesn't prohibit simple teasing, offhand comments, or isolated incidents that aren't very serious, harassment is illegal when it is so frequent or severe that it creates a hostile or offensive work environment or when it results in an adverse employment decision (such as the victim being fired or demoted)."
One wonders whether suggesting for the better part of a year on national television that a seriously ill person is faking it, and convincing millions of viewers of that unfounded doubt, might constitute harassment.
In this case, probably not. The entertainment industry is an exception to many modes of normal life, and discrimination for on-camera talent is actually a matter of protocol, not illegal. Unlike a typical desk job, actors and spokespeople are hired or fired based on ethnic group, age, height and weight, subjective measures of attractiveness, and, I suppose, wellness. So in this case, if the InTouch rumor were true, such discrimination may not be illegal. But it would still be discrimination.
As I scroll through Facebook, I see hundreds of comments from people who recognize that discrimination and are upset by it. It turns out that Real Housewives viewers have a conscience and understand when a person is ill, despite the story arc constructed around her, and they feel compassion and want to see more. Here's one that sums up my immediate reaction to the InTouch story: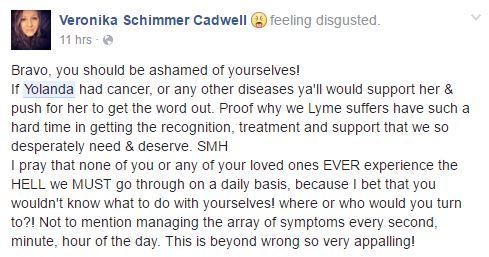 I was very glad to receive the network's message affirming that the InTouch article's rumor is totally not true. That means my conscience will allow me to keep watching the Real Housewives of Beverly Hills, and far more importantly, it means that Yolanda Hadid can continue her journey toward health on camera, and continue to educate viewers about the surreal reality of living with Lyme disease.
REAL LIFE. REAL NEWS. REAL VOICES.
Help us tell more of the stories that matter from voices that too often remain unheard.