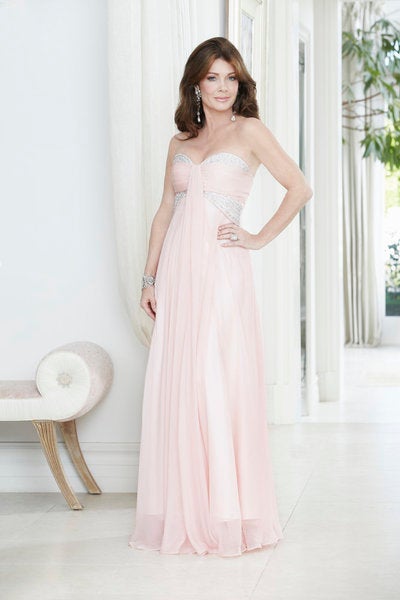 Eleven new shows, including a spinoff for "Real Housewives of Beverly Hills" star Lisa Vanderpump and a new "Top Chef" series with Jen Carroll, Richard Blais, Fabio Viviani and Spike Mendelsohn, are heading to Bravo. The network has also renewed eight shows, including "Tabatha Takes Over."
"SUR" goes inside "Housewives" star Vanderpump's LA hotspot restaurant. "Life After Top Chef" follows the personal and professional lives of the four former "Top Chef" cheftestants. There are also new shows set on yachts, in the offices of icanhascheezburger.com and in art galleries and the network also announced seven new unscripted projects in development.
Two scripted shows are in the works at Bravo, but the subject matter is familiar to the established audience. "22 Birthdays" follows the lives of a group of parents at a private school, with each episode centered around a lavish birthday party. "Blowing Sunshine" hails from "90210's" Jason Ning and follows the staff and patients of a fictional private rehab center. Bravo plans to premiere its first scripted series in 2013.
Along with "Tabatha," Bravo has renewed "Flipping Out," "Million Dollar Decorators," "Top Chef Masters," "Million Dollar Listing Los Angeles," "Chef Roblé & Co.," "Pregnant in Heels" and "Inside the Actors Studio."
The cast of "Mad Men" will get the "Inside The Actors Studio" later this year and the show will celebrate 250 episodes with James Lipton looking back on the best moments from his 287 past guests.
Full descriptions for Bravo's new unscripted offerings are below.

"Silicon Valley" (working title)
Produced by Den of Thieves with Jesse Ignjatovic, Evan Prager and Randi Zuckerberg serving as executive producers.

Teaming up with internet entrepreneur Zuckerberg, Bravo captures the intertwining lives of young professionals on the path to becoming Silicon Valley's next great success stories.

"Life After Top Chef"
Produced by Magical Elves with Dan Cutforth, Jane Lipsitz, Casey Criley and Nan Strait serving as executive producers.

Cameras are taken outside of the "Top Chef" kitchen and into the lives of Bravo's most beloved former cheftestants as they reach milestones in their personal lives and culinary careers. From opening their own restaurants to expanding their growing franchises, viewers will follow Jen Carroll in Philadelphia, Richard Blais in Atlanta, Fabio Viviani in Los Angeles and Spike Mendelsohn in DC.

"Below Deck" (working title)
Produced by 51 Minds with Mark Cronin and Courtland Cox serving as executive producers and Esther Reyes as co-executive producer.

The upstairs and downstairs worlds collide when this young and single crew of "yachties" live, love and work together aboard a luxurious mega yacht while tending to the ever-changing needs of their wealthy, demanding charter guests.

"Huh?" (working title)
Produced by RelativityREAL with Tom Forman, Jay Blumenfield and Tony Marsh serving as executive producers.

Ever wonder who is behind those hilarious cat memes? Bravo goes inside the office of Ben Huh and his eclectic staff at icanhascheezburger.com, one of the largest humor publishers on the Internet known for their popular LOLs and FAILs.

"SUR" (working title)
Produced by Evolution Media with Douglas Ross, Greg Stewart, Kathleen French, Alex Baskin, Lisa Vanderpump and Ken Todd serving as executive producers.

Best known as one of "The Real Housewives of Beverly Hills," Lisa Vanderpump opens the salacious kitchen doors of her exclusive Hollywood restaurant and lounge, SUR. Declaring it the sexiest establishment she's ever owned and "the place you take your mistress," Lisa rules over her lively and mischievous staff with a platinum fist.

"Miss Advised"
Produced by RelativityREAL and Ashley Tisdale's Blondie Girl Productions with Tom Forman, Michaline Babich, Brad Bishop, Ashley Tisdale and Jessica Rhoades serving as executive producers.

These single relationship experts can't seem to practice what they preach as Amy Laurent in New York, Emily Morse in San Francisco and Julia Allison in Los Angeles struggle to stay afloat in the deep end of the dating pool.

"Newlyweds: The First Year"
Produced by Monkey Kingdom with Will Macdonald, David Granger and Lauren Lazin serving as executive producers.

From the moment they say "I do" to their one-year anniversary, cameras capture diverse couples across from coast-to-coast experiencing the trials and tribulations of their first year of marriage.

"Gallery Girls" (working title)
Produced by Magical Elves with Dan Cutforth and Jane Lipsitz serving as executive producers along with Alexandra Lipsitz and Kris Lindquist as co-executive producers.

Viewers are introduced to seven young women who dream of living a chic and fashionable existence in New York City. Chantal Chadwick, Kerri Lisa, Liz Margulies, Claudia Martinez, Angela Pham, Amy Poliakoff and Maggie Schaffer all share a passion for art, but are divided amongst their Manhattan and Brooklyn lifestyles with vastly different attitudes and tastes towards fashion, art and men.

"LA Shrinks" (working title)
Produced by Intuitive Entertainment with Kevin Dill and Mechelle Collins serving as executive producers along with Elise Duran as co-executive producer.

It takes one to treat one! The professional and personal lives of dynamic experts are exposed as they counsel a wide array of clients at some of the top private practices in Los Angeles.

"Decades" (working title)
Produced by True Entertainment with Glenda Hersh, Steven Weinstock, Matt Hanna, Kathryn Vaughan and Lauren Eskelin serving as executive producers.

Renowned boutique owners Christos Garkinos and Cameron Silver show off their exclusive and glamorous world of vintage couture filled with Givenchy, Balenciaga and Chanel.

"The Kandi Factory"
Produced by True Entertainment and Kandi Koated Entertainment with Steven Weinstock, Glenda Hersh, Mark Ford, Kevin Lopez and Kandi Burruss serving as executive producers.

Driven by the success of the special that aired in March, Bravo has greenlit season one of "The Kandi Factory," starring multi-platinum songwriter and "Real Housewives of Atlanta's" Kandi Burruss. Protégés with no music industry experience are given the opportunity to work with Burruss' team of experts in Atlanta to master the key elements that will turn them into a pop star.