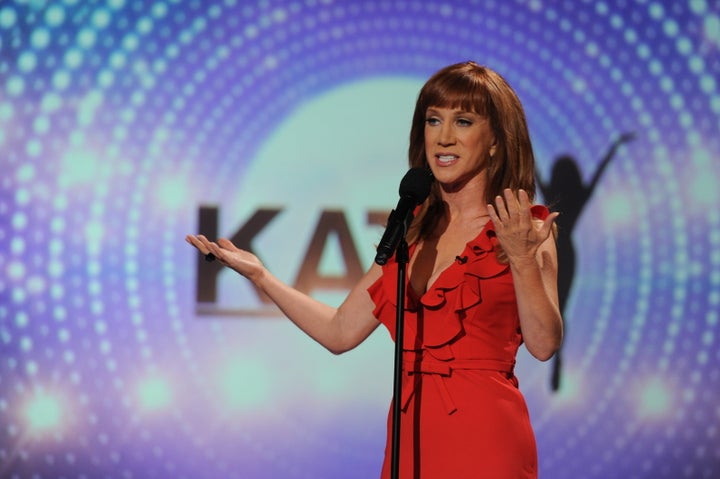 Kathy Griffin is officially the hardest working comedienne in the business.
Her weekly primetime Bravo talk show, "Kathy," has been renewed for a second season. This comes just a week after she picked up another Emmy nomination (she has two wins for "My Life on the D-List") for her stand-up special "Tired Hooker" -- her third nomination in the Outstanding Variety, Music or Comedy Special category -- and the same day her new one-hour comedy special, "Kathy Griffin: Seaman 1st Class," premieres (Thurs., July 26, 10 p.m. ET).
"I'm coming back in January! The Bravo folks have been really great about letting me figure out what the hell the show is," Griffin said when we reached out to congratulate her. "We started with 12 episodes, and it's my favorite job I've ever had. I'm having the time of my life. I love it ... As far as I know, we're going to stay on Thursdays at 10, and I've been told we're going to start the first week in January."
"Bravo's relationship with Kathy Griffin has outlasted Katie and Tom's, Ashton and Demi's, and while we won't be couch jumping, we continue to be in awe of her quick wit, rude humor and spot-on analysis of pop culture and celebrity happenings," Frances Berwick, President of Bravo Media, said in a statement.
As for her schedule until January, Griffin is still touring regularly, and she's got a packed schedule of comedy specials for her home network. "I would like to ask you overtly to make the point that no comedian has ever done four specials in one year, much less a female comedian. We are still fighting the good fight of females in comedy, and I am not gonna have it from these gals that are saying that sexism in comedy doesn't still exist because it does," Griffin said. "So I was like, 'Fine. I won't do one special a year. I won't do two. I will be doing four in one year. Chris Rock was like, 'You're doing a special a year for four years?' And I said, 'No, no, no -- I'm doing four in one year.' Then Jon Stewart was like, 'Why do you wanna do a special a year?' And I was like, 'No ... I'm doing four.'
Watch a sneak peek of "Seaman 1st Class" here, then keep reading for more on finally allowing celebrity guests on "Kathy," wanting guests to sit on her face and getting into Tumblr with her pal Cher.
The first season of "Kathy" had several "did that just happen?" moments, but I'm entertained any time you whore your assistant Tiffany out to random firemen ...
There are so many moments that stick out from the first few episodes, but people are fascinated by Tiffany. They fell in love with her on "The D-List" and now she's lost all this weight. I get all these tweets about her -- she's our Carrie Bradshaw. She represents that single girl in the city, and I love that she totally wears clothing from the Kardashian Kollection at Sears. She is now juggling some bitches -- I think she was texting with one of the firemen, then that didn't work out, so she was texting with the guy she met on our fake dating game, and they really went out on a date, and tomorrow night she's having girls night at something called Tequila Tuesdays. She's living the dream.
I love it. You know, when we last talked before "Kathy" premiered, you were pretty adamant about not having celebrity guests, but that quickly changed. Is there a certain kind of celebrity you want to have on now?
I kept saying, "No celebrities, no celebrities -- or, if they come, they have to come to play and they have to know what they're getting into." It's not going to be a typical talk show, and it certainly hasn't been, if you saw the Jane Fonda episode. It certainly wasn't Jane promoting "The Newsroom" and talking about her latest book. What's great is that every single celebrity came to me, including Jane. Jane said, "I heard you have a show, and I'd love to come on." We were emailing back and forth, and you'd think I was trying to talk her out of it because I was like, "I don't think you know how loose this show is -- it's a very loosey-goosey, kind of a European-style show, where all three people are on the couch at once, and you can't just promote stuff." She's like, "I won't promote anything. Sounds great." And then, of course, when she came on, clearly she had never seen the show, but she was great. She just immediately took to my mother, which I knew she would, and wanted to get my mom's anti-aging secrets. Little does she know it's wine and cheese from a bottle. But that show is one I'm so proud of -- that's really what I hoped would happen, with civilians or celebrities, that kind of conversation.
Lisa Ling was so perfect because she's so smart, and she's able to make fun of herself. And that's what I loved about Anderson Cooper. It all started with Chelsea Handler -- Whitney Cummings said, "Oh Kathy's going to do a show!" and Chelsea said, "I want to come on." And I said, "Oh no, no, no ... people have to really let it rip, and I just don't trust celebrities." She said, "Do you have a first guest?" And I said, "Yeah, it's my dog walker and a couple of friends." And she was like, "You're insane." Having her and Whitney on with my dog walker was really perfect. He's a very real person, and he is someone that I classify as my favorite guest, just unintentionally funny. I'm still going to continue to mix it up with whatever celebrities come to me, come to play and kind of know what they're getting into.
Well you have all these famous friends who want to support you ...
Yesterday, Cher called me and she was on speaker and Ryan the dog walker came to pick up the dogs, and he's like, "Oh my god -- Cher can yell at me anytime." And I said, "Well, who knows, Ryan? It could be in your future."
I love your life.
It's crazy! It's just taken years of brow-beating Hollywood down until they finally realized it was a joke. I went to see the Celine Dion show a few weeks ago in Vegas, and I've met her a few times, but I don't know her well, and I certainly don't know her to be somebody who's necessarily thrilled with the way I've portrayed her in my act. But then I get a call from her assistant, and she wants to see me afterward and hang out, and I'm like, "Really?" And she was lovely, and we took a couple funny pictures. She gave me the highest compliment -- she said [in her Celine Dion accent], "And remember: Keep me in your act. I want to still feel like I am hot!" It's really been fun. Celebrities are finally getting, after all these years, that it's a joke. I'm having less celebrity rage. Fewer celebrities leave the room when I enter -- though there's still a few. And now they come on the show to have fun.
I'm going to f--- with them, but I'm not in the business of ruining careers. I'm going to make a joke at your expense, and I'm certainly going to make 10 more at my expense, but nobody's going to leave in tears. Ironically, Anderson was on my show a week before he came out. And yet, I certainly in a million years wasn't going to out him for ratings.
Never! But you probably had a moment of like, "Couldn't you have just done it a week earlier maybe? I didn't want to do it, but couldn't you have done it on my show?"
[Laughs.] Well, I think when he was saying things like, "Bitch, what are you doing?" And, "Girl, it's not gonna happen" ... that's the kind of conversation that I live for on the "Kathy" show. I guess if I want to refer to the couch as "my face" and ask the guests to "sit on my face," that may not work with Anderson, but I think it would be unique to have a talk show where I can invite guests to sit on my face. But you know what? I don't win every battle with Bravo. That may not be my new logo ... I may not be able to convince Bravo to go from "Watch What Happens" to "Sit On My Face."
You do always pick great names. I loved "Tired Hooker," so congrats on the Emmy nomination.
I was very, very excited that "Tired Hooker" got nominated. I truly wasn't counting on it; it was a genuine surprise. Once again, I'm out to crush the Kennedy Center Honors because they win that category every single year. But I'm just happy to, once again, give the Academy a title that they should at least consider would be funny to hear: "And the Emmy goes to 'Tired Hooker.'" America just wants to hear it! Even if it's a mistake or there's a tie, or oh my gosh I made a mistake -- I just want somebody who has been in a lot of episodes of "Law & Order" or someone from "The Newsroom" to have to stand there and say, "And the Emmy goes to 'Tired Hooker.'" I have dreams.
And this new special has "Seaman" in the title.
It does, though it's spelled in the nautical fashion. Once again, Bravo didn't want to name it that, but I was doing it in Long Beach ... and I wasn't on the Queen Mary, but there were plenty of queens onstage and in the audience, and I stood in front of a gigantic poster of the Queen Mary. [Laughs.] So I thought "Seaman: 1st Class" was completely appropriate.
Who are your biggest targets in this one?
The Baptist church, I have a new and improved prison fan letter and I talk about Grammys -- there's a lot of backstage dirt from the Grammys. And there's a new and updated Cher story.
Everybody loves Cher.
I did a Tumblr with her, and you should check it out because it just went live: It's just called KathyCher. The gays are abuzz with excitement because I went to Cher's last week and I made her do my make-up and then we did an impromptu iPhone photoshoot. They're not exactly the level of photography status that she's used to ... but it's a lot of glitter.
"Seaman: 1st Class" premieres Thurs., July 26, 10 p.m. ET; "Kathy" returns to Bravo Thursday nights in January.
Tell us: Are you excited for more Kathy and more "Kathy" on TV?

Calling all HuffPost superfans!
Sign up for membership to become a founding member and help shape HuffPost's next chapter
BEFORE YOU GO