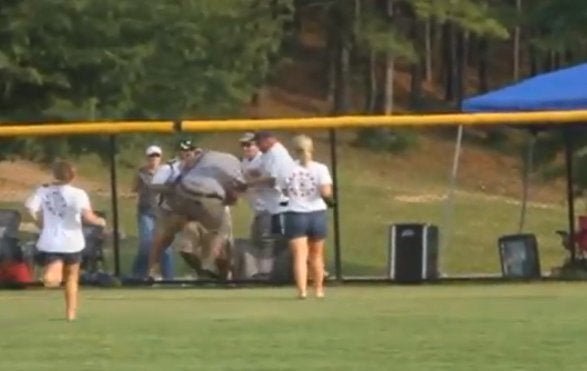 I watched the video of fathers brawling at a Georgia Little League game -- including the part where two Dads were taken off in handcuffs and charged with disorderly conduct -- and I thought, with a tad too much self-congratulation, "you don't see that kind of thing at Academic Challenge..." (VIDEO BELOW)
No, there were no parents throwing punches during the scandalous incident at Manhattan's Stuyvesant High School, which is among the most prestigious public schools in the country. Technically there were no parents directly involved when 70 students exchanged text messages with answers during a state Regents exam. But there might as well have been.
The message sent to the 12-year-olds on the field at Britt David Park in Columbus was that winning matters so much it is worth fighting over.
I'm betting that is the same message that the 16-year-old Stuyvesant students were sent over the years.
And they are not the only ones. As Times reporter Al Baker wrote:
The revelations that dozens of Stuyvesant students had cheated on tests not considered particularly challenging for them were the latest example of the competitive pressures inside top schools. In December, officials uncovered widespread cheating on an English final exam by students at a well-regarded school outside Houston; hundreds of students were believed to be involved, and 60 were disciplined. An SAT cheating scandal on Long Island last year, in which test takers used fake IDs to impersonate other students, led to nationwide changes in the way college admissions exams are administered.
Where do those pressures come from? It is too easy to only blame parents. A perfect storm of factors has made the road to college increasingly competitive and cutthroat. It is harder to get in than at any time in history, and with the lackluster economy that degree seems to matter more. But it is too easy to let parents off the hook completely, too.
Baker quotes Benjman Koatz, a June graduate of Stuyvesant (he is headed to Brown in the fall) as saying "there is an incentive there, especially since most of the students come from families where the goal is 'Ivy League school or bust'; you either go to an Ivy League school or you haven't lived up to your potential."
So while we can't solve this at home, we have to start there -- by sending the message that grades are not everything, and a college name is not as important as a college education, and that we are proud of effort not scores, and trophies are nice, but so is the very fact of playing the championship game.
On the Little League video you can hear the voices of kids calling to their parents, "Dad, stop it, come on, let's go home." And you can hear adults warning, "there's kids out here, kids are watching."