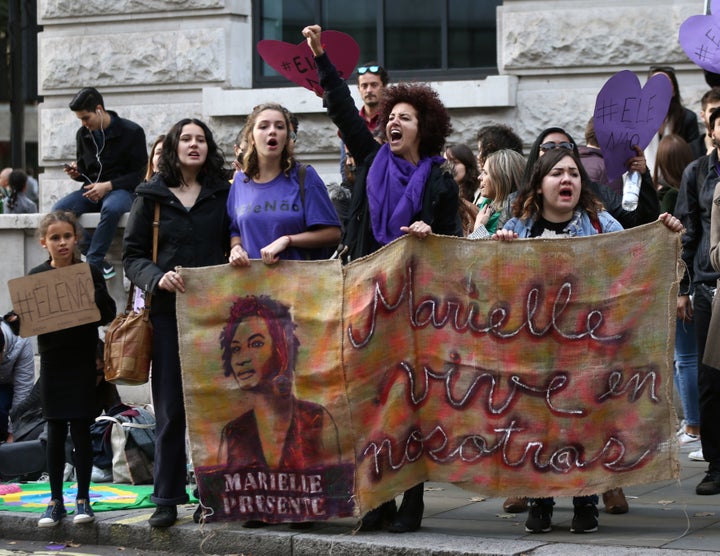 For years, Brazil has been among the countries with the lowest number of women in politics. But that started to change in the first round of the country's elections earlier this month.
Brazilians elected more women to their House of Representatives than ever before. For the first time ever, they elected a transgender candidate and an indigenous woman. And allies of Marielle Franco ― the black, queer councilwoman who was brutally murdered in Rio de Janeiro March 2018 ― won important victories.
Take a look at six big success stories for women in Brazil's election:
The Number Of Women In Politics Has Gone Up
The number of women elected to Brazil's 513-member House of Representatives jumped from 51 female parliamentarians in 2014 to 77 in 2018, a 5 percent increase.
Increasing the number of women in Congress was among the key demands of women's groups this election cycle, in addition to the fight against domestic violence. The new female representatives come from different political families and are divided over issues like the decriminalization of abortion. Nine of the elected women are from the PSL, the party of the far-right presidential candidate Jair Bolsonaro, who was indicted for incitement to rape.
The number of women elected as state representatives increased, too. There are now 161, a 35 percent increase compared to 2014.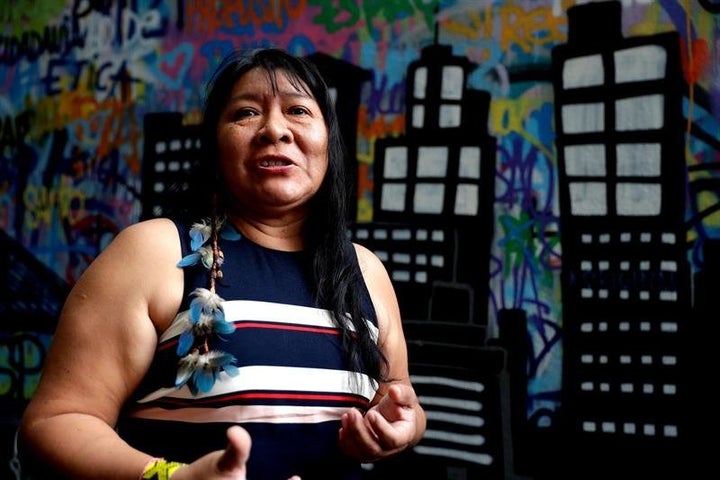 Joênia Wapichana
Joênia Wapichana, 43, will be the first indigenous woman to serve in the House of Representatives in its 194-year history. This isn't the first barrier Wapichana has broken down. She was also the first indigenous woman to earn a law degree, to become a lawyer and to present an oral defense in front of the Federal Supreme Court. She argued the 2008 case that defined the continuous limits of the Raposa Serra do Sol Reserve, the indigenous territory where she is from.
Her last name refers to her origin and the culture of her village, which has about 13,000 people in the valley of the Tacutu River. "Everyone has a mission in life. Mine is to defend indigenous collective rights," she wrote on her Instagram account before the vote last weekend.
The Legacy Of Marielle Franco
Three black feminists, Renata Souza, Mônica Francisco and Daniella Monteiro, were elected as state representatives in Rio de Janeiro. All three used to work with councilwoman Franco.
Franco's murder was intended to silence her. Instead, her voice has been amplified.
In addition, Talíria Petrone, a friend of Franco's and councilwoman in the municipality of Niterói, was elected as a federal representative. Petrone will join the House of Representatives with two other feminist women who began serving as councilwomen after the 2016 elections: Áurea Carolina from Minas Gerais, and Sâmia Bomfim from São Paulo.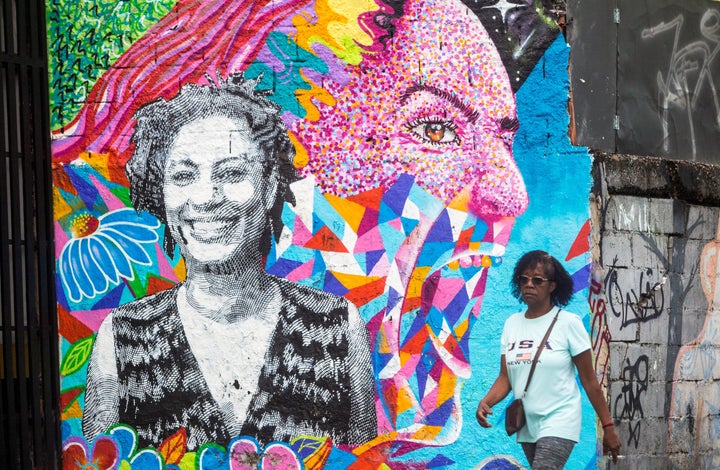 The Innovation Of Collective Lists
Collective candidacies are an innovation in Brazilian politics. Several candidates, usually united over a common idea or goal, run together for the same seat. Since there is no legal provision for the collective mandate, one of the members heads the movement and will serve as state representative. But members commit to making decisions together throughout the legislative period.
A collective candidacy called Bancada Ativista did particularly well in São Paulo. The collective's mandate officially will be exercised by journalist Mônica Seixas, but she will be accompanied by eight other activists who work in suburbs and social movements in the state. The group has six women besides Seixas: Erika Hilton, a black and transgender candidate; indigenous activist Chirley Pankará; artist, feminist and biker Anne Rammi; public school teacher Paula Aparecida; environmentalist Claudia Visoni; and sanitarian Raquel Marques.
Another big winner among the collective candidacies was Juntas, whose members aim to defend the priorities of women, especially those who are black, from underserved communities and LGBTQ. Juntos is made up of five women: lawyer Robeyoncé Lima; street vendor Jô Cavalcanti, who will officially take up the office; journalist Carol Vergolino; activist Joelma Carla; and teacher Kátia Cunha.
The Victory Of Erica Malunguinho
At least two transgender politicians ― Erika Hilton and Robeyoncé Lima ― will serve their constituents through the collective candidacies.
In addition, Érica Malunguinho da Silva, an educator and activist from the Socialism and Liberty Party, is the first trans woman to ever take up a chair in the Legislative Assembly of São Paulo.
Old Names Give Way To New Ones
Nearly half the members of Bancada Evangélica, a group that works against the advancement of reproductive rights, have not been re-elected. Bancada Evangélica saw its representation drop from 82 to 37. Among those who lost their seats are Magno Malta, a senator and evangelical pastor, and Representative Tadeu Mudalen, who played a crucial role in pushing an amendment to the constitution that would outlaw abortion by establishing that life begins at conception. A special committee in the House of Representatives adopted the main text of the amendment in 2017, but the vote on it was never completed.
Related
Popular in the Community