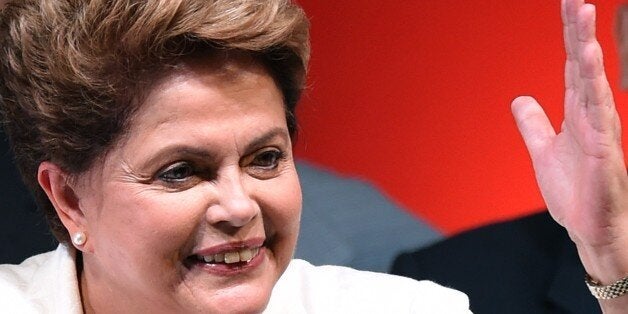 The victory speeches are over, Dilma Rousseff's re-election secured. Now most Brazil observers have turned to other matters — namely, what the 66-year-old former revolutionary plans to do for the nation of more than 200 million. Will she continue her party's signature efforts to grow the welfare state? Will she give environmental issues more attention or less? How does she plan to deal with the country's persistent illiteracy rates?
But those might not be the right questions. To a surprising degree, the views of Rousseff's Cabinet members may matter as much as her own — or more.
In many countries, including the U.S., Cabinet officials tend to be party loyalists. But many of Brazil's 24 Cabinet ministers stand out on their own, the products of political compromise. And as one might expect, they bring their own policy preferences and political priorities to the table. Their influences and decisions will weigh heavily on everything from the global economy (will price controls on some exports continue?) to global warming (will rain forest devastation slow down?).
Complicating matters is the closeness of the election: Rousseff defeated her conservative opponent, Aécio Neves, by just 3 percentage points, one of the closest elections in Brazil's history. Just a month ago, Rousseff's Workers' Party took a battering when it lost 20 percent of its representatives in the Congress, although other minor parties continue to support it. Now political compromise will be the name of the game, as she tries to form a government and works with Neves and even with Marina Silva, the environmentalist who lost in the first round of voting, to court their supporters in the Congress.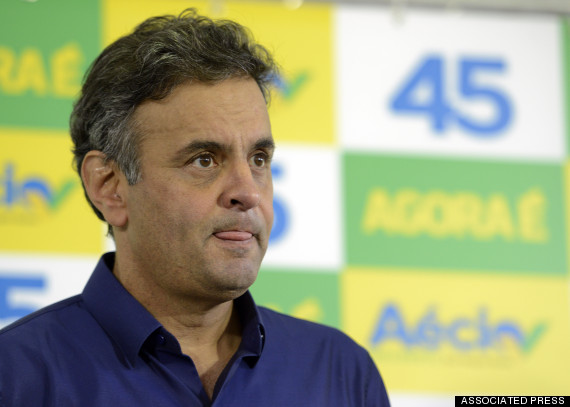 Aecio Neves, presidential candidate of the Brazilian Social Democracy Party, pauses during a news conference, after voting in the presidential runoff election, in Belo Horizonte, Brazil, Sunday, Oct. 26, 2014. (AP Photo/Eugenio Savio)
Neves' Brazilian Social Democracy Party "will definitely be part of the coalition," says João Feres, professor of political science at the State University of Rio de Janeiro. Indeed, the relatively conservative, market-friendly ministers Neves had hoped to tap for office might still join Rousseff's government. Rousseff spoke repeatedly of "dialogue" in her acceptance speech.
So the question is, who will be the key players in her Cabinet? We looked at the ministries overseeing three of Brazil's hottest flashpoints: economy, education and environment.
During the election financial markets roared to life every time her opponent pulled ahead, partly because Neves had promised to appoint hedge-fund founder and former central bank chief Armínio Fraga to the post. While Fraga isn't likely on Rousseff's list, Rousseff is expected to step back from the highly interventionist policies that marked her first term. Current Finance Minister Guido Mantega is out after presiding over Brazil's current "stagflation."
A likely substitute is Nelson Barbosa, a university professor and former executive secretary of the ministry. Barbosa, seen as less interventionist, left the ministry after a dispute with Mantega and could now step back in. Other options include Otaviano Canuto, the secretary of institutional affairs under President Luiz Inácio Lula da Silva, and a senior consultant to the World Bank. Or there's Aloízio Mercadante, the current chief of staff. He's a trusted economic adviser to the president, and he could be rewarded with the promotion.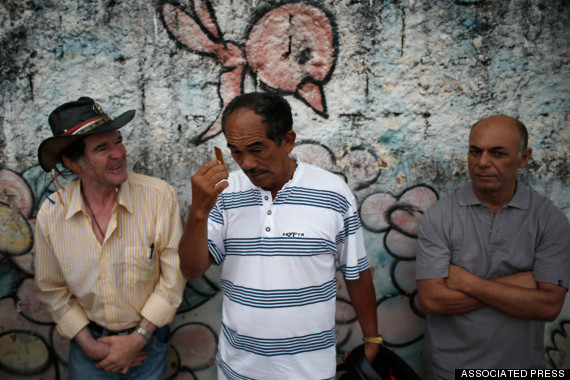 People wait in line to vote in general elections outside a school at the Ceilandia neighborhood in Brasilia, Brazil, Sunday, Oct. 26, 2014. (AP Photo/Eraldo Peres)
"I don't think Dilma will be willing to change into a totally neoliberal, orthodox approach to economics," says Feres. "But I think she will try to reach a compromise."
There's a lot to do. Petrobras, the 51 percent state-owned energy company, generally buys its fuels abroad and resells them for a lower price in Brazil. This ministry works to hold down that price. But economists say the ministry is not doing enough. Inflation began creeping up in 2012, reaching 6.52 percent this June. Experts feel the central bank's recent jolt on the interest rate from 7.25 percent to 11 percent is still not bringing prices under control. The 2012 GDP was $2.253 trillion, and per capita, Brazil has a bigger GDP than China. Still, GDP growth has been falling, from 2.7 percent in 2011 to a crawl: 0.9 percent in 2012.
Paulo Sotero, director of the Brazil Institute at the Wilson Center in Washington, D.C., said during a webcast Monday that he expects that Brazil "will probably be in a more fragile state when news [breaks] any time now … about rising prices of gasoline and tariffs and electricity." On Monday, the day after the election, the Brazilian real plummeted to a nine-year low, and Petrobras shares dropped 12.5 percent, risking a credit rating downgrade for the country. On Tuesday, the shares partially recovered.
Education is perennially a top issue for Brazilians. In many parts of the country, it stinks: Illiteracy rates remain high (8 to 10 percent, though the functional illiteracy rate is closer to 27 percent), a lack of technically skilled workers slows the economy, and many Brazilians feel not enough investment has been put into education. To wit: Bringing the World Cup to Brazil cost the equivalent of 61 percent of the education budget.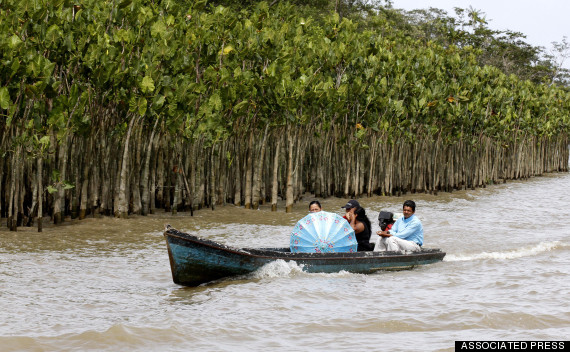 People arrive via boat to Belem's Ilha Grande, in the Brazilian state of Para, Sunday, Oct. 26, 2014, to vote in their country's presidential runoff election. (AP Photo/Lucivaldo Sena)
The current minister, José Henrique Paim, took office in the beginning of the year. Paim, 47, is an economist and a career politician, but he has years of experience in education. He's expressed openness to the system's critics, who argue that a teach-to-the-test approach is impractical and has hurt badly needed vocational training. Paim is supported by the popular former education minister and current mayor of São Paulo, Fernando Haddad. However, a corruption case is pending against him — and it's related to his former post as president of the National Fund for Development and Education (FNDE).
The current governor of Ceará, Cid Gomes, will be stepping down this year, and political analysts say he is a strong candidate for the ministry of education. Rousseff has been pleased with Ceará's results under his management.
The current minister of the environment, Izabella Teixeira, is no friend to environmentalists. But she brought the powerful agricultural lobby into policymaking and gained Rousseff political clout. Rousseff may want to leave her there. With environmentalists nicknaming her the "chainsaw queen," Teixeira has the power to either turn back the tide on deforestation or continue to allow the agricultural lobby to define her agenda.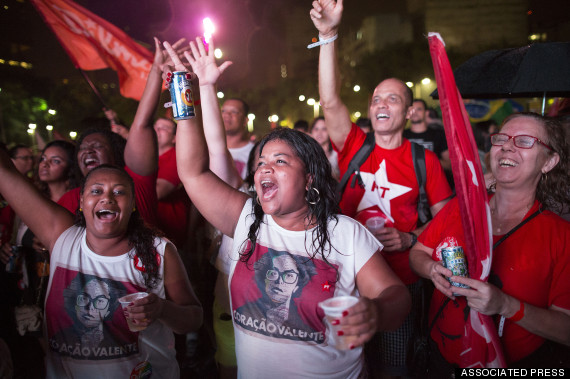 Supporters of Brazil's President Dilma Rousseff celebrate the election results at Lapa in Rio de Janeiro, Brazil, Sunday, Oct. 26, 2014.(AP Photo/Leo Correa)
According to data released this past September by the country's National Institute for Space Research (INPE), deforestation in Brazil is up 29 percent from 2012 to 2013, with the country losing an area five times the size of Los Angeles just over the last year. How many of the 390 billion trees currently in the Amazon will still be there in 2020 could be in Teixeira's hands.
Unless Marina Silva has something to say about it. As a former minister of the environment herself, Silva knows the job, and she may be standing in the wings even though she went down criticizing Rousseff in the first round of presidential voting. In the coming game of compromise, even if Silva doesn't take office, she'll want to influence who does. And first things first: She'll definitely want Teixeira out.
And though the atmosphere is tense across the country after such a close election, Sotero said that he sees the Cabinet as a place for optimism: "I think there is room for good will again if she appoints good people for key positions in government."
Popular in the Community