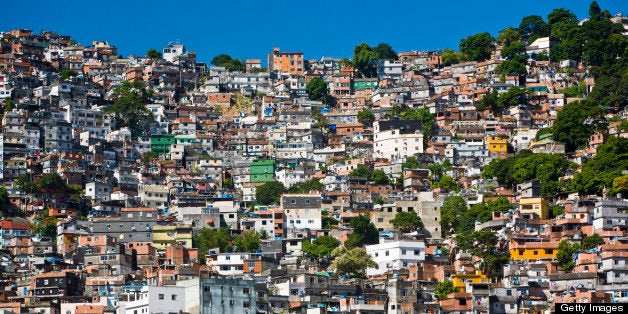 "Here's where Manuel used to live; him and his wife and kids," says Vanderson José Martins Guimarães, 42, pointing at one of the piles of rubble that now define his neighborhood in the Brazilian favela of Manguinhos near Rio de Janeiro. "And here another family was living -- all gone now."
Families in Manguinhos and other favelas like it have been evicted by their government as it prepares to host the 2014 World Cup and the 2016 Olympics. Some neighborhoods are being demolished to build stadiums or parking lots or enhance transportation. The government is tearing down Guimarães' neighborhood to add lanes to the highway right behind it.
I recently returned from Rio de Janeiro after receiving a Lund Grant from Northwestern University to report on the razing. I visited Manguinhos and Vila Autódromo -- the latter in demolition to build the Olympic Village -- and spoke with families living there.
While I am not a public policy expert, anthropologist, economist, sociologist, public health expert or envoy with an NGO, I am a 21-year-old journalism student. And I know what I saw.
When families leave their homes, says Guimarães, their houses are destroyed. Because favela houses are built so close together, demolishing one home harms houses that haven't been vacated.
"They take down houses with sledgehammers and it starts shaking the houses of people who are living inside," says Guimarães. "The houses beside those will have bad things happen. The structures will be damaged."
The dust, insects and rats that flock to the rubble are a threat to the health of the residents. The flotsam around his home, Guimarães claims, gave his twin 4-year-old daughters bronchitis.
Last year, Rio mayor Eduardo Paes gave a TED talk on how to run a "city of the future," and specifically addressed his plan for the favelas.
"Favelas are not always a problem," Paes said. "Favelas can sometimes be a solution." Paes plans to "open space in the favelas [and] bring infrastructure to the slums." By 2020, Rio will "have all its favelas completely urbanized."
In 2009, the government began sending police to pacify high profile favelas -- focal points for the drug trade. Last March, more than 1,500 armed officialsstormed the Caju complex in northern Rio, arresting 12 drug lords.
The government is on track to achieve its urbanization goal, but many say not with the original residents in mind. The government is offering families buyouts to leave, but some say the prices aren't competitive and force the families to move miles away from Rio.
Many must take out loans and go deeper into debt to relocate. Guimarães was offered R$ 82,000 (roughly $41,000) to vacate his home, which, "wouldn't even buy a room in a house," he says.
"To the left of our place there is an apartment that is smaller than my house, and the owner wants R$210,000," says Guimarães. "The [offers] don't even get close to the reality of the housing market in Rio."
Certainly, I am not a city planner, politician or even a Brazilian. Hosting the World Cup in 2014 and Olympics in 2016 is a major responsibility and an excellent opportunity to promote a country's public image. However, the desperation I witnessed is not the most enticing picture to broadcast to the world.
However, this is the reality of daily life I saw in parts of Rio, and the problems will not go away if they're hidden. It's time to come up with feasible solutions for Brazil's favela residents.
What if the government had 5 percent of the proceeds from each sports ticket sold donated to a fund for alternative housing for displaced favela residents? During the 2012 Olympics, NBC generated more than $1 billion in ad sales. Why not give 2 percent of 2014 and 2016's ad revenue to people like Guimarães?
Why not help people like Andrea Lucia, who sent her daughter to live with her grandparents because she claims the unsanitary conditions in Manguinhos made her daughter sick?
We could help Wilson Lamião Vicente da Sibrá,whose wife is now bedridden as a result of an AVC (Acidente Vascular Cerebral, or 'a stroke') with medical bills they can't afford because of the evictions.
If I can brainstorm these ideas, imagine what experts, academics, policy makers, urban planners and community leaders could do. Yes, I am an idealistic college student, but the Brazilian government needs to start addressing the issues plaguing its citizens with solutions that have a chance of sustaining its people -- rather than its public image -- in the long term.
Popular in the Community