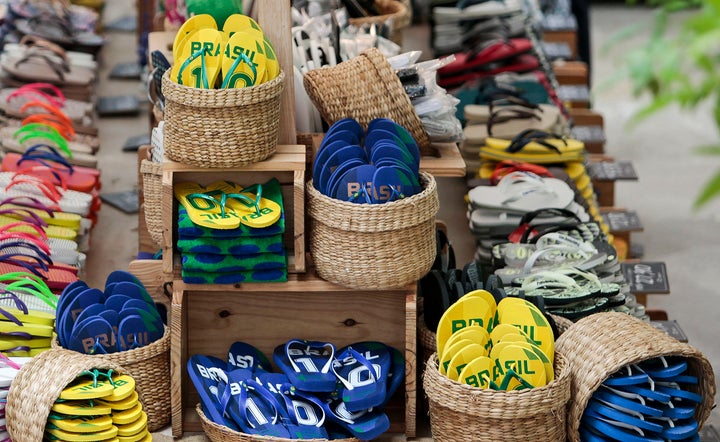 SAO PAULO, Brazil -- If you ask a foreigner to name the brand they believe is most representative of Brazil, they would probably name Havaianas. If you ask this question in Brazil, you'll probably get a similar answer. Very few brands around the world have managed to reinvent themselves and achieve international status without having to change the essence of their product, quite like Havaianas has. After all, to turn a mundane commodity into an object desired by all social classes in more than one hundred countries is no simple mission.
The brand has even managed to avoid the wide-reaching effects of Brazil's worst economic crisis in decades. After a negative first quarter, with a decrease of 8.7 percent in net revenues compared to the same period of the previous year, Havaianas managed to remain profitable, thanks in part to the currency devaluation.
In 2013, a year before the crisis began, Alpargatas (the Brazilian footwear company that owns Havaianas) announced it was opening a new plant in Montes Claros, in the state of Minas Gerais. This new facility increased the company's production capacity by 40 percent -- more than 102 million pairs of Havaianas are now produced per year.
The increase in production during difficult economic times turned out to be an opportunity to further explore other markets. 
"The crisis affects everyone, it has not been an easy year. Exports saved us," says Rui Porto, who was involved in rebranding the company. "The appreciated value of the dollar benefited exports, and we felt a boom in sales in the second quarter."
Fittingly, perhaps, Havaianas' success can be traced back to a sales crisis that the company went through in the 1990s, 30 years after it was established. From that moment on, the footwear company Alpargatas São Paulo would change the history of the world's most popular rubber sandals.
The Havaianas sandal was created in 1962, inspired by the traditional Japanese sandal known as Zori, which had rice straw soles and fabric straps. Instead of straw, Havaianas sandal soles were made out of rubber, but the rice grain inspired the texture of the rubber sole. Then came the name, which was inspired by Hawaii -- the island state was represented by Hollywood as a dreamscape in the 1960s.
While Brazil has a history in rubber extraction, the Alpargatas managers decided that the sandal would be made out of a special formula. The sandals "do not lose their shape, the straps don't come loose, and they don't smell," the brand's slogan used to boast. More than 53 years later, not even its main competitors, such as Grendene's Ipanema, have managed to emulate the formula.
Thus, the traditional rubber sandals with white soles and colored straps were released, with millions of pairs sold over three decades. Success peaked, however, since investments in marketing and branding were lacking. The slippers were associated with the lower classes and their sales plummeted -- not even Havaianas' exclusive rubber material formula saved the company from going through a crisis in the early '90s.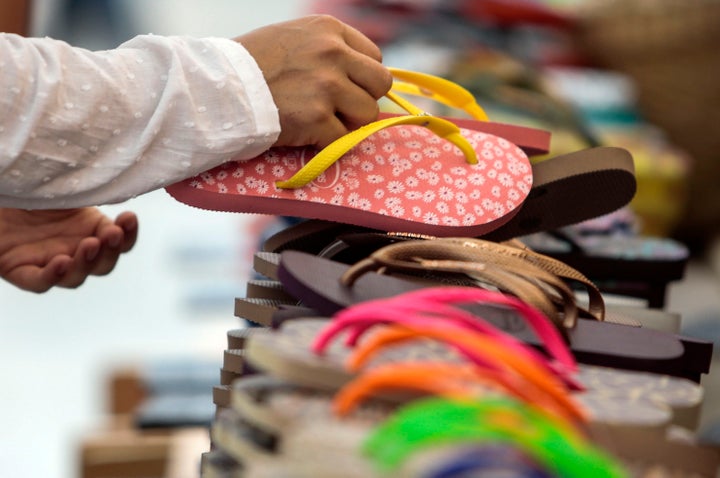 "Until 1994, we had a unique product: a rubber sandal with white sole and light blue, yellow or black straps, but it was a basic commodity. With the brand's stagnation, we decided to change," says Rui, who was involved in the re-branding of the slippers so that "everybody" could use it.
To change consumer perceptions, Rui explains, they had to manufacture more products, and start creating added value to the brand. "We launched Havaianas Top, a more comfortable model, in monochrome with the name engraved on the strap. It's still in our portfolio, but now we call it 'Traditional.' It was a revolution."
Havaianas Top was the start of a revolution that not even Alpargatas could foresee. Gradually, Havaianas ceased to be the brand "with a poverty certificate," according to Rui, and became a fashionable accessory. To complete the transformation, Alpargatas splurged: They produced sandals with new prints, colors, straps and formats. Today there are more than 400 models.
Building a strong brand was the key to success. "What was at the time, the Alpargatas ugly duckling, became the biggest star," Rui says.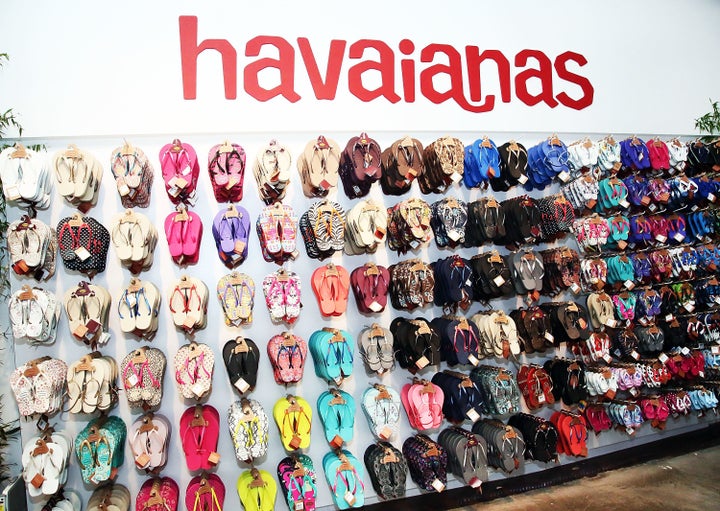 Havaianas is undoubtedly Alpargatas' brightest star: It is responsible for 48 percent of the company's profits. Alpargatas also owns brands and outlets such as Mizuno, Timberland, Dupé, Osklen and Meggashop.
In the second quarter of 2015 Alpargatas' net revenue was about $265 million, a 14 percent increase when compared to the same period in 2014.
J&F Investimentos, an investment holding company owned by Joesley and Wesley Batista, recently bought Alpargatas for about $716 million. The company belonged to the Camargo Corrêa group, which is involved in "Operation Car Wash," a corruption scandal involving the state-controlled oil company Petrobras. The acquisition still requires the regulatory approval of the Administrative Council for Economic Defense, or CADE.
Today, there is no trace of the flip-flop once "used by the poor." In addition to adopting fashionable prints and keeping up with global trends, the brand has partnered with top designers and heavily invested in targeted advertising.
"At the start, we focused only on mass media, like television and radio. Then we started placing advertisements in fashion and celebrity magazines," says Rui, who has worked at the company for more than 30 years, and is currently a media consultant and the right arm of the Alpargatas president, Márcio Utsch. "We sponsored fashion events such as São Paulo Fashion Week."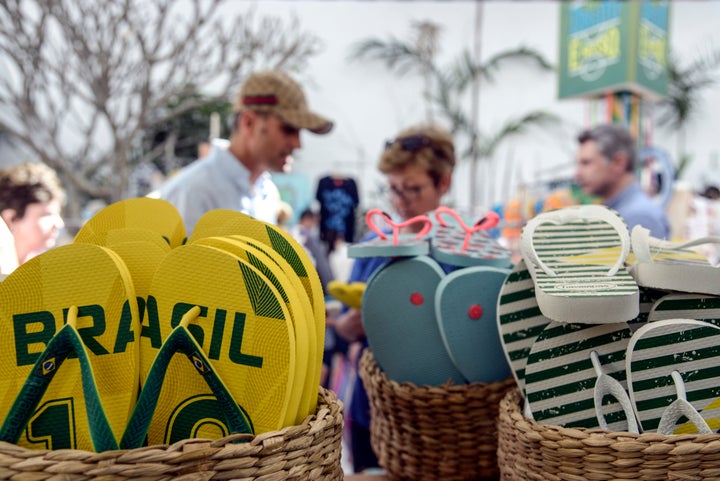 The idea, however, was never to ignore the lower classes or focus on specific age groups. The goal was to reach a broader target.
"I think our case is unique in the world. Brands change -- we didn't exactly change. We included people, like a family. Before it was a one-man show, and today, it's a crowd."
In order to do that, the solution was to find the "right balance," according to the media consultant. The advertisements are carefully conceived so as to not exclude any audience segment, for instance.
"Since our country is huge, we try to create an ad that everyone can understand. We don't use the values of a particular social class, although we don't exclude that audience either," Rui says. "Our commercials must be funny, slightly rebellious, and show a certain Brazilian sensuality."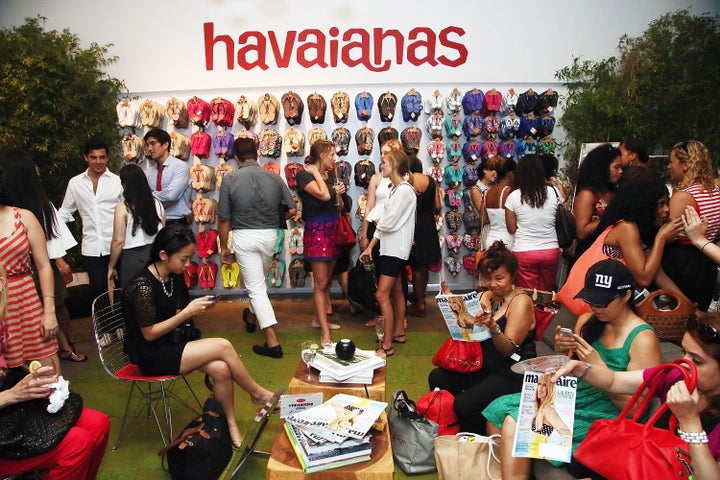 Between 1999 and 2000, Havaianas turned its attention to globalizing the brand. Before then, slippers were only exported to neighboring countries like Bolivia and Paraguay.
Before looking for distributors around the world, however, Havaianas wanted Brazilians to start exporting the sandals as gifts to friends and relatives living abroad. "We wanted to show that it was a fashionable item from Brazil. Therefore, we were able to manage the brand even before going abroad," Rui says.
According to Rui, the sandals were already popular abroad by 1997, but they were first exported around the year 2000, initially to Portugal and Australia, and then to Japan, the country that inspired the original product. Later, the sandals reached the United States and South America, such as Argentina and Uruguay, as well as other countries in Europe.
"We were not exporting a "poverty certificate" product, as it used to be, but a product with added-value. We accomplished this mission pretty well," Rui says.
Havaianas is currently one of most popular Brazilian brands among North Americans and Europeans. The flip-flops quickly popped up in retail stores and boutiques in the U.S., France, Germany, Italy, Spain and the U.K. In 2003, a pair of Havaianas commanded a price of about $133 in London.
Currently, Havaianas is present in 117 countries, and keeps operation centers in 11 of them: the U.S., Portugal, Spain, France, Italy, the U.K., Austria, Holland, Belgium, Luxembourg and Germany.
The sandals now occupy a space in the global market that was previously vacant. Two pillars were essential for that to happen, says Rui: "Being successful in our home country and understanding the local markets."
Havaianas also started branching out, manufacturing towels, key rings, cell phone cases and other accessories. Today, the greater focus is on their canvas espadrilles. "We did a pilot in Europe, a market that needed a 'Havaianas for the winter' and it was a success."
The company has also expanded its portfolio to sneakers and clothing items, which are only sold in three stores in Brazil. The next steps are to distribute these new items to the more than 390 franchises around the country and export the first items to Europe, where the company has nine stores.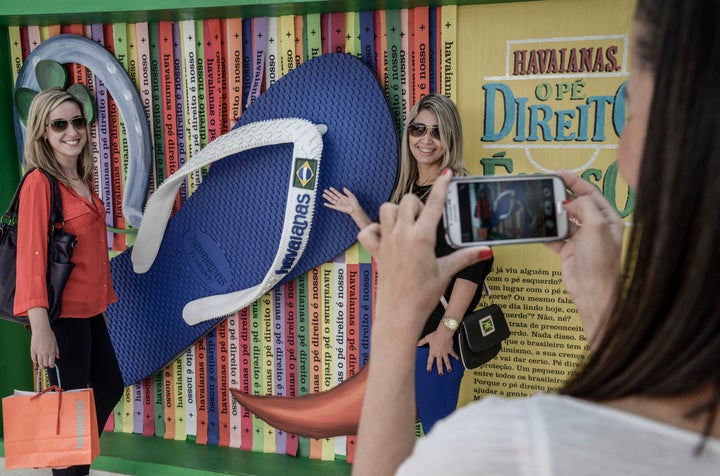 In September, Havaianas announced a new project: a brand licensing contract with Safilo Group, an Italian company that operates in the global premium eyewear market. The agreement allows the production and global distribution of a collection of Havaianas eyeglasses.
"Eyeglasses have everything to do with the brand, as it is a product associated with summer and heat. The brand is quite well known and we wanted to expand to new categories," Rui says.
When asked about the fear of disfiguring the brand, Rui says that each new product goes through many layers of scrutiny before it's launched. "We run tests, we think about quality. I believe it would only affect the main brand if the product was poorly manufactured. We don't run that risk." 
And when it comes to Brazil's ongoing economic crisis, Rui believes the fact that the sandals come in a range of prices has helped the company maintain success. The brand considers the crisis an opportunity to further consolidate the brand. "Consumers are not willing to try something new, they give preference to products they already know. In a crisis, you resort to products in which you have more confidence," he says. 
Today, the Havaianas brand controls 85 percent of the rubber sandal market. Within the sandal market in general, it has a share of about 50 percent.
"The crisis hasn't change our plans," Rui says. "We are able to increase our presence in Brazil and around the world. Therefore, there is no crisis."
This story originally appeared on HuffPost Brazil and has been translated into English and edited for clarity. 
Calling all HuffPost superfans!
Sign up for membership to become a founding member and help shape HuffPost's next chapter