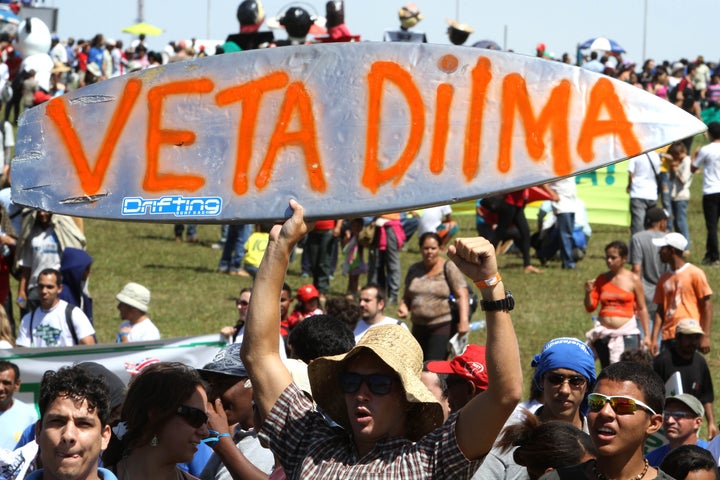 By Maria Carolina Marcello and Peter Murphy
BRASILIA, April 26 (Reuters) - Brazil's Congress passed a bill easing rules mandating the amount of forest that farmers must preserve, delivering a long-sought victory to the country's powerful agriculture lobby and a political defeat for President Dilma Rousseff.
Though the bill will require millions of hectares of already cleared land to be replanted, environmentalists expect it will make it too easy for farmers, responsible for much of the deforestation of the Amazon and other swaths of environmentally sensitive land in recent decades, to comply with regulations that stipulate how much forest they must preserve or put back.
Rousseff still has the option of vetoing the bill, one of the most controversial to pass Brazil's Congress in recent years. Several government sources told Reuters they expect her to do so because the approved text ditched a hard-bargained compromise deal the government took months to reach.
"It's absolutely clear that it's not what the government was expecting. The president will look with a cool head at how she'll deal with this issue," Gilberto Carvalho, a close aide to Rousseff, told reporters in Brasília.
The bill made it through the lower house of Congress despite the Rousseff's overwhelming majority because the powerful farming lobby within decided to side with agribusiness interests instead of backing the government.
The law will leave it up to states to decide how much forest needs to be replaced along riversides, making it possible big farming states will make only minimal demands of growers to favor agribusiness, a clause that infuriated environmentalists.
Rousseff had made it clear during months of debate about the new law that she would veto any bill that could be perceived as an amnesty for farmers who flouted minimum forest coverage requirements in the past.
Should she choose to knock the bill down now, the farm lobby in Congress could overrule that veto in turn with a simple majority vote of 50 percent plus one vote. The latest law was passed with 60 percent of lawmakers' votes in favor.
In a bid to undo changes the farming lobby pushed through, two senators have begun drafting a bill that would cancel out certain provisions and restore authority to the federal government to decide the specifics of how much land would have to be reforested on river margins.
For a FACTBOX on the details of the new law, click:

The bill and its likely future impact have been watched closely in and outside Brazil, home to the world's biggest rainforest and a country considered a reference for how other developing nations manage their woodlands.
In June, Brazil will host the Rio+20 summit, a meeting at which government leaders and policymakers from around the world will discuss global environmental policy.
Katia Abreu, head of the national agriculture confederation, defended the new law, saying it did "not necessarily" mean states would impose softer rules than the central government would have done on mandatory riverside forest coverage. She said it would also enable better made-to-measure rules to be set according to each region's characteristics.
For environmentalists including Greenpeace and the Worldwide Fund for Nature, the law is a clear step backward no matter how it will be regulated since it will free farmers from replanting forest they were obliged to maintain under the old law but often did not.
"The approved bill gives a total and unrestricted amnesty to those who deforested ... and goes against what the government itself had wanted," Greenpeace said in a statement. "If (Rousseff) doesn't react and veto this text, this future will be her legacy."
A technician involved in drafting the initial bill told Reuters one drawback of allowing states to regulate it was that the process would probably take a year or two. That means replanting would likely be delayed until clear rules were made.
Deforestation in Brazil has slowed in recent years because of greater law enforcement and the use of satellite imagery to track areas with the most troubling rates of clearcutting.
A key provision of the forest code, as it is known, would allow landowners to count woodland on river margins, hilltops and steep inclines towards a total proportion of forest that must be preserved on their land. Until now, such land could not be counted towards their quota.
Farmers argue that uncertainty over existing legislation, which has effectively been suspended in recent years, impeded investments. And Brazil's growing output of food crops - and enviable position as an agricultural powerhouse - could face setbacks if growers continue to be held back by doubts about how they can use their land.
Brazil is the world's top producer of coffee, sugar, beef and orange juice and a major producer of soy and corn. Agriculture accounts for more than 5 percent of Brazil's GDP.
Environmentalists say farmers would have to reforest land equivalent to the combined area of Germany, Austria and Italy to fully comply with the former law. Advocates of the new bill, however, say it would still result in a net gain of millions of hectares of forest coverage between riversides and hilltops.
Under the terms of the new bill, growers must sign up for a reforestation program that will use satellites to track compliance. Producers falling foul of the new law could be cut off from rural finance.
One government official estimated last year that 24 million hectares (59 million acres), roughly an area the size of the United Kingdom, would be reforested as a result of the new code. But experts say the area to be replanted will be difficult to gauge until more data is collected about rural properties. (Writing by Peter Murphy; Editing by Paulo Prada and Eric Beech)

Related
Popular in the Community