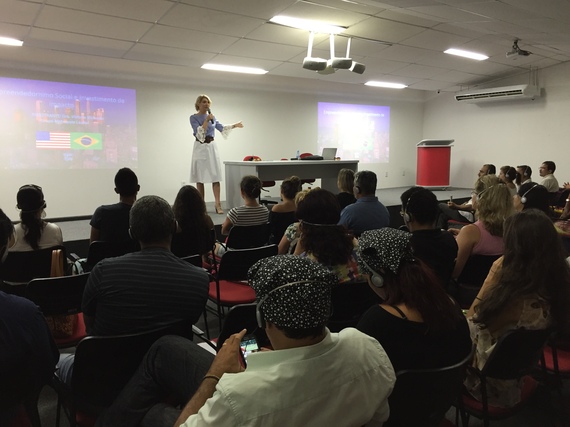 "The greater danger for most of us lies not in setting our aim too high and falling short; but in setting our aim too low, and achieving our mark."- Michelangelo
In July, I've received an invitation to be the speaker as part of State-sponsored U.S. Speaker Program on Entrepreneurship -TechHubs which quickly put me in the "Ambassador of Entrepreneurship" mindset. As an educator, an alternative funding expert and an entrepreneur myself, I was glad to follow my passion and focus on where I can be the most impactful.
Skimming quickly through the "exhibit A" on traveling risks, very soon I've found myself on a way to share my expertise with entrepreneurial peers in the fifth largest country in the world and the current host of the Olympic Games: Brazil.

Entrepreneurs of the world, unite!
Learning of the risk of potential shark attacks when landing in the gorgeous seaside town of Recife (the capital of Brazil's northeastern state of Pernambuco and my final destination), was the only risk I was not aware of.
But given my schedule, this one was also the easiest to mitigate - who goes to the beaches when you are invited to speak at one of the most innovative regions in the world!
As we live in a technologically advanced and inevitably hyper-connected world, today's startups are born global with "globality" baked into their roots. To understand how start-up ecosystems work when political risks are enormous and the world economy is undergoing a structural shift with emerging markets catching up to advanced economies, is critical for every entrepreneur and I was truly happy to find myself with like-minded people. Raise your hand if you agree with me that entrepreneurs will save the world.

Brazil is making its first steps in establishing an innovative economy - the number of start-ups had reached over 4,100 last year; the U.S., on the other hand, is known for launching about 400,000 new businesses per year.
The question has been in the air - how to start a successful business?
I've had discussions with true superstars including C.E.S.A.R. (the Portuguese acronym for Center for Advanced Studies and Systems) - the oldest and one of the most impactful private initiatives in Brazil which was launched in 1997 and now operates under the "3E" pillars: Engineering, Education and Entrepreneurship.
I spoke in front of the members of the largest tech cluster called Porto Digital (which has Federal government and the municipality on the Board) focusing on social entrepreneurship.
I also spoke at the event hosted by SEBRAE - a non-profit established in 1972 which is now being transformed into a powerful agency focusing on strengthening entrepreneurship via partnerships with the public and private sectors.
I met with many women involved - and as an entrepreneur myself, I was glad to share some of my observations when I was set off to speak at Winsperation - an influential network of local women-entrepreneurs:
• Starting a business is hard - regardless of gender
• Ask yourself: what market problem you are trying to resolve that has not been resolved yet?
• Don't let perceptions or excuses keep us from focusing on resolving this question
• Educate yourself: markets respond best to actions based on knowledge and information
• Create an MVP (minimally viable product) aka prototype
• You can test it at one of the crowdfunding sites
• The promise of the modern word is that gender does not mater - COMPETENCE does
America's Success Story: A brief History of Venture Capital in the U.S.
America's success story is often attributed to the rise of venture capital, which has enabled the nation to sustain a culture of innovation by routinely turning entrepreneurial ideas and scientific projects into commercial triumphs and consequently becoming an inspiring business model for emerging economies, Brazil including.
The question that I've been receiving a lot - what is the secret sauce?
First of all, while countries like Brazil are making its first steps in forming its own VC industry, the United States has a much longer history when the industry picked up real steam in 1950 - 1960's involving not only private money, but "smart money" from institutional investors such as MIT, Penn, and the Rice Institute and boosting the rapid development in 1958 with the passage of the Small Business Investment Act.
The last had furnished tax breaks to private investment companies and triggered the creation of professionally-managed VC firms by licensing small business investment companies (SBICs).
And what is more - in the same year, the Small Business Administration (SBA) created a 2:1 fund-matching program to boost venture capital investments - for every dollar invested, the SBA would grant two.
But I believe the most radical effect was brought by 1979 when pension fund managers got permission to invest up to 10% of their capital in high-risky venture funds. As a result, pension fund commitments increased their annual contributions to VC funds from $100-200 million during the 1970s, to billions by the end of the 1980s making the VC industry one of the most powerful forces in venture financing.

Cracking the VC code
Technology has opened up many unique alternatives to fund businesses which I was glad to talk about, but I've noticed that most of us, entrepreneurs, tend to romanticize venture capital so I need to remind everyone that first and foremost it is simply a financing tool, not a first kiss - and in fact, only very few companies can fit the criteria imposed by a VC model (about 1% of the US startups).
A few very basic points defining the venture capital are below:
• Typically, an investment fund in a form of a Limited Partnership
• Targets mostly tech companies with innovative products or innovative business models
• Prefers startups with Total Addressable Market (TAM) of at least $1 Billion
• Looks for businesses with very high growth margins (70% and up)
• Rate for acquisitions in targeted industry: 50X revenue
• Objective: grow equity value of a company
• Portfolio approach
• Expects exit via sale or IPO ($200m and up)
That's where we get to the heart of it. Venture capitalists have a fiduciary duty to bring handsome returns to their Limited Partners (Pension Funds, Educational Endowments, Foundations, Insurance Companies, Family Offices, Corporations, Funds of Funds) and represent a commercial alignment of stakeholders whose appetite is actually not driven by quick returns. Success is believed to be achieved when the stock price of the backed venture increases above the purchase price.
So VCs extract value and you, an entrepreneur, create it. How? Here's a brief three step guide:
1. Address "unarticulated" needs (think Google or AirBnb)
2. Scale by going global and creating "tradable" jobs (think Uber)
3. Profit by establishing a "creative monopoly"
Business as a force for good and what's next
While the venture capital industry in the U.S. is currently experiencing a significant transformation itself, I feel that the new generation of entrepreneurs - here in the U.S. and in Brazil - is craving for impact and meaningful investments much more than for financial success.
Initiatives combining innovation and market-oriented strategies with a "strong social purpose" are celebrated in Brazil while a reduced certainty of funding settings from traditional donors ensured a rise of new socially driven financial actors here in the U.S.

The good news is: there is clearly a global movement to use business as a force for good which is driven by a new sense of connectivity and empowerment.
Private sector players are adapting "triple-bottom line" (TBL) model seeking economic, ecological & societal impact. Saying that, I do believe in the absolute necessity for cooperation between the private sector and the State and in fact, I trust that eventually we will see much more public-private partnerships where the most successful governments will be launching platforms for crowdsourcing solutions from entrepreneurial ventures instead of trying to arrive with solutions themselves.
After all, Silicon Valley was endorsed by the government - and the government still supports an impressive number of the financing programs and some of the legendary entrepreneurs.
But most importantly remember to keep readjusting that "Michelangelo's aim".
More HP articles by Victoria Silchenko: click here
REAL LIFE. REAL NEWS. REAL VOICES.
Help us tell more of the stories that matter from voices that too often remain unheard.