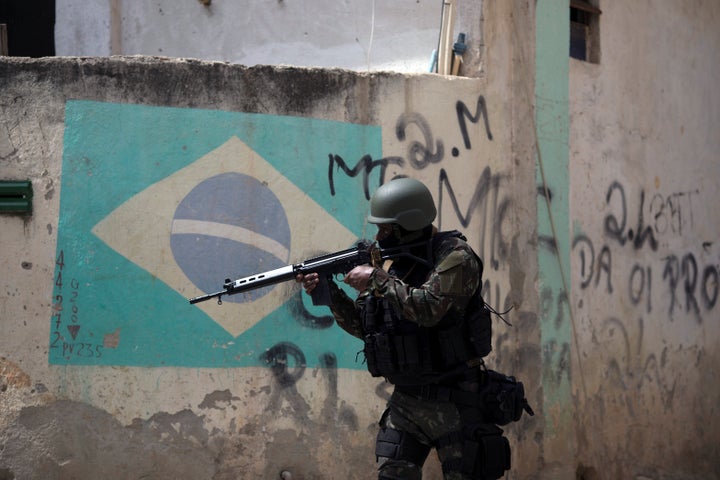 SÃO PAULO ― Brazilian President Michel Temer made the unprecedented decision Friday to give the country's military all public security responsibilities in Rio de Janeiro, the beleaguered city that has been plagued by rising rates of violent crime since it hosted the Olympic Games nearly two years ago.
Temer's decision will put the military in near-total control of security in Rio through the end of the year, marking the first time a Brazilian president has mobilized the armed forces to take over a city or state's public security efforts since the country's military dictatorship ended in 1985.
The announcement has sent shockwaves across country, where the prospect of any sort of military intervention is already an unsettling topic for many, and yet Temer argued in an official statement and again on television Friday that it was the only possible maneuver still available in a desperate time for both Rio and Brazil.
Though it is far from Brazil's most violent area, the second-largest but most prominent city in the country has become a barometer for the nation as a whole, which saw its number of homicides increase nearly 4 percent, to roughly 62,000, in 2016. (By comparison, in 2016, there were around 17,000 homicides in the United States, which has roughly 100 million more people than Brazil.)
There were another 688 shootings in Rio in January, but it is no coincidence that Temer made the announcement last week, at the close of Carnival. As the annual pre-Lent festival ended, videos of tourists being beaten and robbed on Rio's streets and beaches circulated online and on Brazilian cable news, driving home the perception that violence in the city had spiraled out of control.
There is no doubt that Rio and Brazil in general are in dire need of a policy shift to address the outbreaks of violence.
But there is little reason for optimism that Temer's plan to send in the big guns of the Brazilian military will work, and the concerns around his decision are plentiful and obvious. Most notably, allowing the military to take control of Rio for up to 10 months raises pertinent questions about the health of Brazil's democracy some three decades after the end of the country's military dictatorship: Since his announcement, there has been open worry in Rio and across Brazil that Temer's military intervention could be a test run for more aggressive military involvement in policing and public security in the future.
And Temer's escalation in policing is happening in a state with one of the deadliest police forces in a country with one of the world's deadliest police forces. It's folly, human rights groups and security experts say, to think the move will do anything but add to the bloodshed and put the lives and rights of Rio's poorest and most vulnerable residents at even greater risk.
"It is the equivalent of a public-policy 'Hail Mary,' and the results are far from certain," said Dr. Robert Muggah, a co-founder of the Igarapé Institute, a Rio-based public security think tank. "There is a real danger of militarizing public security in Rio de Janeiro even further."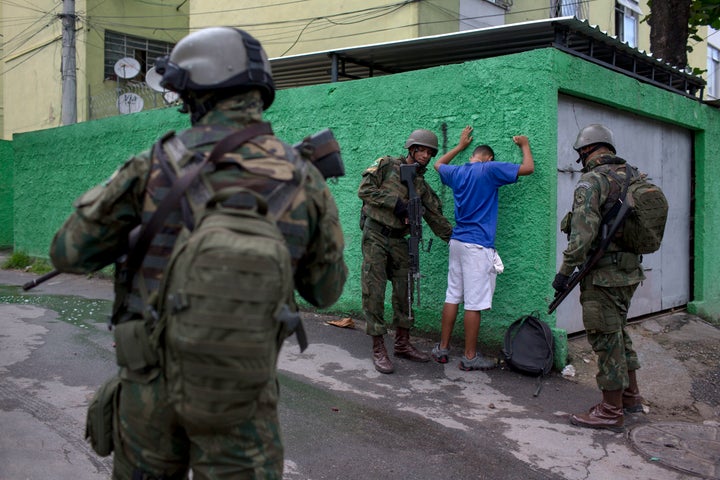 In 2016, Brazil law enforcement killed more than 4,200 people. Rio's police, meanwhile, are among the deadliest even by the country's standards. Police there killed 925 people in 2016, a 43 percent increase from the year prior, and an amount roughly equal to the number of people killed by police in the U.S. in the same year, even though the American population is nearly 20 times larger than the Rio state's. The number of people killed by police in Rio likely topped 1,000 for 2017.
The violence has taken a toll on police officers, too. In 2016, more than 400 officers died on duty across Brazil, and police deaths rose 34 percent, to 132, in Rio state. But the vast majority of the victims of violent crime and homicide in Rio and across Brazil ― both by police and otherwise ― are not Carnival-going tourists or middle-class people, but the poor and mostly black residents of favelas, the informal, impoverished neighborhoods that have suffered decades of government neglect and are often controlled by drug gangs. Black Brazilians are 23.5 percent more likely to die in homicides than members of other racial groups, and more than three-quarters of the victims of police killings in 2016 were black.
Sending in a military that has little training in urban policing and virtually no time to plan for the complexities of Rio and its favela neighborhoods may only exacerbate those problems, human rights groups warn.
"The decision of the federal government to intervene in the state of Rio de Janeiro´s public security ... reinforces mistakes that have already been made in the past," Jurema Werneck, the executive director of Amnesty International Brazil, said in a statement. "Rio de Janeiro state has already experienced actions of the Army, none of which have reduced homicides and aggravated human rights violations. The possible 10 months [of] federal intervention puts at risk mainly the lives of those living in the favelas and peripheries, [especially] black youth."
The military has indeed proven unable to bring such areas under police control in previous, less-sweeping interventions.
In June 2015, the Brazilian army ended a 14-month occupation of the Complexo da Maré ― a sprawling favela network that is home to an estimated 140,000 people ― having done almost nothing to root out the drug gang that controls it or to curb the violence that plagues the daily lives of its residents. And last year, the military helped Rio police lock down Rocinha ― the largest of Brazil's favelas ― after a sustained period of shootouts between police and rival drug gangs. The army left two weeks later with Rocinha still ringing with gunfire.
That has led to widespread opposition from favela residents and organizations that work within the neighborhoods. Over the weekend, they started an opposition campaign on social media that branded the intervention "a farce."
"In our history, we've had one soldier for every 55 inhabitants, but we never had a doctor or a teacher for every 55 inhabitants," said Gizele Martins, a journalist and community activist in the Maré favela. "We suffer with war tanks at our doorstep. Imagine having your house being searched everyday. [We have] many cases where people get murdered."
"Now Rio is suffering again with military intervention," Martins added. "So we that live in the favelas and the peripheries of Rio are completely opposed [to military intervention], because we suffer more than everybody."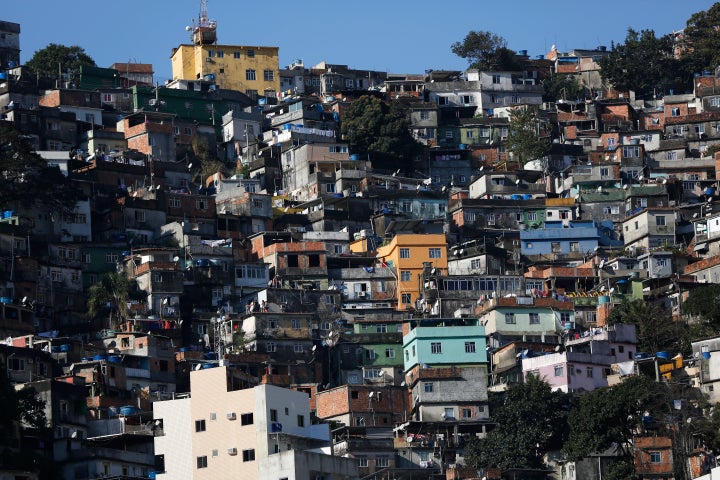 The way to curb the violence, human rights groups and favela residents argue, is not further military intervention, but comprehensive policies that would provide resources like education, health care, infrastructure and economic opportunities that the neighborhoods have long lacked.
"The public security crisis is structural," Werneck, of Amnesty International, said. "Its not by increasing the number of weapons, militarization nor the continuation of the 'war on drugs' that we'll overcome it."
"The attack on public safety problems goes far beyond a police organ," Wyllys said. "It goes through urban policies, the reaffirmation of citizenship of the most vulnerable populations, change in drug policy, improvement in public education and the end of underemployment."
Political leaders in both Rio and Brazil, though, have had little interest in such efforts. The last major initiative aimed at reducing crime in the favelas ― a program called "pacification," originally launched in 2008 ― collapsed shortly after the Olympics thanks to budgetary shortfalls. Once intended to deliver major social programs and reforms to the favelas, the primary legacy of pacification was instead widespread police corruption, an increase in violence and homicides (including those committed by police), and the further stigmatization of favela residents as little more than poor criminals.
And since he assumed office after the impeachment of former President Dilma Rousseff in 2016, Temer has pushed austerity policies that have cut health, education and welfare programs that once helped many of Brazil's poorest residents escape poverty. Rio state Gov. Luiz Fernando Pezão and Rio Mayor Marcelo Crivella, meanwhile, "have shown little interest or appetite in developing and implementing a serious public security agenda" amid the outbreaks in violence, Muggah said.
And so Rio gets what it got on Friday, a decision based not in responsible or meaningful public policy, but in politics.
"Putting the army in charge may win some votes in the short term. But the potential long-term consequences are exceedingly dangerous."
Temer has spent the last year pushing an unpopular overhaul of Brazil's public pension system, and some have speculated that he is using the military intervention as a political smokescreen to distract attention from that legislation while he plots a path forward on how to pass it.
Meanwhile, polls have shown that violence and public security are among the chief concerns of voters heading into general elections later this year, when Brazilians will choose Temer's successor. Temer won't be a candidate for president, but with approval ratings that have languished in the single digits for more than a year, the intervention is an opportunity to show that he and the parties within his governing coalition are willing to adopt the tough-on-crime stance many Brazilians say they want.
But Temer's plan also carries substantial risk, even beyond the most immediate human rights concerns, by creating a political vacuum for those advocating for even more aggressive methods. Rio congressman Jair Bolsonaro, for instance, has emerged as a popular presidential candidate on a platform of giving Brazilian police more leeway to shoot and kill criminals. Bolsonaro, a former army parachutist who has previously praised Brazil's military dictatorship, blasted Temer's intervention plan, suggesting that the military likewise won't have enough latitude to conduct the sort of all-out war he believes the country needs to wage.
Polling in recent years has also shown increasing support for the idea of returning to military rule — a 2015 poll showed that 47.6 percent of Brazilians saw a military intervention as justifiable under certain circumstances of major governmental corruption, and support for democracy is among the lowest in the region — and Bolsonaro's star continues to rise in pre-election surveys, largely on the back of his public security platform. So if Temer's plan fails to reduce the violence, as it most likely will, the continued lack of a true strategy could further exacerbate the problem and the risk to the lives and human rights of poor, black Brazilians like those that populate Rio's most dangerous areas.
"Putting the army in charge may win some votes in the short term," Muggah said. "But the potential long-term consequences are exceedingly dangerous."
Popular in the Community