From an outsider's perspective it may have felt that everything happened overnight, but these feelings have been stirring among Brazilians for a while. It was not just about a 20-cent hike in daily bus fares (which was then reversed), but a catalyst to a massive movement that is now riding across Brazil. And it symbolizes a lot more -- stemming from a build-up of frustrations fueled by poor public services, government corruption and investments in high-profile sporting events such as the recently finished Confederations Cup, 2014 World Cup and 2016 Olympics.
But an energetic start to massive protests here in Rio de Janeiro nearly two weeks ago ended a few hours later in violent collisions between police and protesters. Authorities here estimated that over 300,000 people attended, while protesters claimed nearly a million. In 100 other cities, Brazilians also took to the streets for change.
Images from the protests continue to flash throughout Rio from television stands at beach juice bars and kiosks, stopping runners in their paths as people discuss their anger over vandalism by some of the protesters and the heavy-handed response by the police.
As a journalist, it was evident that the very ground Brazilians were standing on was seemingly about to transform in their biggest show of demonstrations in over 20 years. I planned to interview various protesters on their planned route through the city center to City Hall to better understand where they were coming from.
Authorities here appealed for calm before it all unfolded on that Thursday night. I found myself walking with a group of four in their 20s and 30s that I had just met on the train car at Uruguaiana subway station, a busy travel hub in the middle of the city and about a five minute walk from the start of the protests.
An engaged couple in the small group donned matching "Guy Fawkes" masks -- white masks made famous in the movie V for Vendetta -- that were clasped behind their heads. A Brazilian flag hung off the shoulders of the young Brazilian man as his fiancé held a sign that read, "Queremos 'padrão' Fifa no transporte, na saúde, na educação e na segurança," which translates to, "We want FIFA 'standards' in transportation, health, education and security."
The atmosphere was joyous and celebratory as people around us chanted and sang. Green laser beams flashed at one of the city's skyscrapers as the employees inside many other buildings peered out at the crowds below them. People walked forward with signs in tow that appeared to be slogans for the movement -- "Acorda Brasil" ("Wake Up Brazil"), "O Gigante Acordou" ("The Giant Woke Up") and "Muda Brasil" ("Change Brazil").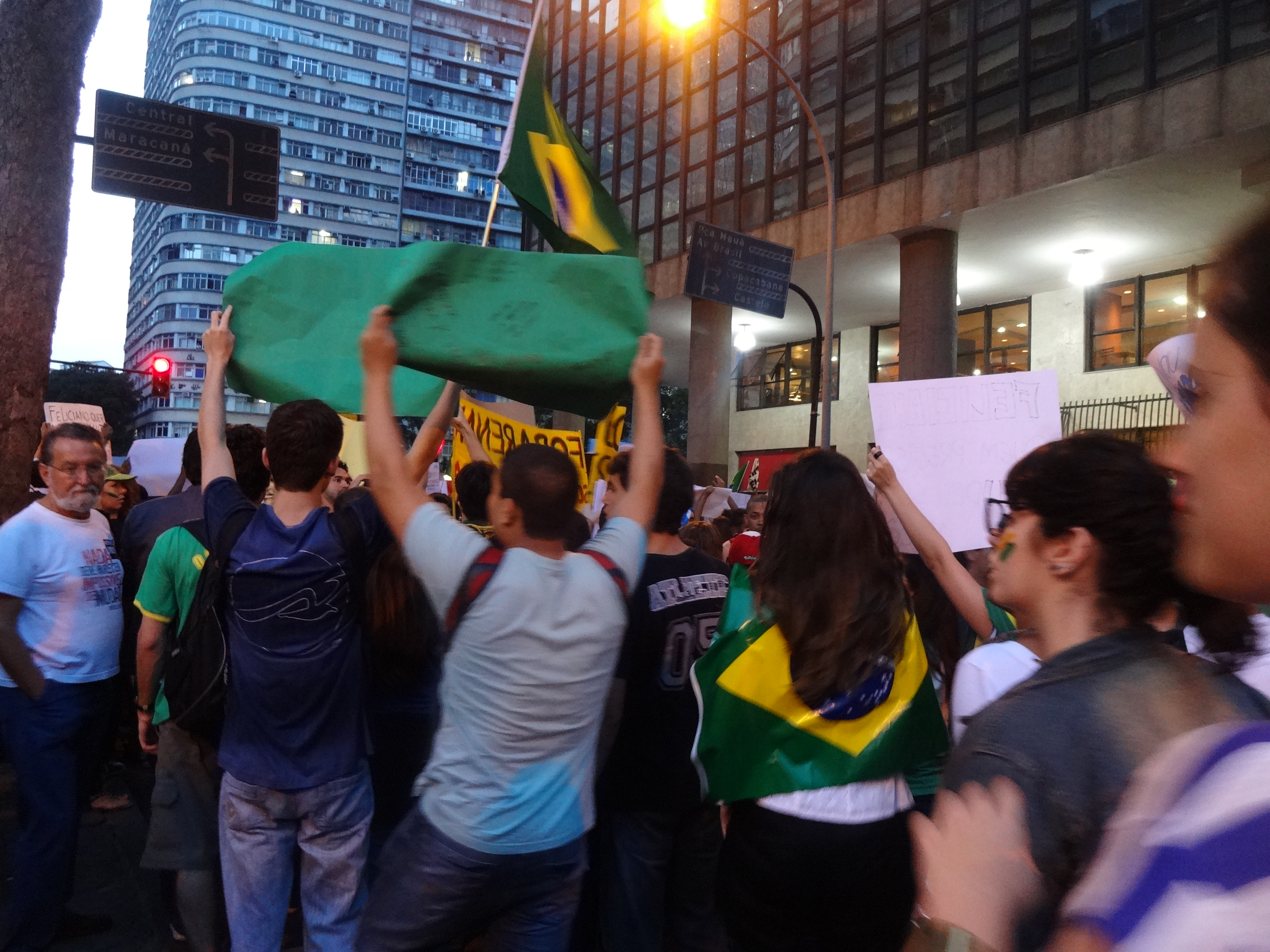 But as we were walked further down Avenida Presidente Vargas -- a main road in the center -- and got closer to City Hall, the anxiousness of the crowd was felt. Helicopters poured over the streets as pictures of what was happening not too far from us were being pulled up on smartphones that showed the police squad pushing the crowd away. News filtered in through social networks and local news reports, and everyone knew the scene they were about to enter would be hard to take in.
Fights had broken out and the police launched tear gas, percussion grenades, pepper spray and rubber bullets up ahead of us. Some protesters torched cars and directed fireworks at the police horses. Chaos ensued. The crowds nearby were upset that the "vandals" were doing this and at the police, who were reportedly unprovoked in many cases when they launched their offensive on people.
This controlled the mood of the crowd. Fear replaced energy and excitement as people chanted "No violence!" in Portuguese. Even in the commotion of things, a protester that I was with warned me to stand still, regardless of anything. "You don't want to be a target [of the police]," she said.
As we crept up to City Hall, the fear from other people seeped in and hit the group of four I was with. After a quick debate with each other, they knew they had to turn around. The smartphone pictures they had up were enough to stop them from taking another step forward.
I then continued the walk closer to the City Hall building with nearby university students. I heard a faint echo of another chant and asked the only English-speaking person in the group what people were saying. She quietly said people were telling each other over and over, "Don't go back," because at that moment, people started to slip away from the protest and leave.
Street lights were off and people began to walk slower, until there was no room to walk any further as we reached the building next to City Hall. The crowd I was with held a large sign that was supported by multiple people almost serving as a barrier between them and anyone else. At that point, many already had their paper surgical masks around their mouths. I had only a black sweater and used it to cover my mouth for any incoming tear gas.
The crowd was closing in where it felt claustrophobic and everyone stood there tense. Nobody said much, almost everyone lost in thought thinking about what was going to happen. I looked over and from the corner of my eye saw a misty cloud about to descend on us.
Moments later I felt its droplets seep into the back of my throat as I tried to cough it up. One of the university students I was with threw some vinegar onto my sweater that she had in her pocket and had me wipe it across my face and put it towards my mouth. She had a brave face on but I could tell she was in complete shock. I looked around as many other people were going through the same motions as they took their small containers of vinegar out of their pockets.
The crowd began to scatter in all directions. There was a sense of panic that flowed in fast. Many felt that they needed to leave the scene immediately and the group I was with were beginning to split into two. I could sense that things were about to get even more out of control with the confrontation between some protesters and the police that we would walk into further up. As I stood there, I saw some people from the group grip on tighter to their sign and take a few steps forward, as several people from the group parted. I followed quietly, that group.
It continued into the early morning and spilled out into nearby Lapa, a popular nightlife area of samba bars and restaurants. Sat trapped for hours, people took to their social networks to update and hid in bars as police officers walked around outside with tear gas. Local Brazilians reported that in one of the squares in the area, where American death metal band Cannibal Corpse was playing at the open venue of Circo Voador, a nearby gas grenade was dropped. Tear gas flowed into the crowd, where people were just listening to music.
Initially peaceful a few hours ago in the center of the city, Brazilians were now waiting for it to be safe so they could go back home.
Related
Popular in the Community