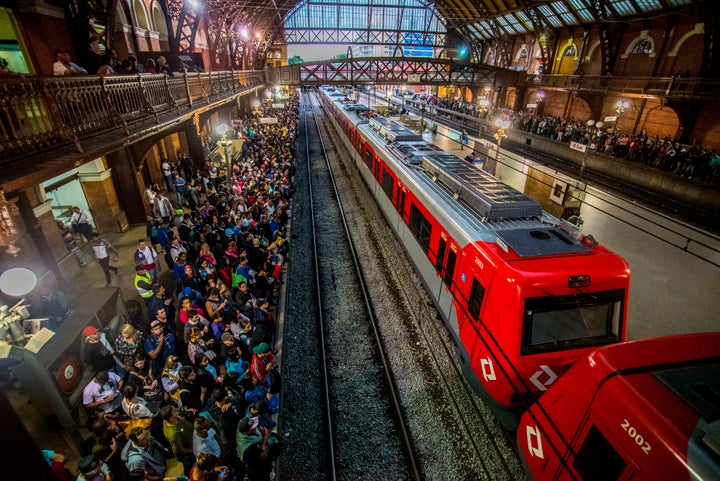 A woman is sexually harassed every 20 hours on São Paulo's sprawling public transit system, according to a HuffPost Brazil analysis, despite a new law in Brazil aimed at curbing the pervasive problem.
More than 80 percent of women in Brazil have been harassed in public spaces, according to a 2016 YouGov survey. Perpetrators historically rarely faced more than a fine, experts say, but can now be sentenced to up to five years in prison thanks to a law that took effect in September.
The Sexual Harassment Law was passed earlier this year amid an uproar over the arrest and swift release of a man who ejaculated on a fellow bus passenger. The crime was considered a misdemeanor.
This classification gave perpetrators a sense of impunity and showed a lack of regard for violence against women, said Silvia Chakian, a São Paulo prosecutor who focuses on crimes against women.
"These cases used to be left in a legislative gap," Chakian said. "It was difficult to find a legal framing between 'insult to decency,' which is a misdemeanor with an insignificant penalty, and the crime of rape, which is a more serious crime with prison terms of six to 10 years."
The new law defines sexual harassment as a lewd act against someone without their consent that is committed by someone "to satisfy their own lust or that of a third person." It carries a penalty of one to five years in prison.
Between Sept. 25, when the law took effect, and Oct. 23, 36 incidents of sexual harassment were reported on buses, trains and subways in the São Paulo metropolitan area alone, according to a HuffPost Brazil analysis of transit authority data.
Despite the problem's persistence, the law is widely seen as a crucial step toward curbing harassment of women in public spaces.
Reporting Harassment
The first arrest for sexual harassment on São Paulo's public transit system was made the day after the law took effect.
A woman reported that a man sat next to her on a train and ran his hand over her legs. She got off the train at the next station and reported the incident to security officials, who found the suspect and brought him to police. After an initial hearing, the man was released pending the outcome of his trial, but he is required to check in with authorities each month until the case goes to court, according to the São Paulo State Court of Justice.
The incident was one of 13 cases of sexual harassment reported between Sept. 25 and Oct. 23 on São Paulo trains, according to transit authority data. Six other cases were reported on metro area buses. Seventeen incidents were reported on the city's subways, and subway officials say 13 of those resulted in arrests.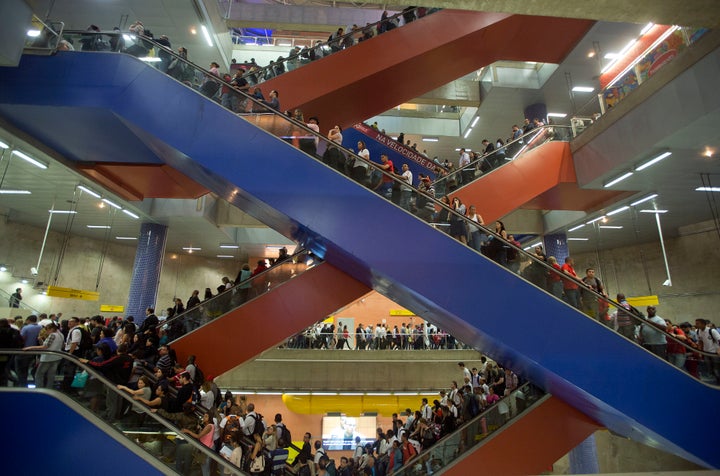 The three companies that manage public transportation in the greater São Paulo area advise victims of sexual harassment to immediately seek help from transit employees — bus drivers or security officials at train and subway stations — and to identify perpetrators, if possible. Representatives from the companies said they had trained their employees to help these women and have been intensifying campaigns to combat harassment.
Metrô, the city's subway authority, allows users to report incidents and send photos and videos to authorities via a mobile app or SMS service. The city's train authority allows also allows victims to report harassment anonymously through its own SMS service.
Used Condoms In Bags
But the reporting system hasn't been effective for everyone. Clara Novais, a 27-year-old journalist, told HuffPost Brazil that she couldn't find any subway authority to help her after a man put a used condom in her bag.
"I felt a liquid dripping on me and thought it might be my lunch that was leaking out of my backpack, but when I stopped to look closely, it was actually a used condom," she said. "I had seen other freaky sexual cases on the subway, and my first reaction was to think, 'I do not believe this is happening to me.'" The alleged incident happened on a train on Oct. 2,10 days after the law took effect.
Novais said she could not find an employee to help her once she got off the train. "I complained on the [train authority] website and published [my account] on social media," she said. "So before going to the police station, I was interviewed by some media outlets and went to make the police report at night."
Other stories began to emerge after Novais went public.
Rebecca Barboza, a 25-year-old designer, told HuffPost Brazil she found a condom on her belongings on the same day as Novais.
"It happened on my birthday. I was already leaving the subway, on the escalator, and was distracted answering texts when I felt something cold on my back," she said. "I ran my hand over it and smelled something terrible. When I took the backpack off, I saw the condom."
Barboza went to a bathroom to wash her clothes and said another woman noticed she was visibly shaken. The woman brought Barboza to transit authority staff, who advised her to file a police report at a station inside the terminal.
Authorities there refused to label the offense as sexual harassment, Barboza said, and instead classified it as a misdemeanor "insult to decency."
"From the time I arrived, I said it was sexual harassment, and the official said it was not," she said. "I asked why, and he said there was no physical contact."
"I think putting a used condom in someone's purse, against her will, without her consent, characterizes sexual harassment. ... We will have to wait to see how the judiciary will deal with it — what they will and won't view as sexual harassment."
Ana Paula Braga, a lawyer with the Feminist Network of Jurists, said she thought both cases could meet the requirements of harassment under the new law, since condoms have a clear sexual purpose.
"I think putting a used condom in someone's purse, against her will, without her consent, characterizes sexual harassment," Braga said. "What jurists have been discussing is how the courts will judge this lewd act in practice. We will have to wait to see how the judiciary will deal with it — what they will and won't view as sexual harassment."
Paula Machado Souza, a women's rights specialist at São Paulo Public Defender's Office, sees other potential problems with the wide scope of the legislation. "Some cases of rape are being reclassified as sexual harassment," she said. "In the end, judges will decide the scope of this regulation. And we come from a judiciary system that still needs to learn to deal with gender issues, to understand what gender violence, sexual violence, and lewd acts are. The law has not yet comprehended these concepts and replicates the chauvinist and patriarchal culture."
When asked about the two condom cases, Chakian said it was impossible to say if they can be framed under the new criminal classification, adding that each would have to be carefully assessed.
In response to inquiries about the classification of both condom incidents, the Civil Police said that each case "is classified based on the report given by the victim at the time of registration and may be changed during the investigations, without prejudice to the accountability of harassers." Both cases are currently under investigation.
Related
Popular in the Community