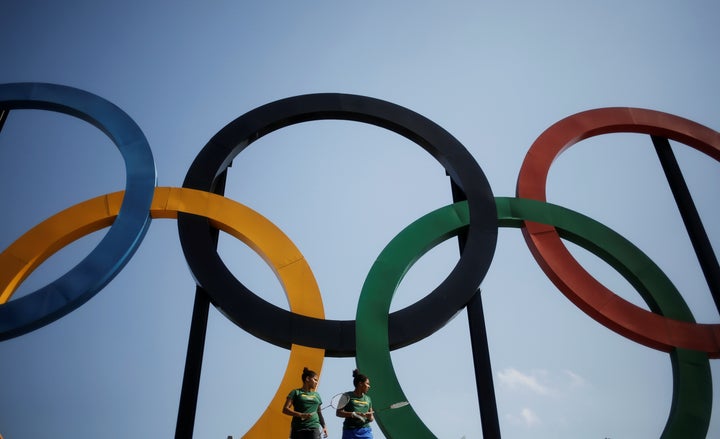 The Olympics draws hundreds of thousands of spectators from all over the world, writes Amir Attaran, a professor of law and medicine at the University of Ottawa, adding that this will only serve to create new routes for the disease to migrate to other countries.
Attaran's call to action is all the more urgent considering the fact that scientists believe the Zika outbreak in Brazil began with another global sporting event -- either the FIFA World Cup or the Va'a World Sprint Championship canoe races, both of which took place in 2014.
While the disease is normally mosquito-borne, there is new evidence that it can also spread through sexual contact and from mother to fetus, causing a longer period of infectiousness and making it easier to spread when foreign nationals return to their home counties.
And though scientists are learning more about how the virus can cause severe brain damage in newborns and potentially fatal neurological disorders in adults, Attaran says accelerating the disease's spread on a global scale would erase any gains researchers have made in trying to understand the virus -- and how to stop it.
If the Olympic games weren't already scheduled, he asks, would any country grappling with a serious infectious disease outbreak invite hundreds of thousands of international travelers to visit?
"Mass migration into the heart of an outbreak is a public health no-brainer," he writes. "And given the choice between accelerating a dangerous new disease or not -- for it is impossible that Games will slow Zika down -- the answer should be a no-brainer for the Olympic organizers too. Putting sentimentality aside, clearly the Rio 2016 Games must not proceed."
Attaran points the finger at the World Health Organization
Attaran reserves his most pointed criticism in his op-ed for the World Health Organization, which to date stands by the International Olympic Committee's January statement that it is safe for Rio de Janeiro to host the international games. The WHO has pointed to the Brazilian government's efforts to eradicate mosquitoes, and to the fact that the games will be held during Brazil's winter season, when there are fewer mosquitoes.
WHO also released their own statement Thursday, encouraging athletes and visitors to practice strict mosquito bite prevention measures and to use condoms or abstain from sex during their trip and for four weeks afterward to prevent transmission of the disease. They also warned visitors against visiting impoverished, crowded areas of the country where the risk of mosquito bite is higher.
But as rates of other mosquito-borne viruses in the country continue to rise as the games approach, it's becoming less clear if the Brazilian government has control over the epidemic -- or that colder months are having the desired effect of killing mosquito populations, Attaran points out.
Attaran brings up a good point about how international sporting events can transmit new diseases to populations with no previous immunity but with receptive vectors (in this case, the Aedes Aegypti mosquito) that are capable of spreading it further. After all, scientists suspect that's how Zika virus got to Brazil in the first place.
No one knows for sure how or when Zika virus entered Brazil, but as mentioned above, experts suspect that an infected international visitor may have spread the virus to the country's local mosquito population during either the World Cup, which took place in June and July, or the canoe races, held in August.
No countries with ongoing Zika virus epidemics competed in the World Cup, while four Pacific Island countries that did have ongoing Zika virus outbreaks competed in the canoe races, notes Didier Musso of the Institut Louis Malardé in Tahiti. This, along with phylogenetic studies that link the virus in Brazil to an Asian strain also found in those Pacific Island countries, suggests that Zika most likely arrived in Brazil during the canoe race event.
Despite its rapid spread, we're lucky Zika virus hasn't broken out in a new region of the world
Because both mosquitoes and people can travel, 58 countries and territories have reported local Zika virus spread in the past year. Most of them are in Latin America and the Caribbean, however, and the WHO itself notes in its review of the current epidemic that it's only a "matter of luck" that infected Brazilians traveling to other countries haven't yet sparked a fresh epidemic in a new part of the globe:
The outbreak in Brazil also carried a high risk of exported cases, with around 10 million travellers departing each year for international destinations. Although several hundred imported cases have been reported worldwide, none is known to have sparked an outbreak. This is likely more a matter of luck than evidence of little potential for spread, as most cases were exported to countries during a season of no or low mosquito activity.
It's unclear if or when the International Olympic Committee will take Attaran's advice to heart; Attaran notes that committee members' past statements on Zika have ranged from denial to mockery. But it seems as if the rest of the world is already getting the message: Just over 50 percent of tickets to the upcoming Games had been purchased by the beginning of April, a rate much slower than sales for the last summer Olympics in London.
This story has been updated to include the World Health Organization's recent statement on the 2016 Brazil Olympics. It has also been updated to reflect an increase the number of countries and territories with local Zika virus spread.