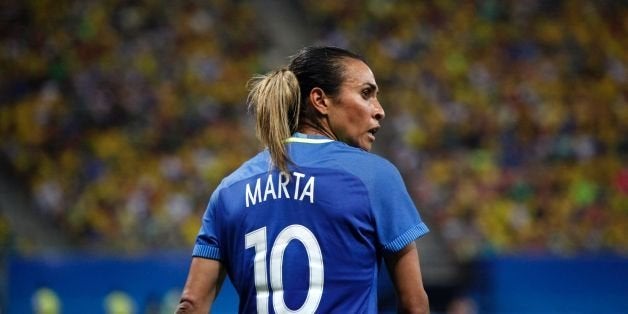 SAO PAULO, Brazil -- Bernardo, a soccer fan in Brazil, may by young but he already knows exactly what he wants: a Marta jersey, the classic number 10.
For those who don't follow this category -- either because they are too young or for lack of interest -- Brazil's female soccer players have been showcasing their talent to the world for years.
What about the silver medals won at the 2004 Athens Olympics and the 2008 Beijing Olympics?
After all, Marta was named FIFA World Player of the Year five times in a row.
The commitment and talent of the Brazilian women's national soccer team is quite obvious to the average fan, and also to the soccer enthusiasts who are tired of the abuses and frauds at home involving CBF (Brazilian Soccer Confederation) and abroad.
These players play hard and aggressive soccer. They sweat a lot and they challenge their opponent for the ball on nearly every play. Praiseworthy characteristics, especially when compared to all the stalling and fake injuries that we so often see from in men's soccer games.
The girls don't lack authenticity. From the goalkeeper Bárbara to the top scorer Beatriz, the players don't lack stamina and the will to win. Yet despite their tough play and apparent talent, women's soccer never quite succeeded in Brazil.

 
For the sake of Brazilian soccer, women players should take center stage.


Not even the Provisional Measure (PM) 671/2015, signed by our now ousted president Dilma Rousseff managed to get things going. The measure contains an explicit clause regarding the indebted clubs that want to renegotiate their debts with the federal government.
The clause advised soccer clubs that wanted to renegotiate their debts should invest in the sports practiced by women.
"I told Marta and all the players about my commitment to support women's soccer in order to overcome the current precarious situation. I hope I am fulfilling this promise. We must all work hard to put women's soccer on the national agenda as it has already its place in the international one."
The response was immediate and predictable: General whining and complaining by club owners and their supporters.

 
It makes no sense to ignore yet again the willpower and brilliance of our women athletes.


In other words: men's soccer clubs, many deep in debt, complained that women's soccer brings little revenue and lacks supporters. Ant the irony is that these same clubs charge R$ 100 for a place in the bleachers and end up with empty stadiums during important and decisive games.
Let's cut to the chase: Pelé's country is now Marta's country. A well-conceived product can be profitable, can't it? After all, the demand for women's uniforms has raised like never before.
The media criticism -- always ready to go easy on Neymar -- has also encouraged our current state of affairs. But with its poor and drowsy performance, the Olympic men's soccer team has lost its place under the spotlight.
Women's soccer, on the other hand, has won all the headlines so far at Rio 2016.
At the end of the day, women have once again achieved excellent results in the field, despite many unnecessary obstacles, due to their resilience and grit. And these athletes offer our managers and agents another opportunity to make women's soccer flourish in Brazil.
It makes no sense to ignore yet again the willpower and brilliance of our women athletes.
For the sake of Brazilian soccer, women players should take center stage. Even little Bernardo has already understood how things will work from now on.
This post first appeared on HuffPost Brazil. It has been translated into English and edited for clarity.
Calling all HuffPost superfans!
Sign up for membership to become a founding member and help shape HuffPost's next chapter