A crowd of 40,000 Brazilians gathered at a music concert in São Paulo expressed its discontent with President Dilma Rousseff and the impending World Cup in powerful unison.
Responding to musician Marcelo Falcão's on-stage comments about the controversial games during a show on May 31, the crowd used a chant which translates to a very common yet graphic phrase used to tell someone off.
The World Cup, which start on June 12, has been criticized for taking up millions of Brazil's public funds; money that most of the general public feels should instead have been spent on improvements in education, healthcare, security and transportation, to name a few things.
Falcão, the lead vocalist of famous Brazilian band O Rappa, expressed his personal views about the tournament in strong terms during the show.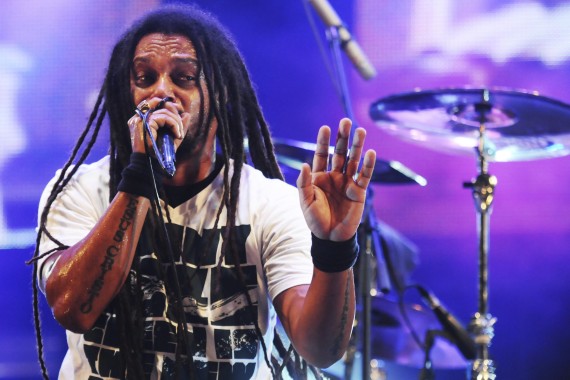 Photo by News Free/Con via Getty
Below are Falcão's words, translated from Portugese:
"The legacy that comes with this Cup is a very vile one, a very small one, one without much to see. The people are no longer fools. As my friend [former Brazilian soccer star] Romario says, no one will stand for this silliness any longer... Everyone is turned on and there are two kinds of cups. We have to win and then the elections will come right after [the country's presidential elections will be held in October], we can't forget about that.

"And we love soccer, but for the first time we have to be honest. I would never say that, but the outflow isn't mine, it's yours, it's ours, it's everyones. It's just an outflow, but even if we win I'm going to continue thinking this way. They tell me the Cup is rigged, but I don't believe that because there are teams that play extremely well, that want this title more than we do. Our people are harmonic, happy, dear to us, it's a damned good people, happy... but in all reality it doesn't have the necessary health, education and all it needs in terms of security and transportation, amongst other things. I don't think I'm wrong to say this just because I'm an artist, I think that I am with you, I am standing by the entire country who wanted something good... it's not good.

"If it's not good, I'm not going to clap."
Calling all HuffPost superfans!
Sign up for membership to become a founding member and help shape HuffPost's next chapter
BEFORE YOU GO
PHOTO GALLERY
Brazil's Native Population Protests