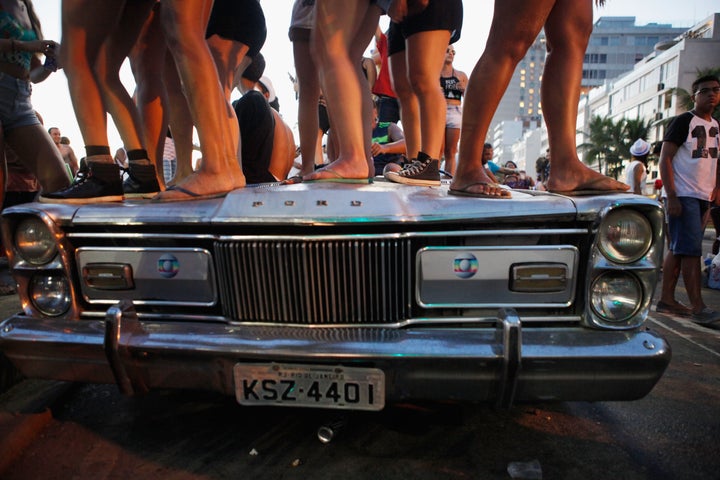 The Zika virus, which is spread by the Aedes aegypti mosquito, is strongly suspected to be linked to a new wave of microcephaly cases in Brazil. Babies born with the birth defect have smaller heads and brains that aren't fully developed, which can result in life-long developmental problems.
Zika is currently spreading through Central and South America and the Caribbean, and with the high volume of news about the virus, it's tough to stay up-to-date. Check out our full coverage, or read our daily recaps.
Here are four updates, opinions, and developments to know now:
1. The New York Times' portrayal of Carnival disappoints
HuffPost Brazil politics reporter Grasielle Castro took the New York Times to task last week for the paper's prejudiced portrayal of Carnival. The colorfully written Times piece critiqued revelers for ignoring the threat of Zika virus to focus on "prodigious carnal possibilities," and questioned whether skimpily clad Brazilian partygoers were doing enough to protect themselves from mosquitos, the primary vector for the virus.
Castro rebutted the Times' depiction in her opinion piece, pointing out that the reporter's shock at how few Brazilians were following the international recommendation to wear long sleeves and pants during the country's scorching summer heat -- which can top out at 104 degrees Fahrenheit in some cities -- was a form of U.S. media bias. Criticizing Brazilians' attire and relaxed attitude toward Zika virus misses the larger cultural context, and downplays Brazilian concern about the spreading disease, Castro argued.
2. The CDC shipped Zika virus tests to local health departments, but warns of shortages
The U.S. Centers for Disease Control and Prevention sent 62,000 Zika tests for pregnant women to health departments across the country and are working on producing more, the Associated Press reports. The agency warned that there could be temporary test shortages if large numbers of pregnant women, returning from travel to Zika-affected areas, want to get tested.
The test is accurate if a person is actively infected with Zika, but unreliable after the virus is cleared from the person's body. Zika's extremely mild symptoms present complications, since in many cases, people don't even realize that they've had the virus at all and the moment for testing accurately passes.
3. We're weeks away from confirming that Zika virus causes microcephaly
The World Health Organization says that researchers are "weeks" away from confirming that Zika virus causes microcephaly in developing fetuses, reports Reuters.
Research on the possible relationship between the virus and birth defect are ongoing. The New England Journal of Medicine published a study Wednesday that showed Zika was found in the brain of an aborted fetus that had been diagnosed with microcephaly in the womb. Other small lab studies have found copies of the virus in the amniotic fluid of fetuses diagnosed with microcephaly, as well as in the blood of a microcephalic baby who died soon after birth.
4. U.S. corporations are allowing employees to leave international posts over Zika virus
About 38 percent of U.S. corporations are allowing female employees to leave or postpone work in areas where Zika virus transmission is active and ongoing, reports Reuters. Only about 20 percent of corporations are giving their male employees the same consideration.
Experts say that American workers probably have few legal options for resisting an international work assignment over Zika virus fears, and they may not be able to sue their employer if they do end up getting the virus, said Reuters in a previous story.
While Zika virus appears to present the most danger to women who are pregnant or who want to become pregnant, the World Health Organization and the CDC have issued safe sex guidelines for men who may have been exposed to the disease as well. The virus can persist in semen for an unknown amount of time, and men run the risk of transmitting it to their partners.
Read more Zika virus coverage: