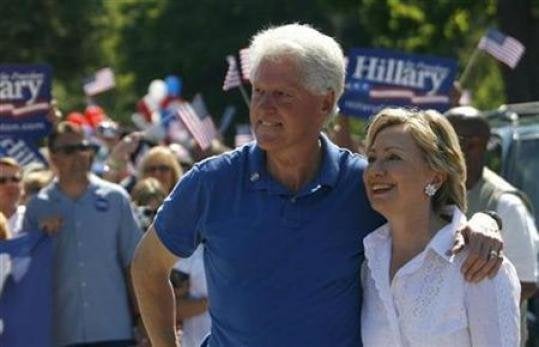 For some, President Bill Clinton's presence on the 2008 campaign trail has turned his wife's presidential bid into a referendum on his eight years in the White House.
On Sunday, Democratic strategist Donna Brazile said as much. Speaking to a reporter from the Des Moines Register, Al Gore's 2000 campaign manager defined the election with a simple query: "I think it's going to come down to: Do you really want Bill Clinton back in the White House?"
The line underscored Bill Clinton's overwhelming presence on the political landscape. It also raised a number of questions. Several political observers wondered whether by choosing the word "really," Brazile was suggesting a return of Clinton would be a bad thing. Others felt Brazile was insinuating that Hillary would play second fiddle in her own administration.
Reached by email, Brazile cleared up the air. First, she noted, the later half of her quote to the Register had been chopped off. It should have read: "I think it's going to come down to: Do you really want Bill Clinton back in the White House? There's no Clinton fatigue based on what I've seen. We'll see what the Iowans think."
Pressed to elaborate what role she believes Bill would play in a second Clinton White House, Brazile ventured a bit further even suggesting that Hillary would have to draw a distinction between her politics and her husbands'.
"I am not with the Clinton campaign and don't know if the campaign has decided to openly discuss this item," she wrote. "Clearly, former Pres Bill Clinton has both the experience and the stature to help Madam Clinton (should she win) on so many levels -- economy, foreign policy and a host of domestic issues. There's no question, Clinton would be an asset in his wife's administration. But, the question remains, do we really want to go back to the 1990s in order to find solutions for the 21st century? Hillary Clinton needs to define what her presidency would look like, if she intends to do things differently and how she hopes to accomplish her mission."
It was Brazile's sign off, however, which was key. "Tall order, but she is a woman of tremendous talents and abilities."
Popular in the Community