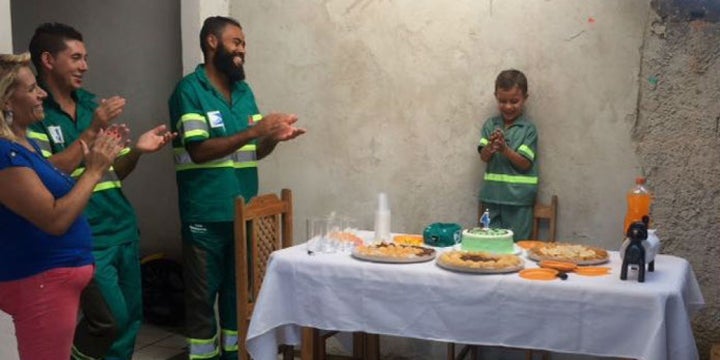 Kids often say they want to grow up to be doctors, firefighters, astronauts or dancers. But not 5-year-old Eduardo de Campos, who lives in the Tatuquara neighborhood of Curitiba, Brazil. He dreams of becoming a garbage collector.
"Every Saturday he listens to the sound of the garbage truck from afar. He jumps up from his bed to see it," Eduardo's mother, Rose de Campos, told the Brazilian website Banda B. "If they pass by and don't say hi, my son gets very angry."
When the managers at Cavo, a waste collection company operating in Curitiba, learned of Eduardo's fascination with the job, they decided to give him a birthday surprise he would never forget.
When they arrived at Eduardo's house on Wednesday, Cavo waste collectors gave Eduardo a miniature green uniform and took him for a ride around the neighborhood in their truck. 
"He even got to collect some trash bags off the streets," said the official Facebook page of the city of Curitiba. And Eduardo was thrilled.
His party also featured a themed cake and gifts -- including a miniature garbage truck.
"Eduardo, congratulations for understanding, from an early age, that all professions are dignified and deserve respect," Curitiba's Facebook page said.
Rodrigo Rodrigues, who heads the waste collecting team at Cavo, told Banda B that he surprised to learn of the boy's enthusiasm for the profession.
"We were very happy to see that our work is recognized in this way, and that Eduardo sees our employees as role models," he said. "Even at an early age, he is already quite aware of environmental issues and cares about the city and wants to keep everything clean."
A version of this post originally appeared on HuffPost Brazil and has been translated into English and edited for a U.S. audience. 
REAL LIFE. REAL NEWS. REAL VOICES.
Help us tell more of the stories that matter from voices that too often remain unheard.