The first recordings of samba occurred nearly one hundred years ago and of bossa nova more than fifty years ago. Neither genre has ever been associated with the harp, but lately the venerable stringed instrument has expanded its presence in Brazilian popular music thanks to Cristina Braga, who is the first harpist with the Teatro Municipal symphonic orchestra in Rio de Janeiro and a crossover artist who freely roams between classical music, samba, bossa nova and even rock and roll. Along with recording sixteen albums, the 47-year-old Braga has performed or recorded with Brazilian music luminaries Gal Costa, Marisa Monte, Ana Carolina, Zeca Baleiro and Lenine, with the rock band Titãs, and on the United Kingdom of Ipanema DVD with bossa icon Roberto Menescal and Andy Summers (The Police).
Braga's new album Samba, Jazz and Love (Enja Records, 2013) features her vibrant, virtuoso harp playing and sultry, breathy vocals in impeccable renderings of samba and bossa classics. The flugelhorn and vibraphone, two other instruments seldom heard in those genres, are also part of the mix, performed by Jessé Sadoc (who also plays trumpet) and Arthur Dutra, respectively. The album was produced by Braga's husband Ricardo Medeiros, a double bassist whose dynamic bass lines underpin the overall sound. And Joca Moraes adds just the right rhythmic embellishments of alfaia drums (commonly used in maracatu) and the pandeiro (Brazilian tamborine).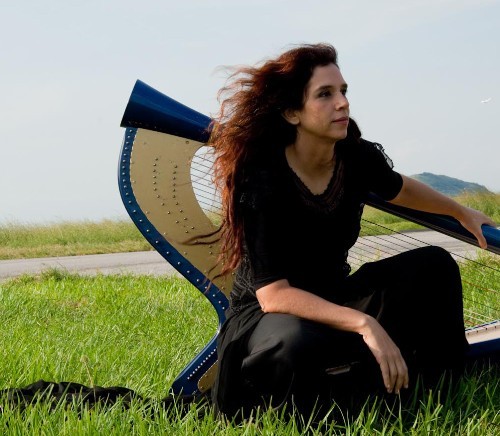 The original concept of the album was very simple. Braga comments, "We wanted to make samba, jazz and love (laughs). We wanted to do something more spontaneous. The instruments were recorded in twelve hours." Bossa nova, which is an offshoot of samba, supplied part of the repertoire and there are four songs by Antonio Carlos Jobim alone.
We thought of doing something about samba. The album has various sambas and songs that talk about samba: 'Só Danço Samba' (I Only Dance Samba) by Jobim, 'Desde Que o Samba É Samba' (Since Samba Is Samba) by Caetano Veloso, and 'Samba e Amor' (Samba and Love, by Chico Buarque). We do these sambas in our own way, with different instruments. And with the harp, which isn't used in popular music as a principal instrument.
The harp creates a different musical universe for the samba and bossa standards on the album, adapting bossa's familiar plucked guitar chords and expanding the tonal palette and harmonic range. "I think the way the harp is played transforms the music. It becomes different, with the harmonics made by the harp and by the way Cristina plays as a harpist. To not imitate another instrument, but to really be another instrument," says Medeiros. "For example, the chords of the harp can be really large. With the harp it's very natural to do a chord with five octaves, something that few instruments can do."
The harp can make a very big sound. A lot of harmonics appear. It's a full sound. Many times we go to the studio to mix and the sound technician tries to take things out to make a clean sound. And we say, 'No, the harp is like this, it's an instrument with a really full sound. You can leave it full.' Another thing is that the improvisations and the language of the harp are different. Many people who hear the improvisations that Cristina does think, 'Wow, how great, that's something really different.'
When Braga first played samba, it felt strange to play it on the harp. "I didn't play samba, not at all. To me, samba with a harp seemed like chantilly [whipped cream]. I was playing my harp like a guitar. Ricardo turned to me, 'But Cristina, you play harp. Why imitate the guitar?' " she recalls.
Braga's harp playing gives a new twist to these standards, as does the interplay of her instrument with Dutra's vibraphone on many numbers, such as a dreamy, delicate version of Robert Menescal's "O Barquinho" (The Little Boat) and a flawless rendition of Jobim's "Desafinado" (Off-Key). "When this new album came about, I had this idea in my head of playing the harp with the vibraphone, with the trumpet, of mixing instruments that have a lot of harmonics," says Braga.
"Desafinado" is a classic that launched bossa nova worldwide via Stan Getz and Charlie Byrd's recording on Jazz Samba in 1962. Medeiros notes that the song has:
a very difficult harmony, principally on the harp, where there's a lot of modulation. And it's difficult to sing also, but it's a fascinating song. When we thought about doing this album, we wanted to do something with 'Desafinado.' We fell more and more in love with the song, when we transferred the harmony to the harp, when we made the arrangement for the group. All the research was fascinating; it was a great process.
The band, all of whom are fine musicians, get to stretch out with more extended soloing in a haunting, compelling instrumental version of the lesser known gem "Triste de Quem," composed by Moacir Santos and Vinícius de Moraes (bossa nova's most important lyricist), and recorded in 1963 by Elizeth Cardoso.
The album opens with "Love Parfait," a new tune composed by Medeiros and lyricist Bernardo Vilhena that evokes a nostalgic Parisian ambiance.
In the beginning, I was trying to do something very simple, a simple melody with a dense harmony. I did the first part twenty years, when I was living in London and my son was born. I had an inspiration and thought that it was a perfect love. I worked with Bernardo on the second part, and his idea of doing a section in French was the key. It became a song that suggests a French café, antiquity.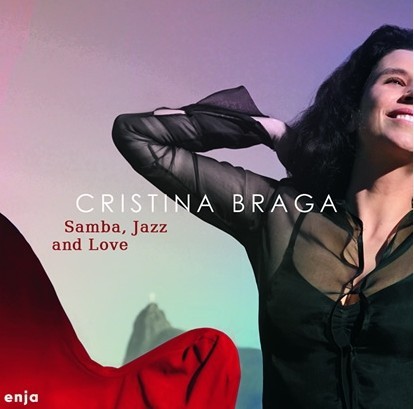 One of the most compelling songs is Jobim's lilting "Chovendo na Roseira" (sometimes titled "Children's Games" in English), an instrumental version highlighted by Sadoc's honeyed trumpet soloing, Dutra's hypnotic vibraphone playing and Braga's lively harp work, which ranges from ethereal to slightly edgy. "The first time I heard Jobim was on an album with "Chovendo na Roseira," which I thought was really beautiful," recalls Braga.
Samba Jazz & Love also includes Jobim's "Canta Mais" (Sing More), Candéia's "Preciso Me Encontrar" (I Need to Find Myself) and the album's only English tune, "Rio Paraiso" (Paradise River) by Alberto Rosenblit and Paulinho Tapajós.
Braga often surprises the listener with her rhythmic approach on the harp to many songs, as in the overtly jazzy, energetic "Só Danço Samba"; another example (not on this album) is her powerful "Veleiros" from Villa Lobos's A Floresta Amazônica, which can be heard on YouTube. "Even today, if people think about a concert with harp, they think it's going to be a classical thing, a beautiful, very sweet thing. And when we start playing the more rhythmic things, people go, "Huh? You can also do this with the harp?"
"I try to do something different, something harpistic, something Brazilian," concludes Braga. "The harp is an instrument that has a long history. I think it's great that it has the form of the map of Brazil."
Braga also teaches harp at the Federal University of Rio de Janeiro (UFRJ) and in 2003 founded one of the most intriguing musical festivals in the world, the Festival Vale do Café. The ten-day event takes place in the historic, verdant "Coffee Valley" located over the mountains and about two hours from Rio. Instrumental music of many types (including classical, choro, regional and jazz) and traditional folkloric music and dance are performed in the valley's small towns and in grand settings at 19th century coffee plantations.
Related
Popular in the Community