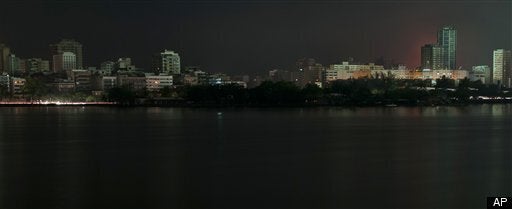 Brazil's Big Blackout of 2009 hit us a little after 10pm last night in Rio de Janeiro. I was online, talking on Skype with my friend Barry in Florida, when the power went off and on, off and on, and then out completely. Our home was plunged into darkness, as was our street, our block, the city, the state, indeed all of Rio and São Paulo, much of eighteen states in Brazil, and Paraguay. An estimated sixty million people were without power for three hours or more. A friend of mine who lives in the northern suburbs reported that his house was without electricity for six hours.
We lit some candles, located the flashlights in the house, and unplugged the appliances and electronics. Our twin infants were already soundly asleep, so no problem there. It was an unpleasantly hot and sticky night, and I wanted to flick on the AC and read a book by lamplight. Instead, I lay sweating in the semi-darkness, reading with the help of a tiny book light. Of course, we didn't have it bad at all. We weren't stranded in an elevator or a subway car, and we weren't caught driving through suddenly dark streets. We also weren't in the daunting position of staff and patients who found themselves in suddenly blacked-out hospitals.
Apparently, a storm knocked out transmission lines leading out of giant Itaipu Dam, which shut down as a safety measure. Itaipu is located on the border between Brazil and Paraguay, along the Paraná River. The dam, which started producing power in 1984, has a capacity of 14,000 megawatts and is the source of about twenty percent of Brazil's electricity. The outage is one of the biggest in history, perhaps surpassing the blackout of August, 2003 that impacted 55 million people in the northeastern United States.
In some news reports, energy experts suggested that the blackout is evidence of vulnerability in Brazil's energy system. I don't know about that. The country may need to upgrade its electrical grid, as does the U.S., but in Rio the power seems fairly reliable. This was the first major electrical outage that I have experienced in nearly four years of living here full-time, and I saw far more brief blackouts on average while residing in Southern California.
A little after 1 a.m., our power was back on. We had it easy. For most, the Big Brazilian Blackout lasted only a little longer than a soccer match between archrivals Flamengo and Fluminense.
REAL LIFE. REAL NEWS. REAL VOICES.
Help us tell more of the stories that matter from voices that too often remain unheard.