At Brazil's ninth annual Festival Vale do Café, musical performances took place in the most unusual places, from baronial estates to cow barns, as well as in more traditional settings such as churches and city squares. The ten-day event ran from July 22-31 in a picturesque region two hours north of Rio de Janeiro that was the heart of Brazil's coffee industry in the mid-1800s.
The festival's intent is to present music of quality, and to promote a historic region that has been somewhat forgotten and preserve its unique cultural heritage. The Vale do Café, situated in the Paraíba River valley in Rio de Janeiro state, is an area of rolling green hills, with rainforest covered mountains in the distance. It has a temperate climate, being situated at a higher elevation than Rio, and is an idyllic locale to stage outdoor musical events, especially during the pleasant month of July (wintertime in Brazil).
The 2011 festival featured a number of Brazilian music luminaries. Ivan Lins (the singer-songwriter whose tunes have been recorded by Quincy Jones, Ella Fitzgerald, and a host of jazz artists), Mart'nália (a rising vocalist in samba and Brazilian popular music, and the daughter of icon Martinho da Vila), and the young virtuoso guitarist Yamandú Costa all journeyed north from Rio to participate in the festival. A wide range of Brazil's finest musicians performed classical music, choro (a Brazilian improvisational instrumental genre that originated prior to jazz), MPB (the eclectic post-bossa popular music), and a variety of other types of Brazilian music. The concerts in the cities were free; those at the fazendas (plantations) cost fifty reais per ticket (about $31).
The fazenda concerts were also touristic adventures. The estates are usually located in beautiful settings in the countryside, typically with green pastures bordered by stretches of lush Atlantic Rain Forest (the biome that once covered most of southeastern Brazil). These grand plantations have seen many changes since the region's economic heyday and since slavery was abolished in 1888 in Brazil. One is that pasture replaced most rows of coffee plants, as the crop's production shifted largely to the states of São Paulo and Paraná.
Many fazendas now serve as both working farms and weekend retreats for wealthy owners who are based in Rio. Fourteen of the estates, which boast some of most splendid and best preserved big houses from the era, hosted concerts during the festival.
On the morning of July 24, I attended a performance by Marcelo Caldi and his quartet at the Fazenda São João da Barra near the village of Morro Azul (Blue Mountain). We turned onto a narrow cobblestone road and descended into a small, deep valley nestled into grassy hills banded by rain forest. We crossed a stream at the bottom, parked, and then walked about a hundred meters up stone steps to the main house, a beautifully preserved mansion of tall ceilings, hardwood floors, and a red tile roof. It was built in 1830 and fully restored in recent years. Visitors, house staff, and event workers mingled on a large grass lawn outside. Flutes of champagne awaited us on long portable tables, and a big tent sheltered a small stage and rows of chairs.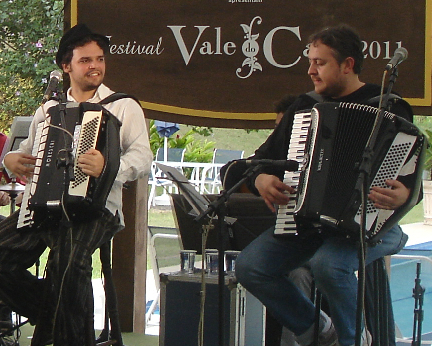 Caldi, a singer and sanfonista (button accordion player), and his quartet performed a tribute to Dominguinhos, the great northeastern composter and sanfonista, now in his 70th year. Caldi's group displayed proficiency and verve as they interpreted standards such as "Eu Só Quero um Xodó" and "Lamento Sertanejo." It was a great pleasure to hear the forró-style music (xotes, arrasta-pés, etc.) and northeastern-tinged choro played with the instrumentation of two accordions and a mandolin by such competent players. After the show, the two hundred or so in the audience descended on the tables for delicious desserts and coffee, all included in the ticket price.
On another afternoon, I watched a performance by veteran saxophonist Leo Gandelman at the Fazenda Cananéia, just outside the city of Vassouras. Gandelman and keyboardist Maria Teresa Madeira offered spirited readings of standards by Pixinguinha, Heitor Villa-Lobos, Radamés Gnatalli, Ernesto Nazaré, and other giants of the past. The show demonstrated Gandelman's great versatility, of which many fans of his "smooth jazz" side may be unaware.
The concert was noteworthy in that it took place in a giant open-air barn for milk cows (the fazenda produces some of the highest quality milk in Brazil). Most of the cows were grazing on nearby hills, and portable floors, seats, and the stage covered the area where they settle in for the night. Still, several dozen cows remained in a long row on the far side of the barn, watching the show and us. They met some of Gandelman's best solos with a counterpoint of moos, which the saxophonist took in stride with good humor.
At other times, performances take place in the estates' big houses themselves, inside enormous living rooms with elegant period décor that have been transformed into intimate clubs for the occasion. Before the advent of the musical festival, many of the participating fazendas had never been open to the public. Cristina Braga, the first harpist of the Symphonic Orchestra of Rio's Municipal Theater, created the event nine years ago, and recruited the renowned classical guitarist Turíbio Santos to serve as its artistic director. Braga and Santos perform at each festival. Contemporary choro band Tira Poeira, guitarists Ulisses Rocha and Victor Biglione, children's music artist Bia Bedran, American singer Carol McDavit, the ballet, chorus and orchestra of Rio's Municipal Theater, the Compania Jovem de Ballet do Rio Janeiro (ballet troupe), and many other talented musicians were present this year.
The Festival Vale do Café is a treat not to be missed if you are visiting Rio de Janeiro in late July. About half the concerts are free, including the ones this year by stars Mart'nália and Ivan Lins in the main square in Vassouras. And the events on the historic fazendas are inexpensive and unique. Vassouras and the nearby towns and fazendas are about two hours from Rio by car or bus. And there are many fine hotels in the area, ranging from the cozy and historic (like the Hotel Mara Palace in Vassouras) to luxury high-end hotel spas in the countryside. Check your calendar and make it a point to explore of the world's least known and most unique music festivals.
Related