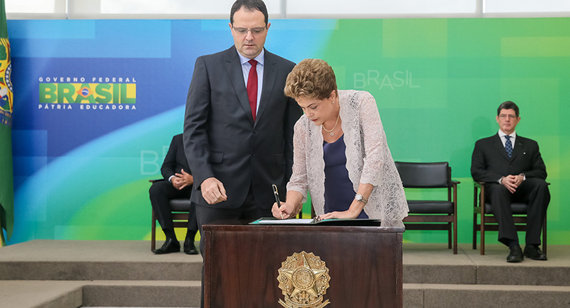 A president fighting impeachment names a finance minister not trusted by markets as Brazilians, dismayed by the country's politics, prepare for more hardship in 2016.
The debilitating political and economic crisis that engulfed Brazil in 2015 is bound to continue, regardless of the outcome of the opposition effort to impeach a discredited President Dilma Rousseff. The impeachment process started in early December is expected to drag on for months. Procedural wins by the president at the Supreme Court before Christmas dissipated a sense of inevitability of her removal from office, but did not improve her chances of regaining credibility to govern in the three years remaining in her second term. The political battle that paralyzed the congressional agenda in 2015 will deepen, undermining efforts to address the growing fiscal and structural problems that turned Brazil from a once promising emerging economy into an economic disaster in the first year of Rousseff's second term.
The negative outlook was reinforced as the year ended by the departure of Finance minister Joaquim Levy, a fiscal conservative Rousseff named after her narrow reelection in October 2014 to rebalance the nation's fiscal accounts and restore investors' confidence. "It looks like the government is afraid of the reforms," a frustrated Levy said in an exit interview.
His replacement, Nelson Barbosa, an economist trusted by the president, favors a more gradual adjustment. As Planning minister, he was the chief antagonist of Levy's austerity plan, reflecting Rousseff's own misgivings about fiscal tightening as a remedy for economic recession. "The president is the one who sets economic policy, and if she thinks it is time to modulate the adjustment, it's her decision", said her chief of staff, minister Jacques Wagner, before Barbosa's nomination, leaving no doubt about who is in charge. A few days later, Wagner described the Supreme Court decisions as a "pacifying" event that will derail the impeachment in Congress and help create a positive environment for a national debate on taxes, social security and labor laws that Brazil badly needs. This assumes Rousseff has undergone a political epiphany at Christmas time and will now advance reforms that she failed to propose in her first five years in power and her Workers Party and allies to the left vehemently oppose.
Brazil's "Russian roulette politics"
As Rousseff's deputy finance minister from 2011 to 2013, Barbosa was credited as the architect of a failed program of economic stimulus known as "New Economic Matrix" that paved the way to the ongoing disaster. "We are focused on the fiscal adjustment and reduction of inflation," Barbosa said in his inaugural speech as minister, vowing to work also on long term structural reforms. Critics and sympathizers alike expect the new minister to follow a pragmatic approach, since - they say - there is no room in the 2016 budget for increasing federal expenditures or repeating budget accounting gimmicks known as "pedaladas fiscais," that Barbosa helped to engineer in his two previous posts and are now at the core of the opposition argument to impeach the president. The new minister is himself vulnerable to a negative decision on the matter by the country's auditing tribunal that could force him to step down. Former Finance minister Antonio Delfim Neto said the change of the country's economic policy chief "is irrelevant in this [Brazil's] Russian roulette politics," which, he added, is driving the country "into a hole."
Predictably, markets reacted coldly to Barbosa and his promise to control the fiscal deficit. The currency fell sharply, reinforcing the negative outlook made evident in the previous week by the downgrading of Brazil sovereign debt by Fitch, the second rating agency to lower the country's papers to junk status after S&P last September. Moody's is expected to follow suit soon and add to economists' forecast of a new year of adversities for Brazilians, with growing unemployment on top of 1.4 million jobs lost in 2015. Union leaders fear the worst is still to come. Brazil's own Central Bank says GDP fell 3.6 percent in 1915 and will contract an additional 1.9 percent in 1916. Continuing gridlock in a politically fragmented Congress, and ongoing criminal investigations of Petrobras-related corruption involving some fifty of its members will likely prevent passage of meaningful expenditures cuts or taxes hikes, let alone more ambitious reforms.
Impeachment favored by 60 percent
Public rallies for and against Rousseff's impeachment held in mid-December were small in comparison to mass demonstrations held in the past three years and did not tell much about voters attitudes, other than revealing their current disengagement from a political process perceived as rotten to the core.
It would be a reach, however, to interpret the prevailing popular apathy as hopeful news for the president. Or to assume that a failure of the impeachment - supported by 60 percent of Brazilians in opinion polls - will strengthen the president politically and allow her to deal effectively with the consequences of the crisis she helped create. A homemade political tragedy
The outlook is bleak also for other leading political actors. Popular perceptions of Vice President Michel Temer, who started positioning himself in October to replace Rousseff, are mostly negative. According to an Ibope poll, Brazilians would expect more of the same, if not worse, from a Temer-led government. The vice-president's PMDB, the largest party in the coalition that nominally supports Rousseff, is hopelessly divided in an internal war, with factions led by himself, the speaker of the Chamber of Deputies, Eduardo Cunha, and the president of the Senate, Renan Calheiros. Cunha and Calheiros are discredited politicians under federal criminal investigation on numerous corruption charges in the Petrobras scandal.
Investigations on the assault on Petrobras and other government entities are expected to continue. They involve, among others, imprisoned PT Workers' Party senator Delcídio do Amaral, who was the leader of Rousseff's government in the upper chamber of Congress until his arrest on November 25, along with investment banker André Esteves, on obstruction of justice charges. Esteves was put on house arrest after Amaral told authorities he had fabricated allegations, caught on tape, that the banker had taken part with him in a conspiracy to block a criminal investigation against a key defendant of the Petrobras scandal.
Former president Luiz Inacio Lula da Silva, Rousseff's mentor, is also seen as vulnerable. The arrest in November of a close friend, José Carlos Bumlain, confirmed yet another ramification of the multilayered "Petrolão" scandal, as it is popularly known. Leaders of the PSDB, the largest opposition party, predict that public pressure to impeach Rousseff will gain momentum in the first quarter of 2016. But they are also divided on strategy, have not offered a credible alternative to the PT-PMDB unraveling alliance, and do not seem to be interested in inheriting Rousseff's messy legacy.
Impeaching the president would take a two thirds majority vote of the 513 lower house members - a tall order. The opposition counts on a deteriorating economy and mounting public pressure to convince the congressmen to impeach Rousseff by March. The Senate would then decide by a simple majority whether to accept the case. If it does, Rousseff would step down and wait for the senators final decision, by a two thirds vote, to remove her from office. A hidden danger in this political war is that it may prolong the crisis beyond what local investors are willing to wait and could convince many to leave the country, sparking the type of old-fashioned balance of payment crisis many thought had been left to Brazil's history books. A senior economist at a major Brazilian bank summarized the situation at a recent private talk with investors. "Brazil faces a number of improbable scenarios in 2016, and one of them will materialize."
Related
Popular in the Community