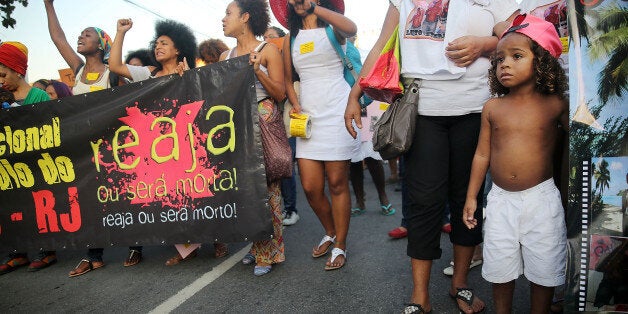 "Everyone for Biel. Justice, justice."
This was the chant repeated by the friends and family of 11 year-old Waldik Gabriel Silva Chagas, all the way to his five-foot-long casket. It was surrounded by white and yellow flowers. We could only see his face.
The slender black boy looked even younger than 11. He was shot in the neck by the GCM while sitting in the backseat of a Chevette. According to the GCM, the car had been fleeing a police chase.
Nilma Silva, Gabriel's step-mother, said that the boy had gone to a local fair in the neighborhood with some friends. Regardless of the sequence of events, a single shot reached the car. It punctured the rear window, and hit an 11-year-old boy in the neck.
"Nobody knows whether he was involved in any wrongdoing. But even if he was, is this what he deserved?" asks Nilma.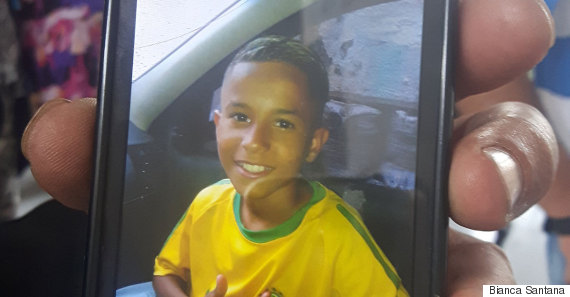 "This is the last photo I took of him. I took him for a haircut and he asked me to take it," says Biel's father, Waldik Chagas, 37.
Many people came to Gabriel's wake, including curious bystanders and journalists. At the front of the wake at the Municipal Cemetery of Vila Formosa, a black man looked on in silence.
Abisogun Olatunji, 34, a member of the Union of Collective Pan-Africanists, was there to show solidarity with the family.
"Every 23 minutes, a black youth is brutally murdered in Brazil. This is ethnic cleaning as State policy. We need to confront this," Abisogun said.
The Union of Collective Pan-Africanists is also in contact with the family of Ítalo Ferreira de Jesus Siqueira, a boy who was killed by military police in early June. He was 10 years-old.
"What hurts the most is to see the lack of response from society," said Abisogun.
"We also carry out educational work, spread awareness and work on self-esteem. But for it to work, we need to be alert," he said.
In addition to being active in the black movement, Abisogun is a history teacher in the municipal and state school system. In 2014, he was at a planning meeting at the school where he works, in the eastern zone, when he heard gunshots. The police had just killed a student in front of the school building.
"I live in Itaim Paulista and I have a 13 year-old son, Ayodele. The other day, I wanted to eat some chips at night and I thought of asking him to go buy some. But then, it hit me. [I said] 'Stay here; I'll go as there's less chance of me getting killed.'"
In 2015, 25 years after the introduction of the Child and Adolescent Statute, UNICEF reported that the number of homicides of children and adolescents in Brazil had doubled in 20 years.
The majority of victims are black and poor children living on the margins of big cities, like Biel and Ítalo.
This post first appeared on HuffPost Brazil. It has been translated into English and edited for clarity.
Popular in the Community