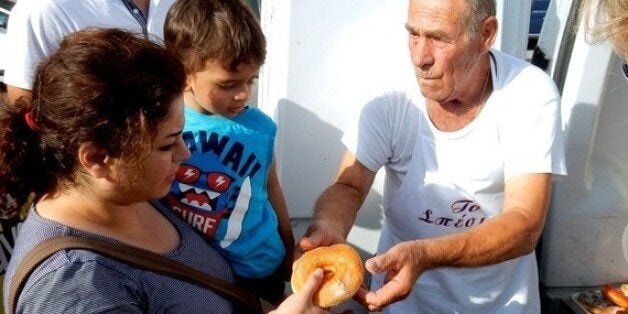 Co-authored with Jenny Yancey
"Where are the babies? Where are the babies?" asks 76-year-old Dionysis Arvanitakis as he hands out rolls of bread and assorted pastries to refugees from the back of his bakery van on the Greek holiday island of Kos.
A long line of mostly young men from Syria, Iraq, Afghanistan and Eritrea line up under the hot mid-morning sun, holding their hands out gently, as if standing for communion, below the thick stone walls of the Castle of the Knights that anchors the island's port.
Arvanitakis tears long loaves in two, and looks each person in the eye as they approach. A balding Syrian man pauses before receiving a piece, and reaches out to hold both sides of the baker's face, kissing him atop the head in gratitude.
The baker hands us a metal tray full of pink and chocolate glazed donuts, and asks us to serve the mothers and children camped out in shaded tents across the street. We had met Arvanitakis the previous afternoon for a conversation at his downtown waterfront bakery, where he warmly greets old locals and tourists alike with a gentle smile and strong handshake.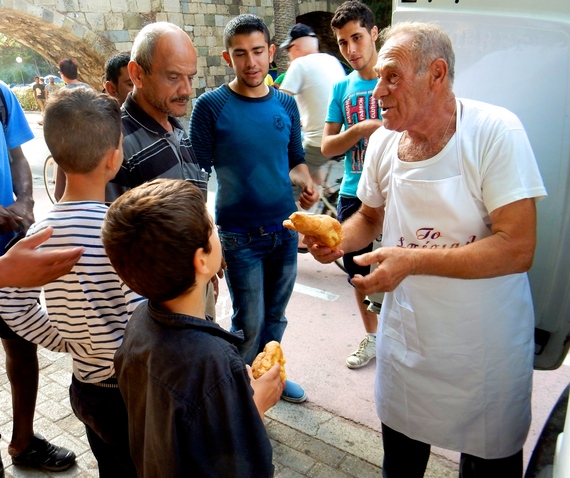 Jean-Claude Junker, President of the European Commission, praised the Greek baker in his annual State of the Union address on September 9th to the European Parliament. In his speech focused on the gravest global refugee crisis since World War II, Juncker implored Europeans to "remember well that Europe is a continent where nearly everyone has at one time been a refugee."
"Europe is the baker in Kos who gives away his bread to hungry and weary souls," Juncker concluded in a nod to Arvanitakis. "This is the Europe I want to live in."
The isle of Kos is one of the closest gateways to the European Union, with the houses and lights of the island clearly visible from the Turkish resort town of Bodrum just two and a half nautical miles across Aegean waters.
Smugglers based in Turkey charge refugees $1,500 or more per person to make the perilous crossing to Kos, while day-tripping tourists only need pay $17 (with the right passport) for the easy half-hour excursion ride. Refugees are piled into rubber dinghies in the black of night, with as many as 70 men, women and children on flimsy 16-foot vessels, and told by smugglers to paddle on their own towards the lights of Kos.
Kos was the intended destination for the Syrian three-year-old Aylan Kurdi, who with his brother and mother drowned off a capsized dinghy and washed back ashore on Turkey. The image of the boy lying lifeless and face down on shore sparked global awareness and outrage earlier this month over the Mediterranean immigrant tragedy that has been growing for years.
Just this past weekend, another 40 refugees and migrants crossing the waters between Greece and Turkey are reported dead or missing.
Every morning, Arvanitakis rises early to bake an extra 200 pounds or more of bread and pastries to load in his van. And every morning here, refugees swim to shore off overcrowded inflatable rubber boats, walking to the main port in sea-soaked clothes seeking water, food and shelter.
The baker slowly steers his small white van up onto the seaside bike lane, weaving through refugees and tourists alike, to make his first stop directly in front of the port police station. New arrivals congregate in packed quarters there, anxiously awaiting registration papers for their next voyage on to Athens, where most will begin their walk to northern Europe.
The daily ritual of passing out bread takes place a few hundred yards from the celebrated Oriental plane tree where Hippocrates, the father of medicine born on Kos around 460 BC, purportedly taught his medical students ethics and how to care for others.
Arvanitakis knows deprivation himself, having grown up poor in the Peloponnese, the southern peninsula of mainland Greece. He told us that after difficult times there his family chose to migrate to Australia when he was 16. He was "always running, running" looking for work in his new country, and finally secured a job as a pastry chef.
In 1970, after saving enough money, he returned to Greece and landed on Kos, where his wife Evangelia was born and where he soon opened up his own bakery. He and his son Stavros have since grown the business to seven locations, now the largest bakery on Kos.
"Someone who has not starved, cannot put themselves in these people's shoes," Arvanitakis told the Greek media after Junker's speech. "'It's 'us' and 'them' on the same island; two parallel lines, that somehow converge to the very meaning of the word 'human'."
The best and worst of the human spirit has been awakened on Kos by the flood of refugees washing ashore. Local Greek hotel owners have made sandwiches and handed out leftover travel supplies donated by guests. We interviewed European tourists giving up their holidays to deliver food, water and travel gear. Two couples from Iran donated 300 pounds of food and aid. Two German sisters organized Kos Refugees Need Your Help that serves 800 warm meals daily. Dutch citizens volunteer for the Boat Refugee Foundation, which has over 200 more volunteers signed up in Holland to come help for a week or longer.
At the same time, Amnesty International witnessed "a violent attack on refugees" in Kos a few weeks ago, observing a group of 15-25 thugs hitting them with bats while telling them "to go back to their own country."
A 60-year-old English volunteer from London told us that she witnessed two refugees being attacked the previous evening by black-shirted extremists while sitting peacefully outside their tents. One refugee had his leg broken and the other had large welts from a beating across his back (she showed us photos taken on her cell phone). When she tried to intervene, she was pushed to the ground and threatened by the attackers.
The gravity of the refugee crisis greatly compounds the impact of the six years of Greece's grave economic depression and a long summer of political instability. The wave of refugees has clearly heightened the general anxiety of the times, fueling nationalist anger while overwhelming cash-strapped and understaffed authorities on Kos and other impacted nearby islands.
The country is exhausted and nearly broke, and is on the frontline of the surge of refugees fleeing wars in the Middle East and Africa and migrants seeking a better life in Europe. Without adequate financial support from wealthier European countries where most refugees hope to settle, Greece and its eastern islands will not be able to cope with the immigrant flow heading into the winter months.
The mayor of Kos, however, has so far refused requests by the UN High Commission on Refugees (UNHCR) to set-up a refugee reception center and proper housing away from the island port and tourist areas, in fear of attracting more refugees and migrants.
"I feel ashamed of the Greeks who are so upset about this situation," said the 28 year-old daughter at a popular family-run hotel. "In every family here you have family members who left the country to find a better life. Many went out and did well. But now people forget."
It's been more than 60 years since Dionysis Arvanitakis left Greece to find better fortunes in a faraway land. As he stacks up dozens of empty baking trays in the back of his van after another morning round of helping to feed refugees, one thing is certain: the "Baker in Kos" clearly remembers from where he came.
Popular in the Community