I am moved and challenged by the words Chicago artist Titus O'Brien posted on my Facebook discussion about ArtChicago, which will guide me in my perspective going forward:
This is the heart of the matter -- art, truly, is not a commercial proposition. This is not "idealism." This is the truth. Art is life and death, nothing less. When it is less than that, it isn't art. Money is only one form of value, often acting merely as representative for more profound ones. True art patrons know this -- therefore, they look to patronize art that clues us in on our fundamental humanity and core values. Artists are not entertainers. We're not fantasists. Richard Tuttle said only art can show the truth of our existence. I don't disagree. Ad Reinhardt called art commerce and art as entertainment a "suicide burlesque." That phrase crossed my mind more than once last Friday, strolling the fair. A carnival of the frivolous. I don't have the time. None of us really do.
I'm impressed with the diversity of art on view in Chicago, which I find emblematic of Chicago. Since the 1830s Chicago has been a blue-collar town. Men and women of divergent heritages were (ultimately) respected for their hard work. And this work ethic imprints the artists who reside here. I don't see a prevailing aesthetic. I see well-made art.
Jason Brammer is an artist with a rising trajectory. He took my Klein Artist Works course and is on track for significant accomplishments. He has an opening tonight at Jackson Junge, which includes a live painting performance around 7 p.m. With hands like his, Jason could have been a surgeon. He's a magician with paint, who explores trips back in time that include a projection to the future. His ability enables him to incorporate artifacts and antiques in his art, which add a physical dimension that he then extrapolates and riffs from, to the extent that you can't tell where one ends and the other begins.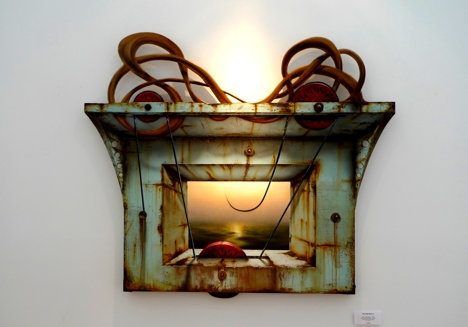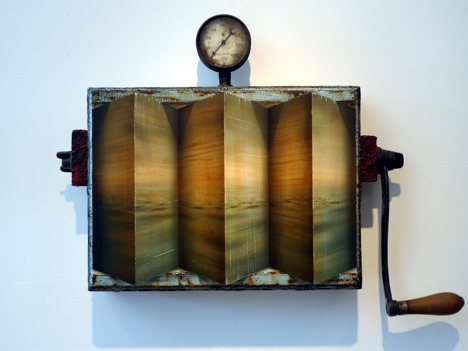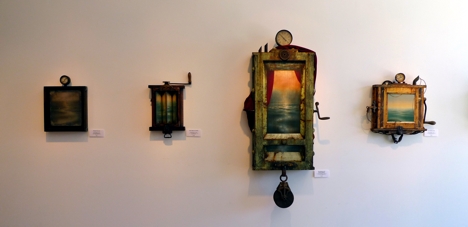 Fred Stonehouse is a Chicago artist who doesn't live here, as he melds a vocabulary that is as much at home here as it is in his home state of Wisconsin. The swamp creatures in his work, opening tonight, reference his neighborhood, but could be drawn straight from our own Bubbly Creek. It's great to see the wise and brave Catherine Edelman redefine her gallery, staying ahead of the curve. As discussed here before, the internet has changed the art world, yet most galleries remain mired in the past. Not Edelman. Her main two-person exhibit (Stonehouse and Tim Tate) includes no photography -- a theme she says she will revisit occasionally to champion artists she particularly believes in. And her inaugural Ctrl+P exhibit of Emiliano Granado presents images found while perusing the internet.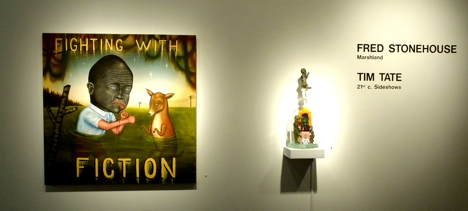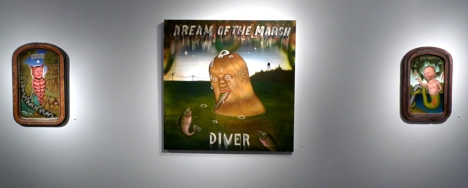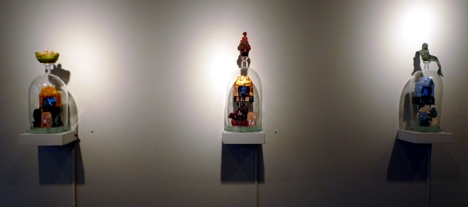 On the far South Side the Beverly Art Center is presenting three solid, longtime, Chicago abstract painters whose art is thick and/or detailed, which is the theme of this exhibit, opening tonight, with Jackie Kazarian, Sandra Perlow and Darrell Roberts.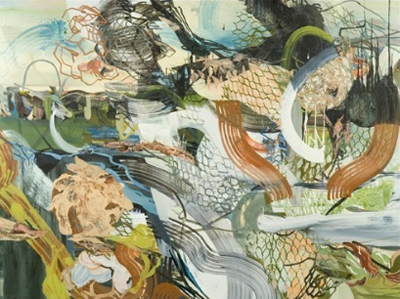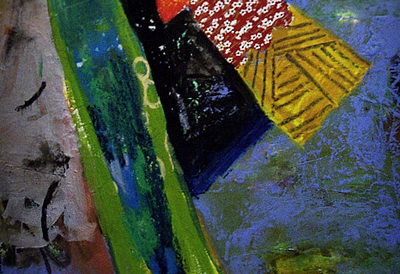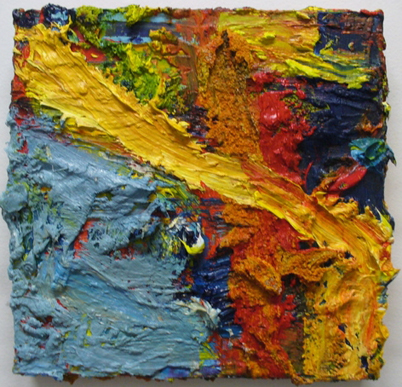 Corbett vs Dempsey has always been a bit different, focusing predominantly on Chicago art from 1940 to 1970, as well as a smattering of contemporary artists who are invariably more solid than flashy. Their style is more didactic and contemplative than mercurial, which lends a sense of permanence and substance to the artists they exhibit. Saturday's opening of new work by Richard Artschwager presents a major American icon who is making new work in his 80s. Not really an iconoclast, though one wouldn't be far off track labeling him one, he listens to his own inner voice and pretty much ignores the trends and currents of contemporary art. Hard to pigeonhole him, but he's been called great more than once.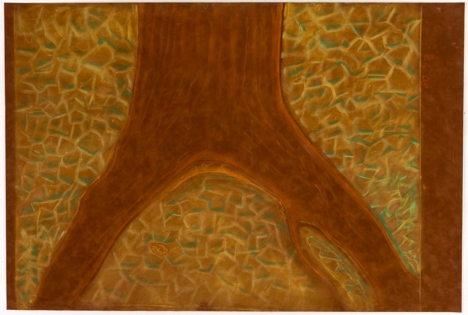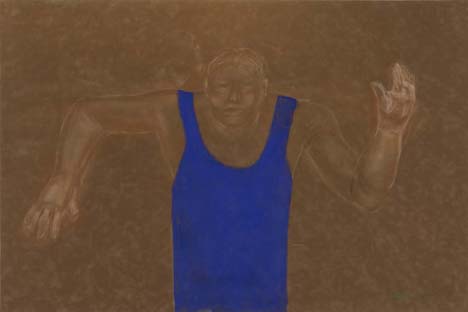 Just yesterday a joint presentation of Tony Smith's iconic wall unveiled at Wright Auction, in conjunction with Valerie Carberry Gallery. Beautiful and simple, it is either profound or mundane, depending on what your bring to it. Context is relevant. I saw it when the room was empty and I was moved. Not sure how it'll feel with people milling around.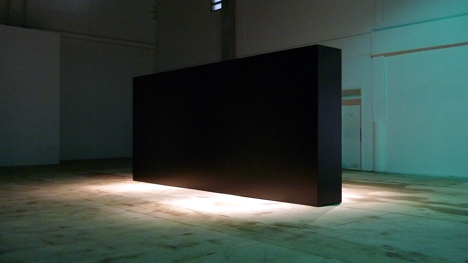 One of the two best shows I've seen recently, opened last week during the art fair, when I was too tied up to generate an ArtLetter preview. They are sufficiently strong that I'm going to diverge from my policy of only doing previews. Joe Amrhein is the director of the powerhouse Pierogi Gallery in Brooklyn and a wonderfully unique, obtuse painter whose art comes damned near to undermining the art world. Trained as a sign painter, his exhibition at FireCat yields a cynical commentary on the art world. All the symbols of myriad currencies appear abstract through their confluence. In another, metaphor-laden snippets of art critics' tongue-tying phrases are laid atop one another. Kind of hard for a critic to say much beyond a chortle of self-recognition,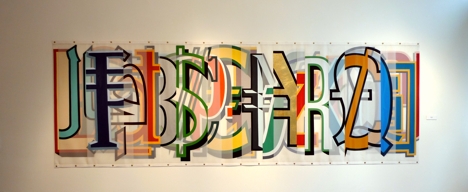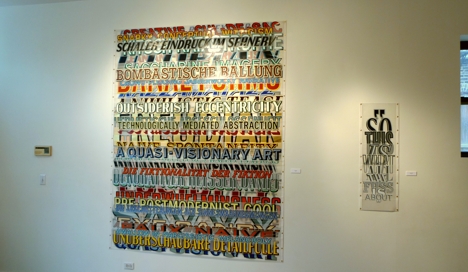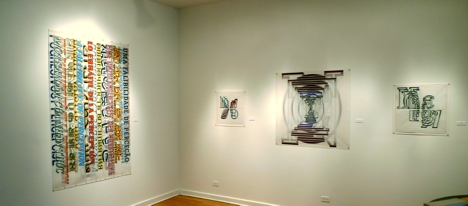 I've saved the best for last. Theaster Gates is a soft-spoken, gentlemanly, powerhouse of an artist and community activist, the precursor of a new breed of artist who engages his (sometimes larger than) local community to use art as a tool for social change. In the past 12 months Gates has gone from his work at the University of Chicago, to the Whitney Biennial, to a visiting gig at Harvard, to a national speaking tour, where he discusses his role as an artist in affecting community change. Gates' Dorchester Project, on the South Side of Chicago, brings outsiders in. The question remains, who is the outsider; the Black folks who have not experienced the prevailing 'cultured' culture, or the white folks who've not spent time in Black neighborhoods? Gates purchased vacant homes, made them beautiful and functional and invited the community in. His ongoing exhibition at Kavi Gupta bears witness to his mourning of his heritage's suffering during the Civil Right's Movement, rife with beatings, hosings and sit-ins. Powerful, relevant, beautiful work. Theaster is a treasure.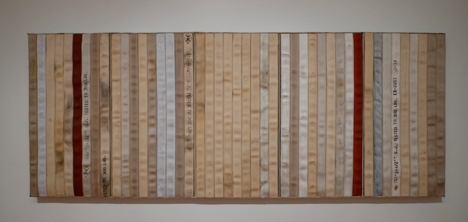 REAL LIFE. REAL NEWS. REAL VOICES.
Help us tell more of the stories that matter from voices that too often remain unheard.