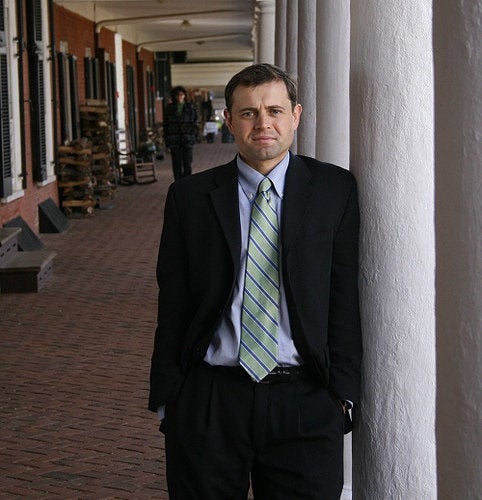 WASHINGTON -- Last night there was a break-in at Rep. Tom Perriello's (D-Va.) Charlottesville office, with the thief taking walking packets and flyers with polling place information and then distributing the materials to the wrong voters.
According to Blue Virginia, which first reported the incident, the ground-floor office of the Perriello headquarters was left unattended from 2:30 a.m. to 5:00 a.m. During that time, someone reportedly bent a window screen, enabling him or her to "reach in and open the window." Missing from the office was a box of walking packets -- which help canvassers identify residents -- and door hangers meant to help voters identify their correct polling place.
The Perriello campaign has reported the incident to the police and say they don't know who is behind it.
"The only thing that leads us to believe that they are Hurt supporters is that it appears to be an attempt to suppress our vote, but also when our staffers arrived at 5:00 in the morning in the office, there was a Hurt sign planted outside of the office building, which definitely wasn't there when they left before," said Perriello spokesperson Jessica Barba. "They don't allow political signs outside of our office building, so we would notice that."
Barba said they noticed the stolen materials had been distributed to the wrong voters today, when canvassers out in the area around the University of Virginia began seeing students who had the door hangers with the incorrect polling place. Perriello said it was clearly meant to "confuse student voters," and the campaign has sent canvassers out today to clear up any confusion.
Hurt campaign strategist Chris LaCivita responded in a statement to The Huffington Post, "Apparently, Perriello supporters are so desperate for sympathy that they staged a mock break in by drama students from UVA looking for extra credit."
The Perriello-Hurt race in Virginia's fifth congressional district is one of the most-watched elections in the country, with Perriello running to hang on to his seat as a progressive in a heavily conservative district.
*************************
Please let us know what you're seeing in your district -- turnout numbers, fishy happenings, last-minute ads and robocalls, and any other interesting news. E-mail us any tips, videos, audio files, and photos to election@huffingtonpost.com.
Popular in the Community