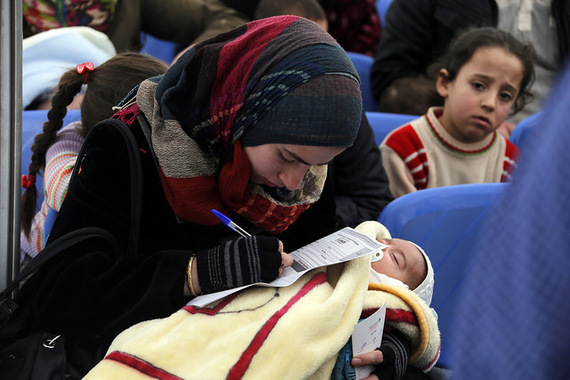 The plight of refugees and migrants crossing the Mediterranean Sea has dominated the headlines this year. While we must provide them with emergency assistance - food, shelter and medical services - in order to get to the bottom of the crisis, we need to look beyond humanitarian aid and tackle the root causes of their displacement.
A complex web of factors drive people to flee their homes all over the world in search of better livelihoods and safety: poverty, hunger, political instability and conflict to name a few. Climate change can aggravate the situation they create.
A majority of poor households in developing countries are employed in smallholder agriculture. Due to decades of neglect and underinvestment, their productivity, income and livelihoods are far below their potential. They lack the resources to adapt as certain crops may no longer be grown in regions that become too hot and dry, or too cold and wet as a result of changing climate.
According to a study published in the Proceedings of the National Academy of Sciences, years of drought contributed to the conflict in Syria, where more than half of the refugees entering Europe are coming from. The researchers cite studies showing that the extreme dryness was a factor leading to crop failures, which compelled people to migrate from rural areas to the cities. This, in turn, added to the social unrest, leading to the violent uprising in 2011.
Over the next century, scientists project that climate change will cause more frequent and extreme weather events such as droughts, floods and cyclones, forcing people out of their homes within and across borders. Since 2008, weather-related hazards have displaced on average of 22.5 million people each year globally. That's 62,000 people daily.
It's important to emphasize that climate change does not act in isolation. Rather it exacerbates the effects of underdevelopment that force people to be displaced.
A study from the International Food Policy Research Institute projects that climate change will reduce global average yields for major crops - coarse grains, rice, wheat, oilseeds and sugar - by about four percent in 2050 relative to what they would be in the absence of climate change. Another study estimates that a changing climate will drive up the prices of many staple crops, aggravating food insecurity in areas already vulnerable to hunger and undernutrition. For instance, 25 million more children will be malnourished by 2050 because of climate change's impact on agriculture and subsequent decline in calorie availability.
There is also evidence linking hotter and wetter conditions to a rise in violence. Specifically, climate-related natural disasters can aggravate existing socioeconomic grievances and tension. This is especially the case when a government's disaster-related actions are weak or unevenly distributed.
Similarly, climate-induced food insecurity can act as a catalyst for political mobilization. It's not surprising that a combination of high food prices, widespread youth unemployment, lack of democratic institutions and growing inequalities drove the events leading up to the Arab Spring.
European leaders have had heated debates over how many refugees to accept. However welcoming they decide to be, it will only scratch the surface of the problem. It's development like the creation of jobs and education opportunities that can stop crises before they begin. The World Humanitarian Summit in 2016 - to be hosted by Turkey - is a step in the right direction to achieve a more inclusive and diverse humanitarian system.
In order to get to the root of the refugee problem, humanitarian aid should be transformed into long-term development efforts to tackle the root causes of underdevelopment and displacement, including climate change. Short-term social safety nets should be linked to efforts promoting long-term assets and capacity building, including vocational training programs. Investments should focus on technologies and infrastructure that build community resilience to extreme weather conditions. This includes introducing drought- or flood-resilient crops and improving irrigation systems, storm drains and rainwater collection centers.
To help reduce the impact of natural disasters on rural people's incomes, governments can also strengthen crop insurance programs through yield or weather indices.
As we get together with family and friends to celebrate the New Year, we must think about the tens of millions of people suffering from hunger and poverty far away from their homes. Most of them are in neighboring countries, which often lack the resources to host so many refugees. We can address the current refugee crisis and prevent future ones from happening.
(Photo Credit: Mohamed Azakir/World Bank)
Calling all HuffPost superfans!
Sign up for membership to become a founding member and help shape HuffPost's next chapter