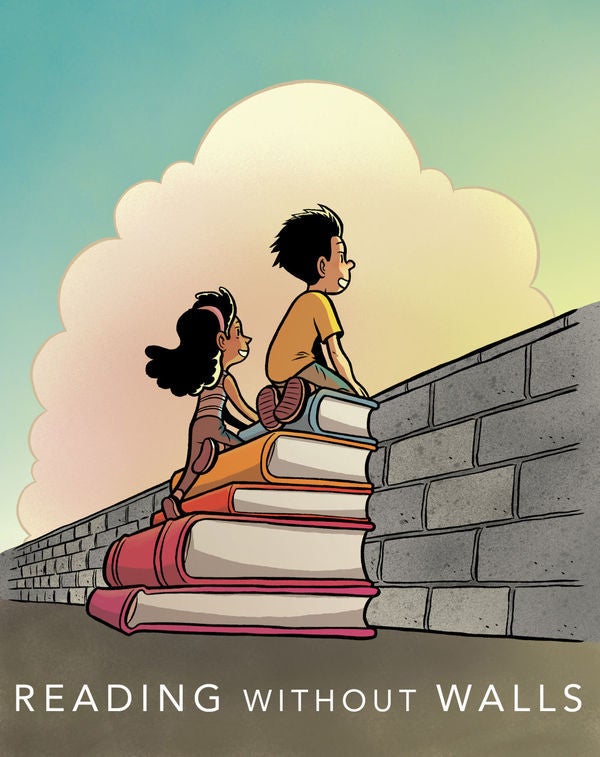 "'A reader lives a thousand lives before he dies,' said Jojen. 'The man who never reads lives only one,'" writes George R.R. Martin writes in "A Dance with Dragons."
But these days, it's hard to feel the different lives. Maybe that's because we don't experience them as much. We spend more time on social media, where we've trained algorithms to serve up only content from similar perspectives. We're afraid to offend each other. What little time and energy is left, we'd prefer not to spend on carrying tough conversations.
I recently sat down again with award winning graphic novelist Gene Luen Yang, currently serving as the National Ambassador for Young People's Literature. He was in the middle of a tour for his program, "Reading Without Walls." For the month of April, Yang challenges people do one of three things:
Read a book about a character who doesn't look like you or live like you
Read a book about a topic you don't know much about
Read a book in a format that you don't normally read for fun (a chapter book, a graphic novel, a book in verse or an audio book)
It's a great initiative for young readers to try new things, but equally applicable to adult readers in an age where we see fewer ideas from outside our friend circle and favorite blogs.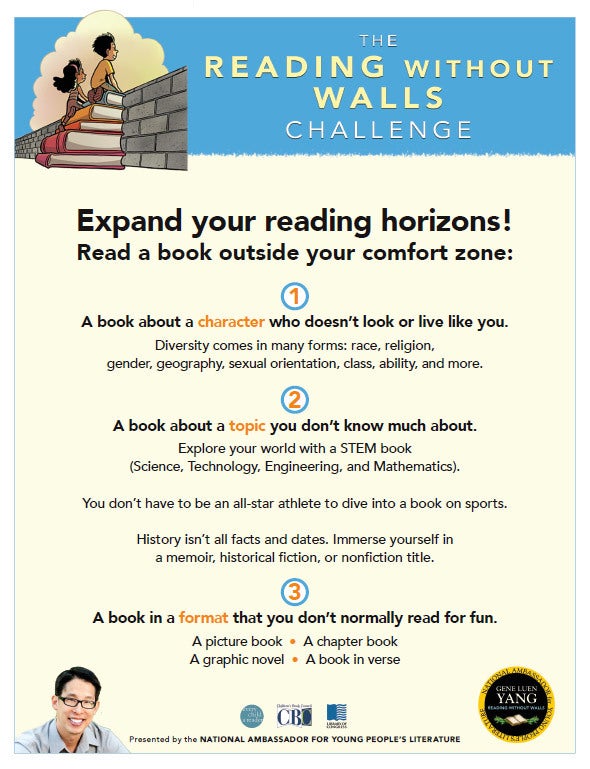 In earlier decades, the library would be the perfect place to discover new books. And yet these days, more and more libraries are getting shut down. This trend is taking place throughout the U.S., Canada, and the UK. But librarians don't just provide curatorial or informational value — a large part of their role is to establish the culture and values, especially for young readers.
"One of the many roles that librarians play for kids is that they allow kids to read in community. Ideally they have somebody who knows their reading habits, who can suggest things to them, who knows them as a human being, who they can even discuss a book with," Yang said.
"I don't know if the librarian in the adult section feels the same way. As an adult, you have to find it. You have to join a book club. For adults, it becomes much more difficult because you lose all that support structure."
Yang also brought up a critique on his own program. He said, "The 'Reading Without Walls' challenge presupposes that you have a comfort zone within reading. In that way, it's already not addressing non-readers. I think that's a weakness. My concentration is really to try to — practically speaking — I would love to drive sales of diverse books, so that publishers would be willing to take risks on that."
Yet the problem Yang couldn't address with his platform was addressed a few years ago. And if Yang has it his way, someone will focus on it once again.
"I do think that other ambassadors before me, like Walter Dean Myers, who was two ambassadors before me, his platform was, 'Reading Is Not an Option.' I think his platform filled the holes that 'Reading Without Walls' leaves."
"And I get a say in who becomes the next ambassador. I'm hoping that whoever the next ambassador is will also fill those holes. I actually think it's impossible for one program to cover every single problem. But that's an important enough problem that I'm hoping we get somebody to work on that."