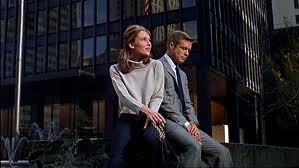 I lost my wife Briggs after fighting her cancer together for fifteen months through four centers in Manhattan. I remember after we'd been to the second center for the first time, which we thought was paradise after the previous one, Briggs and I walked round to a favorite spot. There are two large fountain areas in the generous, open forecourt of a tall office building on Park Avenue.
In the film Breakfast at Tiffany's, Audrey Hepburn had sat on the wide black-and-white marble that runs alongside the south-side fountain. As the 1960s began, her character Holly Golightly thinks she's about to leave New York to start a new life. She's telling George Peppard as the writer Paul Varjak, whom she really loves, that she doesn't know when she'll be back, but that she will be.
Briggs and I had, with much pointing and delight, figured out which building it was. We used to go and sit there every so often when we lived in the area, and especially at turning points in our life. Holly and Paul had sat on the front. We, Briggs and Paul, would sit in a few feet facing the fountain.
Usually we'd have a pastry we'd bought and sometimes a small thermos of coffee or tea. This perfectly nice, old ridged-metal thermos had been in a thrift store in Los Angeles so long, and marked down so much, that Briggs bought it for five cents. She didn't feel that was right. She asked wouldn't they take more, but, good Sallies that they were, they insisted it was the mark-down policy and five cents it was.
We'd lived across town from this fountain in a one-bedroom penthouse I'd found. Briggs and I could only fit side by side in the kitchen, but it had a view of the top two floors, spire and radio tower of the Empire State Building. So we were happy. I only saw that part of the view after we moved in. I called to Briggs, "Come and look at this." Seeing it, she was so excited that she squeezed in in front of me for me to put my arms around her. She said, "Oh, Darling, look at that. Isn't it wonderful?"
In winter, though, unfortunately, the apartment never got enough heat. One of the handymen took us down to the boiler room one day. He showed us the setting it should be on. He said it was all about saving money. All we needed to do was turn the dial one notch. With a smile and an arch of an eyebrow, he left us there. I turned it the one notch and we had good heat for a week, and then it was changed back. We finally filed a complaint with the Housing Department, only to find that we were protected for just six months. After that the landlord could simply not renew your lease and it wouldn't be considered retaliation; as if that type of landlord (as opposed to the better ones we'd had) had so short a memory.
We'd just put up a play of ours Off-Broadway and we'd run out of money extending it. In fact, we had to collect money from a restaurant for an ad they'd had on the back cover of the program to be able to pay our rent. We scrambled around for a job each. Within a week or so, Briggs was cataloging and writing synopses of news videos and I was proofreading patents. And at the same time we had to find a new apartment.
Briggs was working during the day and my shift was in the evening, so we met at the fountain to sign the papers for a smaller, studio penthouse apartment I found us. It was across town from the old apartment and in a slight diagonal line down through the fountain to just a block and a half on its other, East, side. It had good heat, a terrace half the size of the apartment, and we felt more at home there anyway. We also sat there, on the marble, the day before leaving that second apartment for Los Angeles. And there we were back in New York and sitting there with Briggs with cancer.
REAL LIFE. REAL NEWS. REAL VOICES.
Help us tell more of the stories that matter from voices that too often remain unheard.