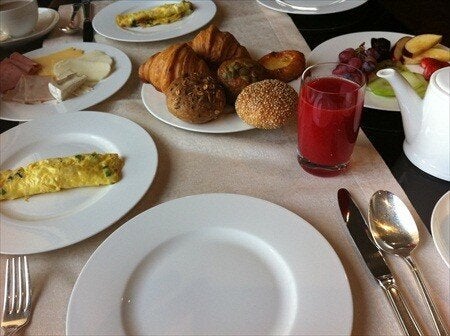 I've only recently twigged that making the most of a breakfast buffet is both an art and a science. Some people are very good at this. Sun Tzu has nothing on them.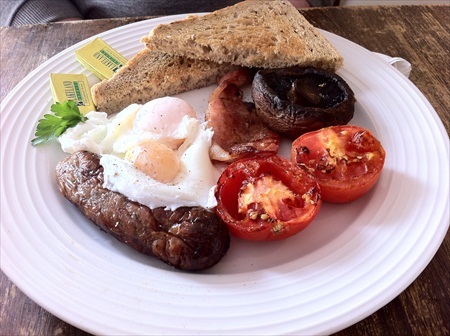 To really tackle a buffet requires a proper strategy. Here are some tips I've picked up along the way.
Step 1: Don't falter on the edge of the forest like Bambi.
It's all about making a plan. Get to know your terrain. Even if it's your second or third morning at the hotel a casual lap or two around the buffet will help you scope it out -- just in case it changes day to day.
Where are the pastries? Where is the yogurt? Where is the juice? What's the special? Where have they tucked the delightful fellow flipping the omelettes? And most importantly -- how far away is that station from the toaster?
Step 2: Take the time to investigate the beverage options.
I've learned (the sad way) not to assume that you'll be limited to tepid tea and bitter coffee. There could be espressos and banana smoothies. There could be freshly squeezed spirulina and pineapple frappes. There could be hot chocolate with tiny marshmallows bobbing about - and you could be missing it all.
Step 3: Formulate a deployment strategy.
In each trip back to the buffet the aim is to construct complete plates out what's available. But it's important to keep some sense. Keep asking yourself questions. Would I normally have baked beans as an accompaniment to a sticky praline pastry? Would I normally have a side of watermelon snuggling up to my sausages? Probably not. These things are not normally friends on a plate.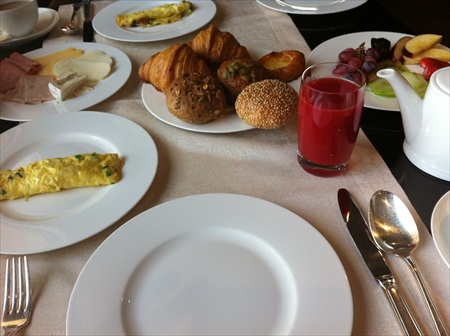 Step 4: Make a savoury plate.
Pick your eggs. You can usually judge the standard of any hotel buffet by their poached proteins and whether they'll do them to order. If the egg comes in a little metal collar, I walk away. That's what McHappy day is for.
But if they're making eggs to order then get two eggs poaching and use the three minutes you now have up your sleeve to source some carbohydrates. I'll go put my bread in the funny little toaster conveyor belt. I sniff out the smoked salmon in the strangely Scandinavian cold meat section. I start to source out the cheese board; I'll probably find the cream cheese hiding in the back. I locate some grilled tomatoes from the bain marie. I grab my toast. Grab my eggs. Then I make a plate.
Suddenly I'm looking down at a first course of poached eggs on a cream cheese and smoked salmon bagel with a side of roasted tomato.
A similar principle applies to pairing omelettes with baked beans, mushrooms and hash browns -- there; a real cooked breakfast. I made it myself. Sort of.

Step 5: Sort out your sweet carbohydrates.
Throughout all of this there's a question I want to keep running through my head: 'If this was on a menu, would I order it? '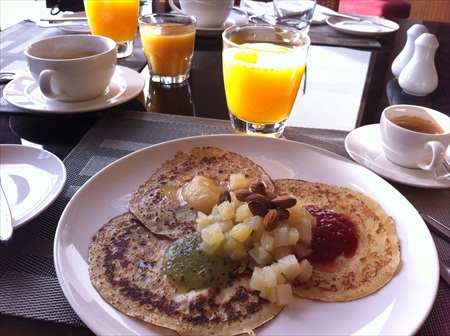 If what's on my plate starts to read like a listing of 'pancakes, french toast, hash browns and grapefruit and a tub of yogurt, with a last minute glugging of maple syrup' I know I've lost the plot and the point of the exercise.

In some of the best cases I could have bircher muesli, yogurt and fruit.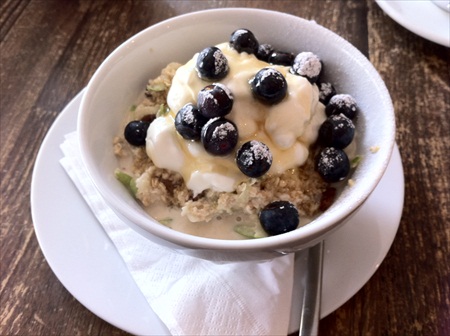 But stop -- are there some flaked almonds over with the cheese you I add to the top? Could some berry coulis that was meant for the pancakes be swirled through it to take it to the next level?
Or could I be finding some coconut bread and top that with a banana I've sliced, some fruit purees, or a dollop of vanilla yogurt and raisins?
Step 6: Get a fruit plate going.
Fruit is nice at breakfast. Put a little bit of yogurt on the side. Find the honey in the condiment section. Then dip the fruit in it. Now it's even better.
Step 7: Stay the course. And get a fresh plate.
It's important not to get too pleased with yourself and go crazy at this point. If I haven't committed at the start to an Asian-themed breakfast, I've learned not to suddenly think dim sum and congee are going to be a good addition to the journey. Instead it's time to nibble on a pastry while I finish my coffee. A fresh plate is important. The last thing you want is a croissant glugging about in a sticky river of pink watermelon sludge.
Step 8: Confirm your exit strategy.
Then it's time for the final hurdle -- smuggling an apple, a muffin and a couple of rolls into my handbag so I have so there's something for lunch.
Because in this battle the true victor is determined not by how much you've eaten for breakfast -- but by how little you need to buy for lunch.
Nominations for the best breakfast buffets gratefully accepted below.