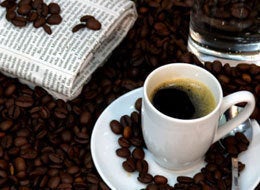 I used to read the morning paper(s) while lying on my living-room sofa. But that was before I lucked into one of those miracles that only reveal themselves over time.
The incipient miracle was the opening around the corner from my Manhattan apartment of a coffee shop called (suggestively, some contended) The Big Cup. Housed in what had been a long-shuttered bodega, it was furnished with second-hand chairs and couches and served what many claimed during the ensuing years was second-hand coffee. The walls were painted loud secondary colors -- greens, purples, oranges, pinks. Every eight feet or so, the face of a clown had been painted and gave the impression of laughing in amusing derision at what was going on in front of it.
Many of us neighbors had watched the reclamation of the abandoned store-front. When it threw wide its doors, we were eager to discover what pleasures waited inside for us. That's why within a few days of the figurative ribbon-cutting, I thought, "'Why not read my paper here?" So on that morning, instead of picking up my New York Times and New York Post and New York Daily News and heading directly home, I collected the daily stash and crossed the Big Cup threshold for the first time.
I wasn't the only local who had the idea that day or in the days immediately following. Others crowded in to hunker down on the frayed club chairs and tattered divans. In no time, it become clear there were now Big Cup regulars, habitues. There was a loyal coterie.
Also in no time, the news addicts began to recognize one another and even to talk. Many of them, that is, because it also became clear that some of the readers wanted to be left alone to peruse their reading matter and then shove off to work or to home or to work at home.
Since I was one of the work-at-homes, it occurred to me there was plenty to be said for chatting with other news hounds before sequestering myself at my computer for the rest of the morning and afternoon. Why continue submitting myself to the everyday risk of cabin fever? There was everything to be said for turning the Big Cup into my early a. m. hang-out. I seized the opportunity with both hands.
The result was that within months of the Big Cup rising like a coffee-shop colossus on the Chelsea scene, I was part of a group of men and women -- mostly, men, as it happened -- who interrupted their newspaper scanning to discuss what they had just read. More than that, as we got to know each other better, we discussed who we were and what we liked and where we'd been and were going and what we were thinking and experiencing and surviving in the non-Big Cup hours.
It wasn't long before the koffee klatch to which I paid fealty had a name. We were The Breakfast Club. (Maybe some of the other on-hand klatches were, too. There were a handful of like-minded readers to whom we nodded and who nodded back. Maybe they also called themselves The Breakfast club and referred to themselves, as we did, as Breakfast Clubbers.)

As an unofficial club, we didn't have a club handshake or club dues or club rules, but we did have tacit understandings. Since we lived in close proximity, we would stay in close (enough) contact with each other. We'd be in each other's lives as friends -- often as friends in need, as sounding-boards, as sympathetic ears, as fellow sports and movie and book and theater buddies.
Over the succeeding years -- meeting between the hours of 7:30 and 10:30 and rarely after those hours and never in the afternoon or evening -- Breakfast Club membership changed. A few moved away; one died, new-comers joined. But a core group remained, usually sitting in the same seats. That is, we kept our same seats until the furniture was rearranged, which one particular day manager felt necessary when the seasons changed or when some of the moderately broken-down pieces broke down irreparably and had to be hauled to the curb for carting away.
Then one late summer Wednesday about 10 years after the funky, funny establishment opened, The Big Cup itself was carted away, so to speak. It was announced by a staff member that The Big Cup would close the following Sunday.
But though it was the end of an era, it wasn't the end of The Breakfast Club. Without any discussion, the club members stuck together at a succession of nearby coffee houses. The Breakfast Club had become a state of mind. It had become the kind of recurring event anyone can profit from. I can't say enough about it. So stayed tuned for much, much more.