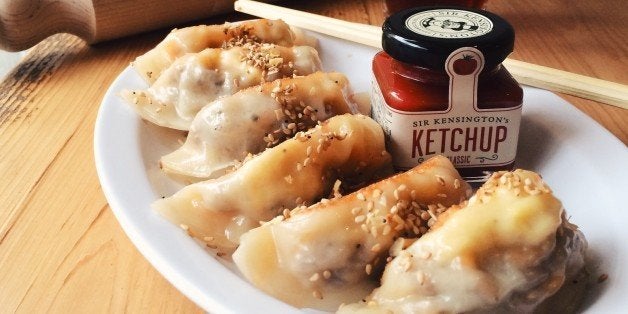 Breakfast dumplings just hit New York City, and they're damn good. Mimi Cheng's Dumplings, which opened in July 2014 in the East Village, just dropped a sausage, egg and cheese bomb onto the dumpling map, and a dumpling bomb onto New York's infamous brunch map. The concept of dumplings for breakfast is nothing new, but scrambled eggs inside a dumpling? You've got our attention, Mimi Cheng's.
Sprinkled with poppy seeds, sesame seeds and fried garlic, the breakfast dumplings are just like an everything bagel. They're salty and greasy to be sure, but not overly so. They're definitely not too heavy to enjoy a whole order of six or even eight.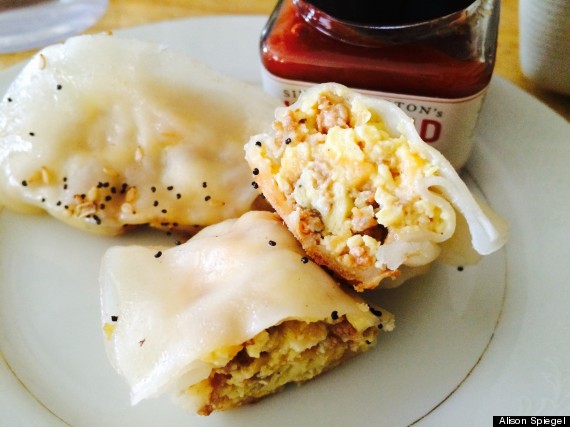 Sisters Hannah and Marian Cheng, owners of Mimi Cheng's Dumplings, told HuffPost Taste that they knew from the very beginning that they would eventually serve a brunch-inspired dumpling. For one, they love brunch. In a city known for brunch and Chinese food, this seems like a winning idea.
Second, the Cheng sisters love ketchup:
We were very excited to be able to collaborate with Sir Kensington's ketchup because their ketchup is delicious and we share similar ethos. Every order of brunch dumplings comes with an individual jar of Sir Kensington's ketchup.
In addition to being served with a mini jar of ketchup, the dumplings also come with an amazing homemade dipping sauce, so you can dip half your dumpling into ketchup and the other half into this slightly spicy, very savory sauce. "Good luck getting the recipe out of Mimi," the restaurant's menu reads.
The dumplings will be available for the month of January, only on Saturdays and Sundays, from when the restaurant opens at 11:30 a.m. until they run out. At six dumplings for $8, they're a little pricey compared to some dumplings you'll find in Chinatown. (Five incredible dumplings for a dollar at Prosperity Dumpling is hard to beat.) For the East Village, these prices seem par for the course, and they're also well worth the price tag. What might be a kitschy idea is actually seriously on point -- both fulfilling and exciting.
What's more, Mimi Cheng's is a responsible restaurant that values local and organic food, and, as they mentioned when they were explaining the ketchup they use for their brunch dumplings, they work with like-minded companies. The handmade dumplings at Mimi Cheng's, which come pan-fried or boiled, are made with locally sourced and organic ingredients. The Reinvented Classic is made with pasture-raised pork, local baby bok choy and organic cabbage. The Mighty Veggies comes with organic kale, organic zucchini, free-range egg and shiitake mushroom. And there's more. Mimi Cheng's also serves S'mores Dumplings. The end.
Support HuffPost
A No-B.S. Guide To Life
Related
Before You Go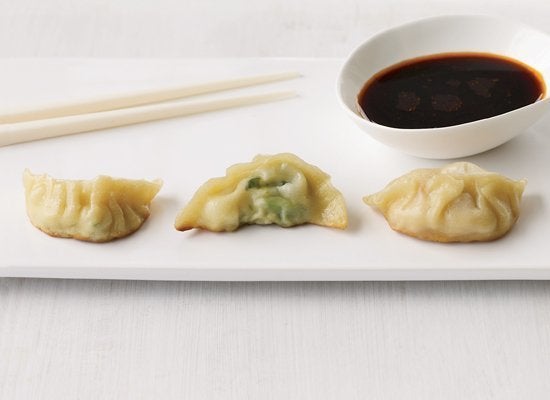 Dumpling Recipes
Popular in the Community