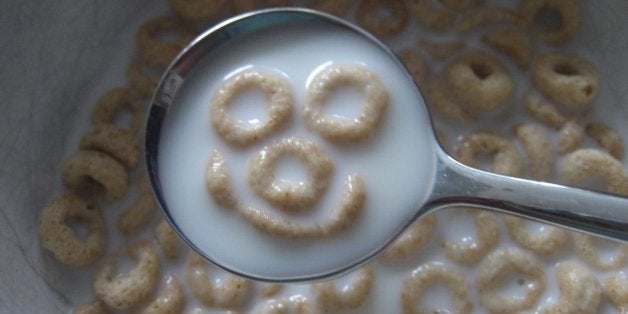 Most people don't start a long road trip without putting gas in the car. Yet, millions of parents send their children off every morning without ensuring they have had the equivalent of a full tank. We need to do a better job of fueling our children with a nutritious breakfast.
It's our responsibility as parents, grandparents, teachers and community leaders to set our youth up for success. While there are many ways to do this, one of the easiest -- and yet most often overlooked -- is providing a nourishing meal at the start of the day. Educators say 75 percent of kids are regularly showing up hungry at our schools' doors each day, leaving them at a disadvantage to learn and achieve. Research indicates that improved nutrition, including daily breakfast, and increased physical activity can lead to improved academic performance. Eating breakfast at school can help kids be more attentive, achieve higher test scores and behave better. Still, many parents in our country don't -- or can't -- provide their children with the meal that jump-starts their day.
I remember the challenges my wife and I encountered getting our two boys out the door in the morning before school. There was always the rushing to get to the school bus on time, collecting the homework that wasn't quite finished, or helping them find a clean shirt to change into right before leaving the house. We know we weren't the only ones in the history of parenting who were challenged during the school week and that many other parents can relate to this.
We had always been told breakfast was the most important meal, but truthfully, we often ignored what we thought was an old wives' tale. After all, who has time for a good breakfast? But now -- with the introduction of newer research and advanced studies -- we know that first meal after "breaking the fast" from sleep can provide the fuel for academic focus, and the energy for sustained activity.
We should find ways to break the habits we've fallen into and make better choices about what we eat and feed our children. In recent years, school districts across the nation have begun making progress to ensure students are gaining access to nutritious foods and physical activities. Alternative breakfast models are being implemented with great success, including options like Breakfast in the Classroom, Grab and Go, and Second Chance Breakfast. During the 2013-2014 school year, 13.2 million children ate school breakfast, and through the application of these types of programs, that number is increasing. But there's still more to be done.
Parents (and grandparents, like me) need to do a better job of modeling healthy nutrition habits to our youth. When I was in the military, I know soldiers wouldn't consider missing a breakfast meal at the dining facility if they knew they had a tough day in the field. But now that I'm retired and in the private sector, I'm amazed at how many of my colleagues eat a sugary doughnut or drink a diet soda, and then are confused as to why they have a brief energy buzz but are tired the rest of the day. If our children think this is the right approach, we'll continue to lose our battle against obesity because our children commonly do what their parents model. Our children are always watching us. What we do speaks much louder than what we say.
During my career as an Army leader for nearly 40 years, I was responsible for thousands of soldiers and their families. We started programs called Fueling the Soldier, Fueling the Force (for larger units) and Fueling the Future (for our soldiers' children). We realized the recruits coming into the military were increasingly overweight and had a greater propensity for injury as a result. These programs were created with the mission of promoting healthy eating, which includes a nutritious breakfast each day. We've seen firsthand how it has turned around the health of our military personnel and their families.
Our soldiers and their families work hard to stay in peak physical shape for the defense of our nation, and one major part of staying in shape is eating right. Sports teams know this and are increasingly focusing on proper nutrition to ensure world-class performance in competition. If we want our children to generate "world-class performance" in the classroom, we should likewise emphasize the importance of proper nutrition.
A well-balanced diet paired with physical activity is instrumental in helping to build mental and physical strength. National efforts from leading organizations like the President's Council on Fitness, Sports & Nutrition and Fuel Up to Play 60 are helping reinforce this important connection, as well as the development of strong leadership qualities in youth.
Children are our future. Let's ensure all kids have the opportunity to fuel their greatness and become the high-achieving leaders of tomorrow.
Fuel Up to Play 60 wants to ensure all kids have the fuel they need to help them succeed – inside and outside of the classroom. Learn more about how school breakfast can help #FuelGreatness and play your part in bringing this important meal to kids nationwide.