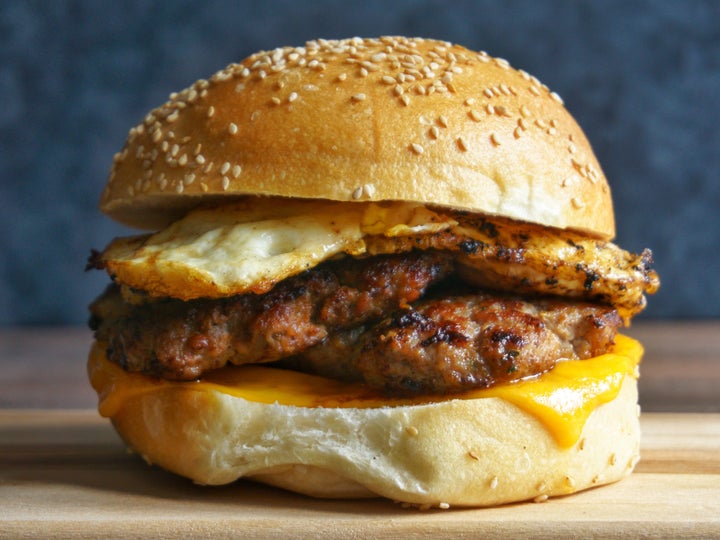 I have yet to find a wrong time for a sausage, egg and cheese sandwich from my local bodega. Whether nursing a hangover, curing the mid-week blues or fueling up for a busy day, nothing can match this true breakfast of champions. The more I fell for this sandwich, the more I knew I had to perfect a recipe for it.
So how do you make a bodega-style sausage, egg and cheese better? Well, that's an easy one: double everything in it. Instead of the typical thin patty, slice of American cheese and fast food-style egg, I pack in a half-pound of breakfast sausage, two fried eggs and some aged cheddar into a kaiser roll.
Since the sandwich's components are relatively simple, you can take this sando from desperate to decadent with careful attention to the ingredients and some solid techniques.
Have a sausage party. Let's be real, most people don't even know what's in breakfast sausage. I'm here to tell you that it's a fast and easy-to-make morsel that's going to become a staple of your morning routine. Ground pork is seasoned with salt, brown sugar, fresh thyme, red pepper flakes and ground fennel seeds for a fragrant and flavorful patty that's waiting to get seared in a hot pan.
The secret is you have to treat it like a smash burger by placing a ball of the sausage mixture in a searing hot pan and, well, smashing it. By pressing the meat down with a spatula, you're able to get that super golden crust that will bring so much joy to your mouth.
I yolk up like this. Listen, I love all ways of making eggs. If you want to make this scrambled or sunny side up or even over-hard, you have my blessing. (I'm an over-easy kind of guy, myself.) The most important part is that, when you cook the eggs, you do not waste all that greasy goodness left in the pan after cooking the sausage patties. I add a little extra butter and fry up the eggs in the same pan. That way, all that porky goodness and those browned bits make their way into the finished product.
This is how we roll. A fluffy kaiser roll provides a home for these goodies, so investing in fresh, quality bread is non-negotiable. You also don't want to go without lots of butter and cheese. Before you pop the rolls in the oven, a healthy schmear of butter on each side helps with toasting the bread ever so slightly, while soaking through to add richness.
And before the bread hits the oven, don't forget a couple of slices of aged cheddar on the bottom halves to amp up your cheese game. I have nothing against American cheese, I just want something that can stand up to the powerful flavors of this sausage.
Wrap it up. Now, you've gone through all this trouble to make the perfect sandwich, so why doesn't it taste like the one at the bodega? The answer lies in how it's served. When you get your sandwich, it has been wrapped in paper, giving it a few minutes to steam and allowing the flavors to meld together. Once you've made these beauties, do yourself a favor and wrap them up in parchment or plastic wrap for even two minutes and you'll be able to see the difference.
Get ready to meet the new head 'wich in charge.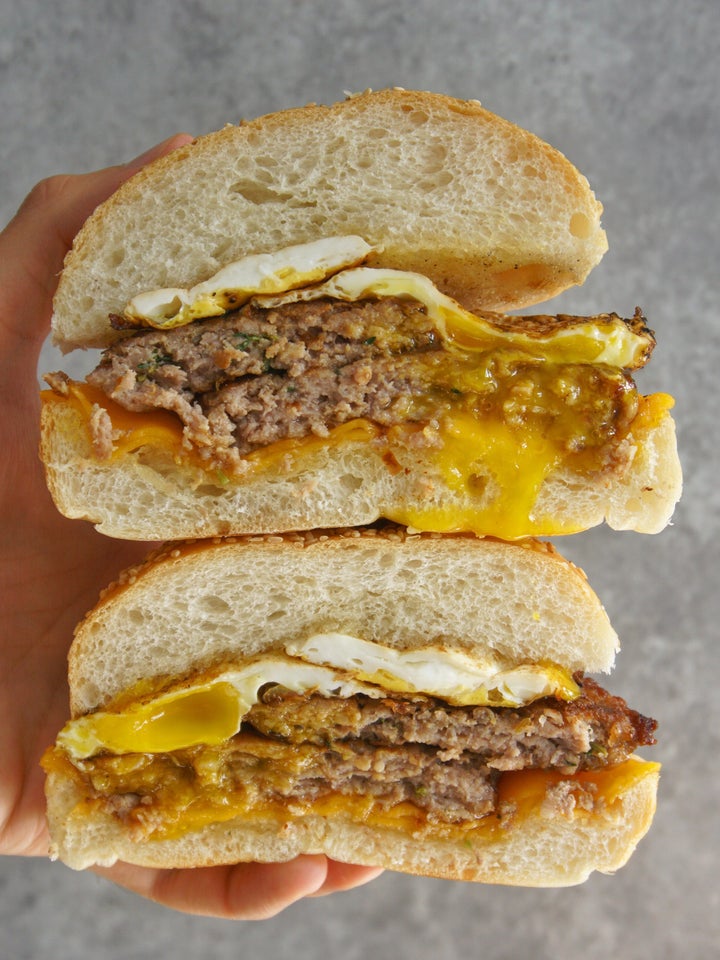 Bodega-Style Sausage, Egg and Cheese Sandwiches
For the sausage
1 pound ground pork
1 tablespoon thyme leaves, minced
2 teaspoons light brown sugar
1 1/2 teaspoons kosher salt
1 teaspoon ground fennel seeds, toasted and coarsely ground
1 teaspoon lemon zest
1/2 teaspoon red pepper flakes
For the sandwiches
2 kaiser rolls, sliced open
5 tablespoons butter, softened and divided
4 slices aged cheddar
1 tablespoon vegetable oil
4 eggs
Kosher salt and freshly black pepper, to taste
1. Make the sausage: In a medium bowl, mix all the sausage ingredients until well incorporated. Divide into 4 balls.
2. Make the sandwiches: Preheat the oven to 350 degrees Fahrenheit. On a sheet pan, line the kaiser rolls cut-side up and spread 1 tablespoon of butter on each half. Place two slices of cheddar on each bottom half and bake until the bread is lightly toasted and the cheese has melted, 4 to 5 minutes.
3. Meanwhile, heat the vegetable oil in a large skillet over medium-high heat. Add the portioned sausage to the pan, using your spatula to smash each into a 4-inch patty. Cook, flipping once, until golden, 2 minutes per side. Transfer to a plate.
4. Add the remaining 1 tablespoon of butter to the pan and crack the 4 eggs into it. Season with salt and pepper, then cook, flipping once, until over easy, 1 to 2 minutes per side.
5. Layer two sausage patties over the cheese on both kaiser rolls, then top each with two eggs. Place the top halves over each sandwich, then wrap in parchment paper to let steam for 2 minutes. Slice and serve.