This art show is better than blue meth for "Breaking Bad" lovers.
Adoring fans of the AMC show about cooking methamphetamine practically felt like they had walked onto the set Monday night at the opening of "The Breaking Bad Art Project" at Gallery 1988 in Los Angeles. In addition to the posters and paintings on the walls, the place is decked out like a super meth lab, with yellow jumpsuits hanging on clothes lines, gas masks, barrels of chemicals and even a replication of Gale's coffee station.
"Breaking Bad" stars Bryan Cranston (Walter White), Bob Odenkirk (Saul Goodman), Betsy Brandt (Marie Schrader) and RJ Mitte (Walter Jr.) even came out to see the surreal depictions of their characters (see photo slideshow below) for a private showing Saturday. They all bought pieces to take home with them, Gallery 1988 co-founder Jensen Karp told The Huffington Post.
Karp explained that he has been working with "Breaking Bad" creator and writer Vince Gilligan for the past year to curate the show. With AMC, they created BreakingGifs.com, where 15 posters by 15 different artists were published, each depicting a different scene or element from the show. The last poster, by Ken Taylor, will go on sale on the site sometime Tuesday.
Three hundred copies of each poster have been printed, and only 200 have been made available online. All 15 posters so far have sold out in an average of six minutes, Karp said.
"It's become like baseball cards," Karp said, explaining that collectors have been putting the posters -- which cost only $50-60 -- on Ebay for higher prices. "It's supposed to be about fan appreciation and hanging it on your wall, not people trying to make money."
There were even about 15 people camped outside the gallery Sunday night, and more fans and collectors who lined up Monday morning. "It's weirdly become the norm for our shows," Karp said. He mentioned the recent "Arrested Development" art show in LA, which fans also went "bananas" (from the banana stand) for.
The "The Breaking Bad Art Project" will be open through Sunday, 11 a.m. to 6 p.m., at Gallery 1988 at 7020 Melrose Ave., LA. As of Tuesday at noon, there are about six original paintings and seven prints left.
CORRECTION: This story has been updated to clarify that the "Breaking Bad" actors attended a private showing on Saturday, not the public opening on Monday.
Click through some of the hilarious and eerie pieces here:
Images courtesy Sony Pictures Television, Breaking Gifs and Gallery 1988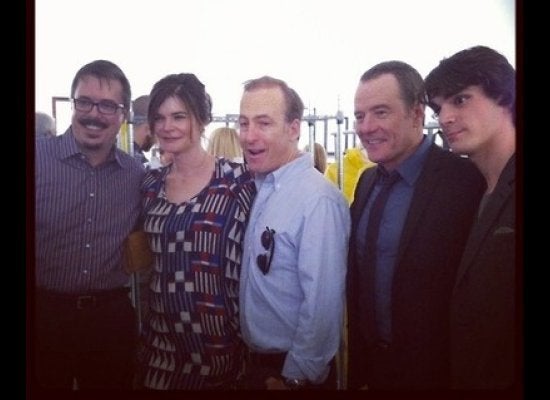 'Breaking Bad' Art Show
Related
Popular in the Community