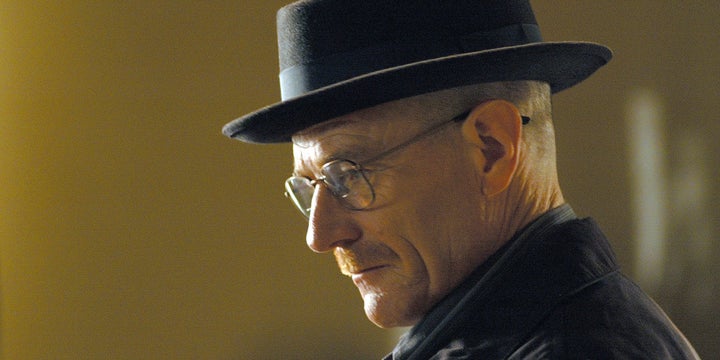 Sharon Bialy is a casting director with over two decades of projects behind her, but still refers to "Breaking Bad," in her words, as "my most beloved show."
Along with her business partner Sherry Thomas -- the other half of Bialy/Thomas & Associates -- Bialy found the actors (and occasionally first-time actors) to fit into creator Vince Gilligan's vision over the five-season run.
Although you may have a hard time envisioning perfect fits such as Bryan Cranston as Walter White, Anna Gunn as Skyler White or Aaron Paul as Jesse Pinkman, despite how easy Bialy and the team made their jobs seem in retrospect, the task, like any in Hollywood Albuquerque, had its obstacles.
Notably at the time of the initial auditions, AMC had yet to establish itself as a network where Emmy-winning original dramas could survive. With this high-level of risk for AMC, Bialy, Thomas and Gilligan faced an early challenge of fighting for the right people over more famous suggestions. "Breaking Bad" may have initially had more familiar faces, but teamwork in casting led to the unlikely rise of the "dad from 'Malcolm in the Middle,'" which, of course, ended up being the right White.
As part of an ongoing look into the stories behind "Breaking Bad," below are things you didn't know about the show, the actors and the "one of a kind talent" Gilligan from Bialy's point of view.
1. The exceptional attractiveness of RJ Mitte and Aaron Paul almost lost them the roles.

During a "very passionate conversation" Bialy had with Gilligan, the casting director remembers advocating that, "RJ had spent his entire life in speech and physical therapy and has worked so hard to improve on those. Why would we punish him for that?"
Gilligan had loosely-based the character of Walt Jr. on a college friend who had cerebral palsy, and therefore "would not entertain the idea of anyone who did not have CP" for the role, as Bialy explained to The Huffington Post. This was a task Bialy welcomed and so they searched "nationwide," reaching out to cerebral palsy organizations for suggestions.
They ended up finding Mitte, who had CP, but to a lesser extent than Gilligan's college friend. "At the time, there was concern that he was too good-looking and his disability was not that pronounced," Bialy said, but ultimately Gilligan was convinced by what the young actor had overcome to get to this point. "[Mitte] certainly understood the struggle."
The Internet has often passed around that Aaron Paul was initially considered
too attractive
for the role as well, which is true. But Bialy shared that there was also concern about his age. "We thought he might be too old," Bialy confessed to thinking when his agent pitched him for the role. But the casting team decided to give him a chance anyway, with an audition that'd win him the part and partially end up on
YouTube
.
2. Bryan Cranston's hiring was fated in a bizarre coincidence that helped him beat AMC's suggestions of Matthew Broderick or John Cusack.
It may be hard for you to imagine Ferris Bueller or the boombox-lifting Lloyd Dobler as Walter White, but try to return to the mid-00s and imagine what had to happen for Sony and AMC to be "willing to take a risk and roll the dice on the dad from 'Malcolm in the Middle,'" as Bialy explained the stakes.
Cranston's unlikely path to the "White house" began with the initial job interview Bialy and Thomas had with Gilligan. As Bialy tells it, just two weeks before this meeting, the casting pair had auditioned Cranston for a leading part in a new Aaron Sorkin play called "The Farnsworth Invention." The pair went into the Gilligan interview planning to pitch Cranston for the "Breaking Bad" lead, eventually prefacing this idea to Gilligan with saying "you might think we're crazy, but ..."
According to Bialy, Gilligan's response was, "Oh my God, that's who I'm thinking of," leading Bialy and Thomas to say, "Are you kidding!?"
Gilligan had written an episode of "The X-Files" in which Cranston had guest-starred back in the late-90s. "He hadn't forgotten how great his performance was," Bialy said, but Gilligan was worried "it would be a challenging sell to get Bryan for this role." The teaming of both the casting directors and Gilligan on the once "sitcom dad" ended up convincing AMC and Sony to not require a more famous dramatic actor.
3. Many "Breaking Bad" actors are also featured in "Seinfeld." This is because the "BB" casting team actively tried to insert comedy people into the show.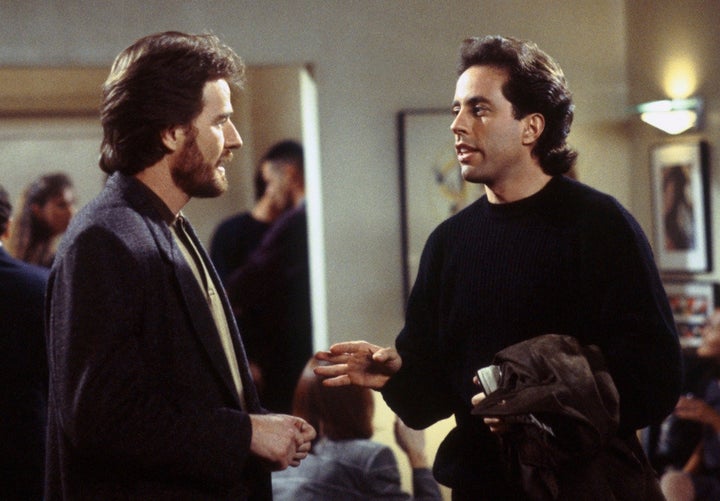 Bialy's casting company felt like they were beginning to get typecast out of the comedy business -- where they got their start -- and so they decided, "Well fuck that, let's put the comedians in 'Breaking Bad.' That'll show them."
Although Bialy had only seen a couple episodes of "Seinfeld," -- "Larry David will kill me," she laughed -- the company prided itself on "taking people from the comedy world and putting them in dramatic roles," specifically on "Breaking Bad." This just happened to lead to acting overlap with the "show about nothing," a connection popularized by a viral YouTube video in 2012.
Cranston, Gunn and Bob Odenkirk (Saul Goodman) are the most notable to be in both shows, along with a handful of actors with smaller roles.
4. The twins were actually cousins, with one of them never acting before. That cousin's first scene ever was walking away from an explosion without flinching.
As Andy Samberg sang at the 2009 MTV Movie Awards, "cool guys don't look at explosions, they blow things up and then walk away."
That's the scenario that first-time actor Daniel Moncada got to experience on his very "first shot," Bialy explained. Might as well have quit right there.
Bialy first auditioned Daniel's cousin, Luis, who had a history of acting. Bialy's team "literally said to him, 'You don't happen to have a brother do you?'" -- since Gilligan was trying to fill roles for a pair of twins. Luis told them he had a cousin who looked just like him, but doesn't act. With a little bit of coaching from his cousin and the Bialy team, Daniel made Gilligan's cut despite the lack of experience.
And then Daniel had a better first day on a job than you'll ever have. "Remember, Daniel had never been on a set before," Bialy said, recalling the story. "He had to walk away -- there was an explosion -- and he couldn't flinch ... And he was awesome."
5. Jonathan Banks was so good during his audition that the casting note read, "Does it get any better? So good!!"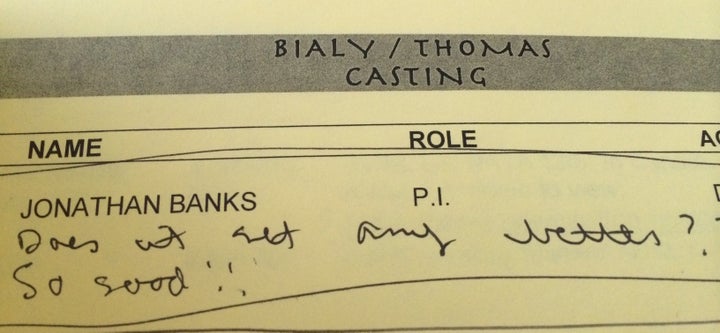 "I still remember Sherry's note," Bialy said when recalling the exceptionally qualified Banks' initial audition. Banks had already been acting for over three decades before he sat before Bialy and Thomas, a résumé that wasn't lost on Bialy, who summed up the audition, "Clearly he had more experience than Sherry and I put together."
Bialy still keeps her casting books filled with "copious [audition] notes on everybody" even from 25 years ago. "I have all my books," the longtime casting director proudly claimed.
But the note about Banks is one that still sticks in her mind. Simple, but the result of a casting dream.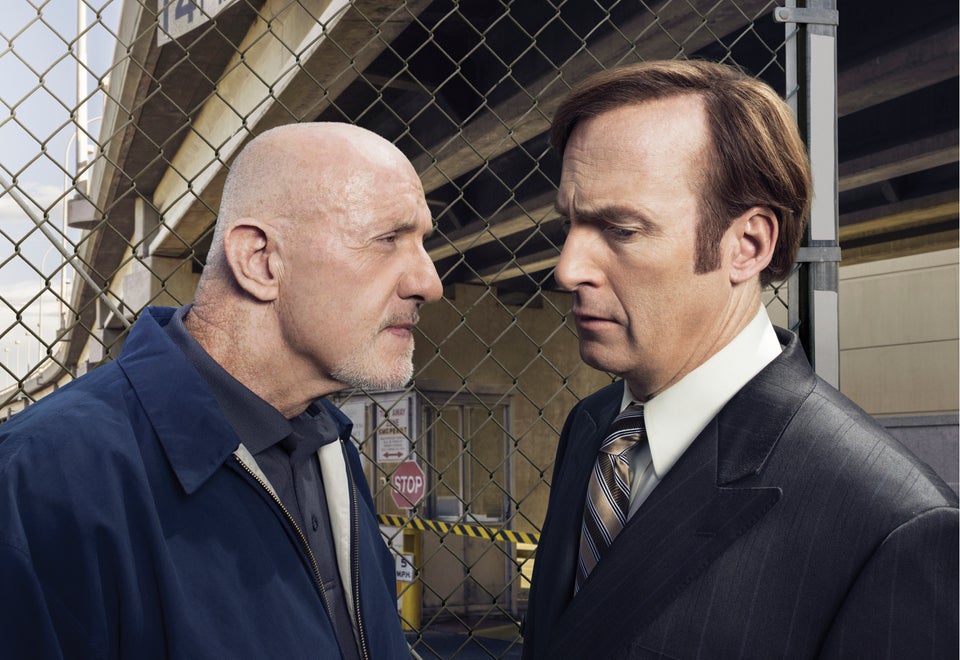 'Breaking Bad' references in 'Better Call Saul'
Popular in the Community