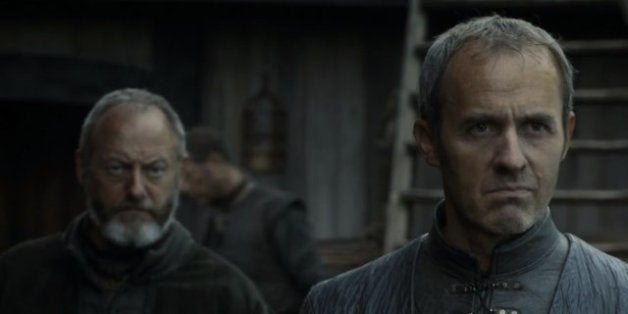 All men must love "Breaking Bad," even the writers over at "Game of Thrones."
The HBO show that features fire-breathing dragons and icy zombies has finally found a way to incorporate Walter White and co. in their fantasy-based world. How? By using one of the most recognized and dastardly villains the iconic AMC series ever produced, Gus Fring.
For anyone not familiar with "Breaking Bad" -- please, turn on Netflix and educate yourself -- Gus Fring was the Chilean antagonist to Bryan Cranston's drug-dealing Heisenberg during Season 4. Turns out, Fring's shrewd and calculating way of handling business was the inspiration behind a certain Braavosi banker.
Tycho Nestoris, played by Mark Gatiss ("Sherlock"), is the man Stannis and Davos meet with in order to secure funds for their planned campaign to conquer the Seven Kingdoms and control the Iron Throne. That scene never actually existed in the books, so the "GoT" writes had free rein to play around with the character, and they couldn't resist throwing in an ode to one of their favorite shows.
"We based Tycho's clipped mannerisms on Gus Fring," Bryan Cogman told Vanity Fair. "The only thing that was missing was him asking them [Davos and Stannis] if they need refills on their soft drinks." This scene where White meets Fring for the first time should prove that point:
"GoT" fans should expect plenty more "Breaking Bad" references if the writers have their way. "Whenever we can steal from 'Breaking Bad' we will," Cogman said.
"Game of Thrones" airs Sundays at 9 p.m. EDT on HBO.
BEFORE YOU GO
PHOTO GALLERY
'Game Of Thrones' Season 4