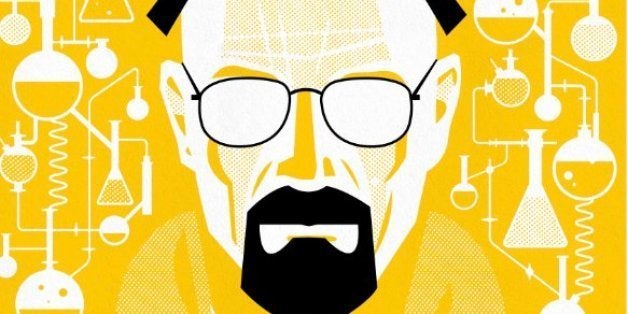 Tread lightly -- you're about to witness the most beautiful and perfect "Breaking Bad" posters ever.
We've got an exclusive sneak peek at four awesome new "Breaking Bad" posters from award-winning graphic designer Ty Mattson, and we think they'd look just as good on the walls of a dorm room as they would in a kitchen. (Because that's where you cook, obviously.)
Tracking the transformation of Bryan Cranston's character from Mr. White to Heisenberg to Mr. Lambert, the artist formerly known as Future Walt, Mattson's signed-and-numbered posters will be available for sale Tues., Sept. 24 at 10 a.m. PT/1 p.m. ET in the official "Breaking Bad" store.
Here's Mr. White:


This poster depicts the Walter White we met in Season 1 of "Breaking Bad": the pitiful chemistry teacher, wearing only a rubber apron and briefs, frantically cooking meth in the desert of New Mexico. 18"x24" 2-color silkscreen print on Chemical Green 100lb French Paper, $49.99
Heisenberg:


This poster shows Walter White as the crystal meth kingpin Heisenberg. Rising to power and descending into chaos, Walter is encircled by the super-lab -- and a small, pesky intruder. 18"x24" 2-color silkscreen print on Meth Blue 100lb French Paper, $49.99
And Mr. Lambert:


This poster represents the final incarnation of Walter White: Mr. Lambert. Armed and dangerous, bearded and beleaguered, Mr. Lambert has nothing left to lose. 18"x24" 2-color silkscreen print on Presage Orange 100lb French Paper, $49.99
Or you can have them all with the Three Shades of Walter White set, featuring three 11"x14" posters ($49.99). While any of these would look amazing hanging on our office walls (ahem!), this last print -- an 18"x24" on Hazmat Yellow paper, of course -- might just be our favorite:

The "Breaking Bad" series finale airs Sun., Sept. 29 at 9 p.m. ET on AMC.
PHOTO GALLERY
'Breaking Bad' Final Episodes Images
REAL LIFE. REAL NEWS. REAL VOICES.
Help us tell more of the stories that matter from voices that too often remain unheard.
BEFORE YOU GO