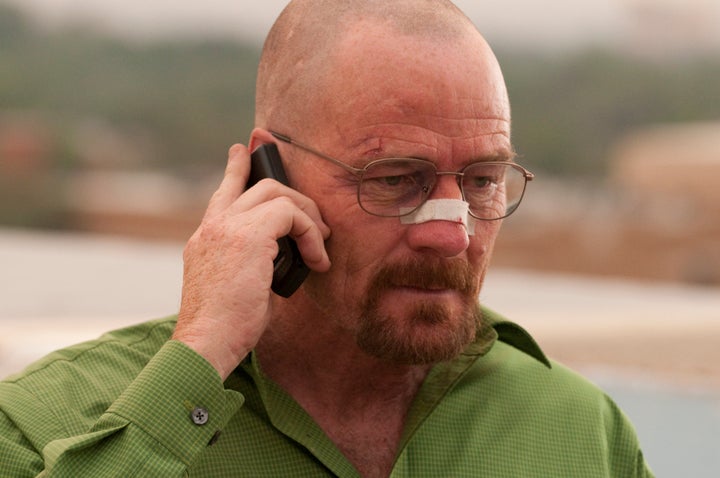 Read on to find out what we learned about "Breaking Bad" Season 5 and Cranston's experiences filming the show, direct from the man himself.
Walt's descent into villainy has been a slow but seemingly inevitable process, and Cranston pinpointed the moment when he thinks Walt officially "broke bad" fairly early on: "My feeling is that Walt broke bad in the very first episode. It was very subtle but he did because that's when he decided to become someone that he's not in order to gain financially. He made the Faustian deal at that point and everything else was a slippery slope."
Cranston admitted that the role of Walter White has taught him many things he didn't know about himself, especially through the process of transitioning from a comedic role in "Malcolm in the Middle" to the grit of "Breaking Bad."
"What I discovered is that everyone has a dark side. It might be unrealized, untapped, but if the right buttons are pushed anyone can become dangerous and I just opened up to it," Cranston explained. "Now I don't want to say that I killed people in preparation for the role ... but I can't deny it either."
One fan asked whether Cranston could recall a memorable line or moment that provided the best insight into Walt's mindset -- especially one that fans and critics might not have paid much attention to when it aired. "There was a moment nobody ever really wrote about in the first or second season ... when he was in remission from his cancer and he decided even though his hair was growing back, he decided to shave his head some more," Cranston wrote. "And that was big thing for me because it made a statement that he was truly accepting this new life of his."
Fans are understandably anxious about how "Breaking Bad" will end (especially with creator Vince Gilligan admitting that he cried while writing it), but one Redditor asked whether the show ends the way Cranston wanted it to. "'Breaking Bad' ended the way Vince Gilligan wanted it to... which is exactly what I wanted," he responded.
And the actor had nothing but praise for his co-stars, especially Aaron Paul (Jesse Pinkman) and the departed Giancarlo Esposito (Gus Fring). "He's a great actor but an even better person," Cranston said of Paul, adding that Esposito "is such the antithesis of his character Gus. Gus was calculating and always had an agenda to advance himself personally. And Giancarlo is an open, warm, loving, caring man."
Showrunners generally have a roadmap of where they want a series to go, but Cranston admitted that Gilligan and the writers left themselves open to change throughout the show's run: "Jesse was not supposed to survive after the first year. He was a character that was need [sic] to introduce me into that world and then he was going to die. But Aaron Paul captured something in him that was so necessary to the fabric of the show that it was a no brainer to keep him. They knew in broad strokes where the character was going to go, but they kept resetting after each season."
In a recent interview with HuffPost TV, co-star Dean Norris expressed his own enthusiasm for the end of "Breaking Bad," telling us, "the last eight [episodes] are the best eight of the whole series. Because once that secret is out, it just [explodes] ... Really it's a Hank-Walt showdown now ... And just like 'Breaking' has always done, it heads right into that, and it's a good ride."
The final eight episodes of "Breaking Bad" premiere Sunday, August 11 at 9 p.m. ET on AMC.
PHOTO GALLERY
Breaking Bad Season 5 Gallery Images
Calling all HuffPost superfans!
Sign up for membership to become a founding member and help shape HuffPost's next chapter