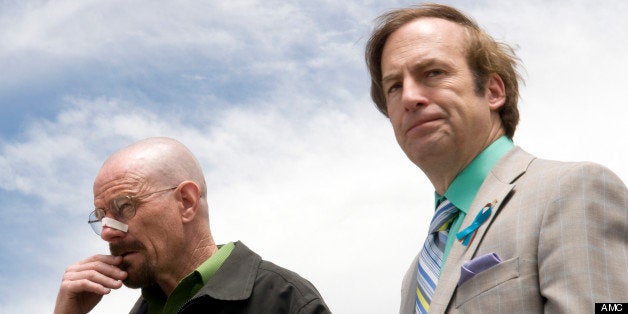 "Those are the two big questions we ask ourselves -- is it a half hour or an hour, is it a prequel or a sequel? But having said that, I have to be coy as to whether it even could be a sequel. Because you never know, when the dust settles at the end of our final eight episodes, where everybody's gonna be and who's gonna be left standing. I can't even say for sure that it could be a sequel. It may be, it may not," Gilligan said.
Gilligan is working on the spinoff with Peter Gould, the writer who introduced the character to "Breaking Bad" in Season 2.
"It's not a done deal yet, but it's definitely something we're full speed ahead on trying to get going," Gilligan said.
Gilligan hasn't been shy about revealing his plans for a "Breaking Bad" spinoff. Talk of a series following lawyer Saul Goodman cropped up in 2012.
"I would love to see a Saul Goodman spinoff show when it's all said and done," Gilligan told EW in November 2012. "I think that would present itself pretty nicely, storywise ... I think a Saul Goodman show could have great legs. I love the idea of a lawyer who will do anything to avoid going to court. He's always going to settle on the courthouse steps."
"I personally would like to see it happen, because I think it would be its own creation and its own creature, and I think it would exist in a 'Breaking Bad' universe, as it centres on a character that was integral to 'Breaking Bad,' but I think it's its own thing. It's like comparing an apple to an orange. Or white meth to blue meth," Gilligan told Empire.
"Breaking Bad" kicks off its final eight-episode run in August. Series star Aaron Paul said he couldn't be happier with how the show ends. "You guys are gonna s--- your pants!" he said.
"Breaking Bad" returns Sunday, August 11 at 9 p.m. ET on AMC.
PHOTO GALLERY
Breaking Bad Season 5 Gallery Images
Calling all HuffPost superfans!
Sign up for membership to become a founding member and help shape HuffPost's next chapter